Posts: 652
Joined: Tue Jan 20, 2009 2:09 pm

You might like:
The crop circle that came down at White Sheet Hill on June 25, 2010, undeniably reproduces the molecular structure of graphene, and it came down in the fields four months before the Nobel prize in chemistry was given for the elucidation of the structure of graphene. This is the same situation as with the Jubilee Plantation formation of Aug 15, 2011 that represented the 10-fold 3D structure of a form of a quasicrystal months before Dr. Schectman was awarded the Nobel prize for the discovery of quasicrystals.
http://cropcirclesresearchfoundation.or ... op-circle/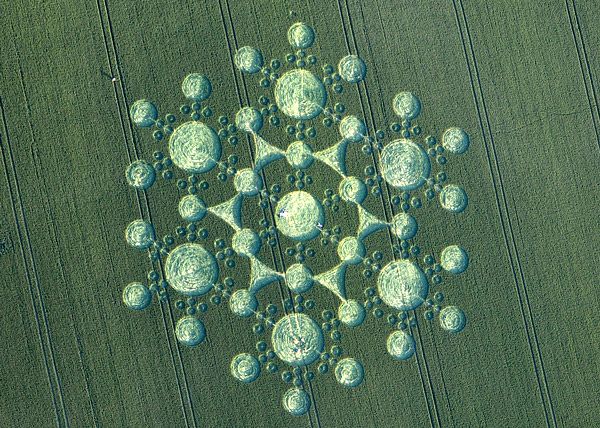 http://cropcirclesresearchfoundation.or ... sicrystal/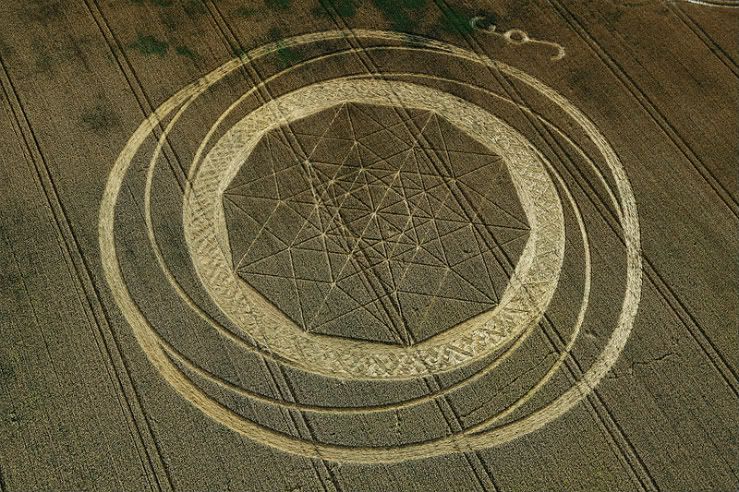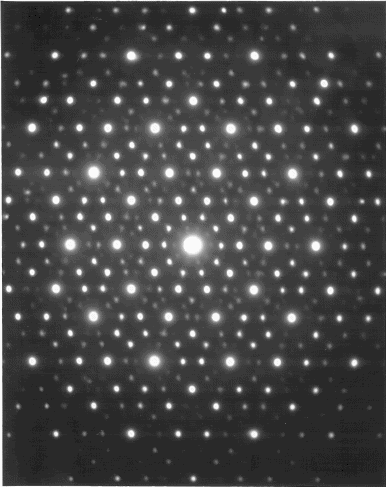 ---
---
Mushroom wrote:Graphenes strength comes from the covalent bonding (shared electron pair) within the structure. This is not evident in this crop circle (only one shared electron) therefore it DOES NOT demonstrate the structure of Graphene.
Mushroom,is it possible than drawing it whit covalent electron would had made that crop circle impossible to draw into two dimensions...
"Those whom live in denial,will have to live in fear." G.W.Bush

---
---
Posts: 652
Joined: Tue Jan 20, 2009 2:09 pm
Not sure if you saw this quote from the article:
"What do we see in the White Sheet Hill crop circle? We clearly see the atomic carbon arrangement of graphene. We also see what can only be interpreted as a schematic of our sun, intercalated within the center of the atomic structure of the graphene's atomic- carbon matrix. What else is there? Well, we see two distinct varieties of the smallest, "grapeshot" circles, all identical in size. One variety contains center tufts of standing wheat. The other variety of the smallest circles are empty. Whay might this mean? Here is what it means. The small empty circles represent Dirac holes. The small circles with central tufts represent electron filled Dirac holes. Astounding!

Again, from Wikipedia: "Due to this linear (or "conical") dispersion relation at low energies, electrons and holes near these six points, two of which are inequivalent, behave like relativistic particles described by the Dirac equation for spin 1/2 particles.[84][85] Hence, the electrons and holes are called Dirac fermions, also called Graphinos,[86] and the six corners of the Brillouin zone are called the Dirac points.[84]

Could this relationship at the 6 corners of the graphene matrix be any more elegantly illustrated than what we see in the Whitesheet Hill crop circle?
---
So if it's a genuine Crop circle....It's a carbon reactor blue print.....or a warning our sun is about to shift to carbon fusion (super nova)....
"Those whom live in denial,will have to live in fear." G.W.Bush

---
Related topics

Replies
Views

Last post