Posts: 10209
Joined: Wed Apr 22, 2009 3:08 am
I had other ideas about the 2012 games.
that's a man,baby.
remember,it's brazil.best to do cup check-if ya' know what i mean
i am responsible for my own words,act and deeds
---
Posts: 3929
Joined: Thu Nov 05, 2009 6:11 am
Location: Earth
The mascot with the 2012 logo has 13 stripes/points. Also a pyramid with an eye on top of his head
---
why not throw this in as well
The Nazi Olympics (August 1936)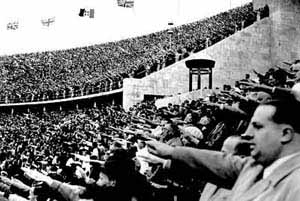 The Nazi Olympics
(August 1936)
---
http://news.bbc.co.uk/1/hi/6724245.stm
A segment of animated footage promoting the 2012 Olympics has been removed from the organisers' website after fears it could trigger epileptic seizures.
Prof Graham Harding, who developed the test used to measure photo-sensitivity levels in TV material, said it should not be broadcast again.
Charity Epilepsy Action said it had received calls from people who had suffered fits after seeing it.
I'm willing to bet that wasn't a fucking co-incidence.
Word is born,
Fight the War, Fuck the norm....
D
edication ----------------
T
enacity ---------------------------
V
olition
---
---
zaff4444 wrote:http://news.sky.com/skynews/Home/UK-News/Mandeville-and-Wenlock-Unveiled-As-London-2012-Olympic-And-Paralympic-Mascots/Article/201005315635150?lpos=UK_News_First_UK_News_Feature_Teaser_Region_0&lid=ARTICLE_15635150_Mandeville_and_Wenlock_Unveiled_As_London_2012_Olympic_And_Paralympic_Mascots
This my friend represent the Zionist Blackhole which will suck the life out of all mankind. imo
Anything of interest always comes at ones expense.
---
Related topics

Replies
Views

Last post