Posts: 21470
Joined: Thu Jul 22, 2010 3:20 am
Location: Odin's Palace
hackjames wrote:Why does Obama-Hitler have boogers on his mustache? What do they symbolize?
...that ''is'' funny , now that you mention it...
i would think reflection , but probably a genetic deficiency...
Collapse is a series of events that sometimes span years.
Each event increases in volatility over the last event,
but as time goes on these events tend to condition the masses.
---
The Deal Between Romney and Paul?
It is becoming increasingly obvious that an alliance has formed between Mitt Romney and Ron Paul. This alliance probably has been in effect for several months, but only now has it become blatantly obvious. Paul has viciously bombarded virtually the entire Republican field via attack ads with one exception: Mitt Romney. Instead, Paul focuses like a laser on any conservative alternative who moves up the ladder.
At first, I believed this was merely a strategy to politically assassinate the Romney alternative so that Paul himself could fill the void; however, I am think there is much more going on behind the scenes than initially meets the eye. Here's my theory (and it's just that -- a theory): Mitt Romney has informed Ron Paul that he will be selecting his son, Rand Paul, as his VP should he become the nominee.
But wait, you say -- Romney is a politician's politician: he will say and do just about anything to get elected. He's flip-flopped on every major issue, accused his opponents of such outlandish things as supporting China's one-child policy, and managed to tick-off and isolate virtually all of his former competitors via his well-coordinated political Death Star smear machine (see Giuliani, Thompson). How, therefore, could Ron Paul trust Romney on this speculative promise?
Easy: Ron Paul has taken out an insurance policy. Mitt Romney has guaranteed Paul Senior that Paul Junior will be his nominee because he knows that if he stabs the Pauls in the back, Ron will simply run third party and torpedo any chance Mitt may have at the White House. This way, Ron is guaranteed that Mitt won't back down from his promise, and Mitt is guaranteed Ron won't spin-off and run as an independent. It also gives Ron the only thing he ever really wanted: influence in the party.
Several people--including the Santorum campaign--have suggested that Mitt may have made a deal to make Ron his running mate. There's about a snowball's chance in hell that this will happen. Let's face it: these two men are polar opposites when it comes to policy and their overall worldview. Should Ron Paul sign on with the establishment's favorite candidate, he will have eliminated his currently impenetrable perception of authenticity among his base of supporters.
Plus, let's be honest, Ron Paul hasn't been vetted by the mainstream media. If he were on the ticket, the media would have a field day digging up all his past writings and associations. Hell, the guy warned of a "coming race war" and suggested that the Oklahoma City bombing was an "inside job." Not to mention the support he's garnered from individuals such as white separatist David Duke, a man Ron praised back in 1990.
The Paulites can complain all they want about how his old newsletters are just a conspiracy (like everything) against their candidate, but let's face it: if stories like these were plastered on every news network in America throughout the entire month of October, the campaign would be toast. And they both know it. Ron knows that he doesn't have a legitimate shot at the White House, and Mitt's intelligent enough to understand that placing Ron on the bottom of the ticket would be political suicide.
Enter Rand. The admission by Rand that "it would be an honor to be considered" as Romney's veep is a bizarre thing to say considering he's currently campaigning for his father, who is supposedly running against the man.
The junior Paul already is a rising star among Tea Party activists and shares most of the same libertarian-leaning principles of his father. Rand doesn't have his father's baggage and is a young and articulate spokesman for limited government. He walks the line between conservatism and libertarianism -- often bridging the two philosophies -- and is viewed as the more pragmatic and levelheaded of the Pauls by people like, well, me.
This alliance would essentially kill three birds with one stone and guarantee Republican content in November. First, it would give the "establishment" beltway types their guy, pleasing the old bulls in the party and the Karl Roves and Ann Coulters of the world. Second, those conservatives reluctant to support a wishy-washy mush candidate like Mitt, who has thus far successfully managed to divide the party with his bombardment of character assassination attacks on "fellow" limited-government office seekers, will hold their noses and vote for the guy if a "true conservative" like Rand were also on the ticket. Conservatives will believe (wishfully) that Rand will hold Mitt's feet to the fire when it comes to policy implementation. They will also see this as an opportunity to have a Tea Party member in a position of significant power and influence, a potential launching pad for Rand's young political career should he pursue the office himself one day.
Lastly, with Rand on the ticket, Ron now has cover to support Mitt -- a candidate almost diametrically opposite him -- due to his son (a much more moderate libertarian conservative). This brings over not just the Ron Paulites (who, caught up in a cult-like swirl, would never support anybody but Paul or his son no matter who was running) but also independent-minded libertarian voters. I could foresee libertarian publications endorsing the ticket, claiming that their philosophy is on the rise, and with the younger Paul only one step below the presidency.
With moderate Republicans, conservatives, and libertarians united behind a Romney-Paul ticket, the party should have no trouble launching a legitimate shot at the White House come November.
---
*View my post history under former usernames: JetXVII, Epicfailure, Slamgunshark*
DJ Jesus died for your Spins!
---
*View my post history under former usernames: JetXVII, Epicfailure, Slamgunshark*
DJ Jesus died for your Spins!
---
Only time will tell. Otherwise, it's all just politics from what ever side of the coin you're on. Ron Paul isn't a saint and I wouldn't be surprised if he is doing something for his son. If he was, even though I wouldn't be surprised. I'd be sorely disappointed.
---
rydher wrote:Only time will tell. Otherwise, it's all just politics from what ever side of the coin you're on. Ron Paul isn't a saint and I wouldn't be surprised if he is doing something for his son. If he was, even though I wouldn't be surprised. I'd be sorely disappointed.
"If he was doing something for his son."
It's his son, sorry that people do things for their children in appreciation of them.
No, it's not only time will tell, it's stacks of evidence over your mainstream hearsay. These 2 are polar opposites, and in the white house that spells disaster, and is the reason for electoral colleges.
I guess the fact that Santorum says it's a conspiracy, must mean its a conspiracy. despite insurmountable evidence that indeed Paul has drilled HARD into Romney.
No, Ron isn't a saint, but he is closer to a real leader than all officials present.
*View my post history under former usernames: JetXVII, Epicfailure, Slamgunshark*
DJ Jesus died for your Spins!
---
jet17 wrote:No, Ron isn't a saint, but he is closer to a real leader than all officials present.
I agree with you, but you can't tell me you won't be disappointed and even betrayed if there is anything to this.
---
Got this today.
According to a just released Rasmussen poll, I lead Barack Obama in a head-to-head match-up.

More and more Americans realize my message of liberty, sound money, and free markets runs in clear contrast to Barack Obama's economy-wrecking, Constitution-shredding policies.

This poll also shows that fake conservatives Rick Santorum and Newt Gingrich would be defeated in a general election because voters are fed up with politicians who sell out their principles for party loyalty.

The Republican Party can't nominate a candidate who will spend the entire fall campaign apologizing for their Big Government record if we want to defeat Barack Obama.

But in order to get this message out to the voters in the ten states that vote on Super Tuesday, I need your help right away.

Please make your most generous contribution to help my campaign fund our critical Get-Out-The Vote efforts for Super Tuesday, so my campaign can receive as many of the 400 delegates at stake that day as possible.

Click to donate

My consistent, conservative message is exactly what voters who want to replace Barack Obama are yearning for.

As each new flavor-of-the-week of the week emerges, voters take a close inspection of their record and discover that they are nothing more than establishment, status quo candidates.

Rick Santorum rose after Iowa and then immediately nose-dived because voters realized he voted to raise the debt ceiling five times, doubled the size of the Department of Education, supported the budget-busting Medicare Part D entitlement, and helped kill a National Right to Work law.

This is not the record of a conservative and will make him unelectable in a campaign against Barack Obama.

I have never voted for unbalanced budget or to raise the debt ceiling.

And every vote I cast is in accordance with the Constitution.

No one will ever accuse me of changing my positions or selling out my principles in backroom deals because I caved in to pressure to "be a team player."

None of my opponents can make this claim, they will all lose to Barack Obama if nominated. I am the candidate who can take him on and Restore Prosperity to America Now.

The stakes of this election are just too high to settle for another Big Government nominee who will spend the entire campaign backtracking on their record.

So please, click here to make your most generous contribution and help fund my campaign's Super Tuesday Push. Make sure we have every resource available to finish strong on March 6 and acquire every delegate possible.

I hope I can continue to count on your support.

For Liberty,

Ron Paul

P.S. Super Tuesday is just eight days away!

A new poll just released shows that I am the candidate who can take on and defeat Barack Obama.

Over 400 delegates are at stake in the ten states where voters go to the polls on March 6, and I need your support right away.

Click here to make your most generous contribution to fund our Get-Out-The-Vote programs and help my campaign finish strong.
No mention of the fake conservative Romney anywhere in the message?
---
Why Wrong Paul Is Ron about Islam, Foreign Policy, and War

There is one fundamental element that is absolutely necessary for an isolationist foreign policy. Isolation. Isolationism without physical isolation is as much good as belligerence without an army to back it up.
American isolationism might have been feasible during WW1 when its neighbors were either friendly or no threat, there was no danger from the Pacific and a fleet crossing the Atlantic seemed unlikely. Though it wasn't so unlikely even then.
As far back as 1897 and long before any American involvement in Europe, Operational Plan Three called for shelling New York and seizing parts of Virginia, as a staging base for attacks on Washington and Baltimore. Plans were drawn up in Germany for the occupation of Boston and Philadelphia.
Vice-Admiral August Thomsen wrote, "At the moment every thinking German officer is occupied with the consequences of a belligerent conflict between Germany and the United States of America."
No American politician was thinking the same thing. America had not intervened in any European wars and had no interest in Germany. But that didn't matter. The Kasier wanted to seize parts of the hemisphere and that meant breaking the dominant power in the region. America's weak fleet made it seem like an easy target.
That is the most important part of the equation that isolationists fail to include in their calculations. Regardless of our foreign policy, we are still a target. Whatever our calculations are, potential enemies may have calculations entirely different from our own. They don't just react to what we do, they have their own plans and agendas. Passivity isn't a defense for the ostrich or for a nation.
In 1900 while America slept, German diplomats were scouting Cape Cod and Provincetown as support bases for an attack on Boston. And the Germans weren't alone. In the early 20th century there were British plans for an assault on New England. But Germany's failure to formulate an alliance with other European powers against the United States led to the abandonment of Operational Plan Three.
When Charles Lindbergh ridiculed the idea of a foreign attack on America, such an attack was less than a year away, but variations of it had been planned by European powers for a good deal longer than that. Terrorist attacks by foreign agents were a now forgotten reality during WW1, including the Black Tom explosion which severely damaged the Statue of Liberty, the Vanceboro bridge bombing, and in an early form of biological warfare a laboratory in Chevy Chase was working on anthrax and glanders cultures to be used on horses.
With the jet plane and the intercontinental ballistic missile, isolationism became completely unworkable without strong deterrence. Even if the United States had chosen to abandon Europe, it would still have needed massive nuclear missile stockpiles, a sizable fleet and military, and a policy of Mutually Assured Destruction just to pursue a policy of isolationism. And had the USSR managed to make even deeper inroads in South America, the United States would have been forced to either push it out or increase the size of its forces to compensate for the loss of a buffer zone against preemptive attacks.
It's not impossible to have an isolationist foreign policy today, to cut any alliances with the rest of the world. But there's a fundamental difference between a responsible and an irresponsible isolationist policy. A responsible isolationist policy recognizes that we have enemies who will act regardless of what we do and prepares against the possibility of war without actively seeking it out.
An irresponsible isolationist foreign policy however acts as if we have no enemies and that any talk that we have enemies is a conspiracy to bring us into a war. It accepts every bit of enemy propaganda as gospel and assumes that if we just "stop bothering them", they'll "stop bothering us". It assumes that the enemy is entirely motivated by our actions, that any conflict we are in is the result of our foreign policy and that isolationism will avert any such conflicts.
This is the version of isolationism that you hear in the Republican debates from Ron Paul. It's the version that Americans heard back in the 1930′s from Lindbergh. Rather than recognizing that a military buildup is an important deterrent to war, it attacks military buildups as provocative. It assumes that the only possible reason why we might be attacked are foreign entanglements and if we just tuck our heads in then there will be no conflict.
The absurdity of this approach when it comes to the current clash of civilizations with Islam is obvious enough. This isn't a conflict that dates back from 1991 or 1948 or even the First Barbary War in 1805. It's a war that predates the United States and modern day Europe. It is a conflict that goes back over a thousand years to the decline and fall of the eastern remains of the Roman Empire and the rise of Islam as a militant unification ideology to fill that void.
American foreign policy can't turn back the clock on that history. It can affect events in the present day, but it can't undo the roots of a conflict that it has inherited. American foreign policy had a good deal to do with the rise of Islamic states built on petrodollars, but isolationism is certainly not going to make them go away. Certainly not Ron Paul's brand of isolationism which pretends that there is nothing wrong with Islam that can't be fixed with an American isolationist foreign policy.
During the last debate, Ron Paul asked why they're bombing us and not Sweden or Switzerland. The answer is very simple. You only bomb people who resist. Stockholm is 20 percent Muslim. Muslim terrorists operate out of Sweden, including a top Al-Qaeda leader, but they don't need to attack a territory that they're already on the way to ruling through natural demographics.
44 percent of Europe's population is over 45. Under 34 percent is under 30. Meanwhile half of European Muslims are under 30. The math isn't very hard to do. The only countries that need to be targeted by Muslim terrorists are those which have a high enough birth rate that demographics alone won't do the trick.
The First World country with the highest birth rate is Israel. It's also the country most targeted by Muslim terrorists. The First World country with the second highest birth rate is the United States. It is the country second most targeted by terrorists. The next major countries on the list are France and the UK. There's a term for this sort of thing. It's demographic suppression and political intimidation.
Back in the 19th century the Kasier hoped that shelling Manhattan and seizing a few cities would bring the United States to the negotiating table. Japan thought that bombing Pearl Harbor would accomplish the same thing. But while Tojo was wrong, the House of Saud was correct. September 11 brought the United States to the negotiating table with Islam. Muslims have been granted special privileges and their immigration rate has increased. That's one path to an eventual demographic domination.
Islamic attacks against the United States may emerge from various micro-events, but the macro-event from which they originate is the shared history of the Western world and the ongoing conflict between the Muslim world and the West. Some isolationists may act as if the United States can break with European history through assertion alone. It cannot. Like it or not it shares a common history and a common culture. America derives from Europe, and whether Americans recognize it or not, the rest of the world does. To Islam, America is not an island, it is another outpost of an enemy civilization that must be subdued so that the way of Mohammed will triumph around the world.
Ron Paul type isolationists fail to distinguish between the proximate causes of war and the ultimate causes of war. A proximate cause of war may be a ship that has wandered into the wrong area which may have been caused by a trade dispute which may have been caused by debts which may have been caused by growing militarism and greed for land. But none of those are truly the ultimate cause of war. The ultimate cause of war is the incompatibility of two systems and two civilizations within the same space.
Technological development means that the old boundaries are all but gone. Immigration means that the enemy population is already here. The rise of Islam means that war is inevitable, all that remains are the details, which battle, on what terms and in what form, and the larger detail of who will win.
Rationalism isolationism accepts that war may be inevitable but chooses to meet it on our terms. Irrational isolationism, which often carries with it defeatist and treasonous overtones, accepts the enemy's justifications for the conflicts and assumes that if we modify our behavior accordingly that there will be no need for war.
"Si vis pacem, para bellum," was a rule that the old Romans knew. If you would have peace, prepare for war. The emblem of the Strategic Air Command was an olive branch and thunderbolt held in a mailed fist. Its motto was "Peace is Our Profession". The SAC kept the peace through the threat of war. Only an isolationism that understands the meaning of that motto can be successful.
sultanknish.blogspot.com
When you buy halal products, you are financing inhumaely slaughter and torture of animals
---
Foreign Policy Experts Agree With Ron Paul's Controversial Foreign Policy
http://abcnews.go.com/blogs/politics/20 ... gn-policy/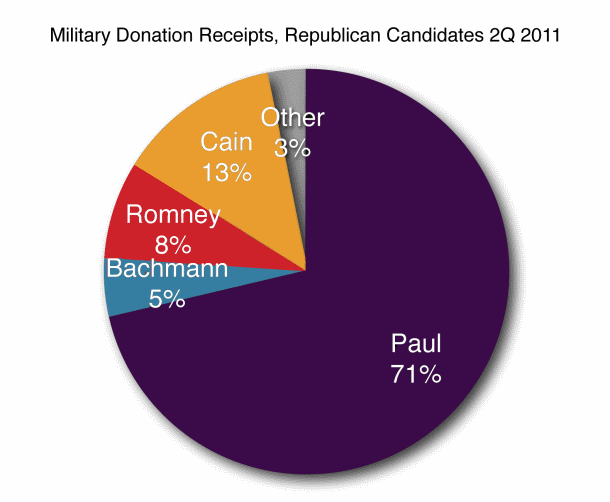 *View my post history under former usernames: JetXVII, Epicfailure, Slamgunshark*
DJ Jesus died for your Spins!
---
Related topics

Replies
Views

Last post