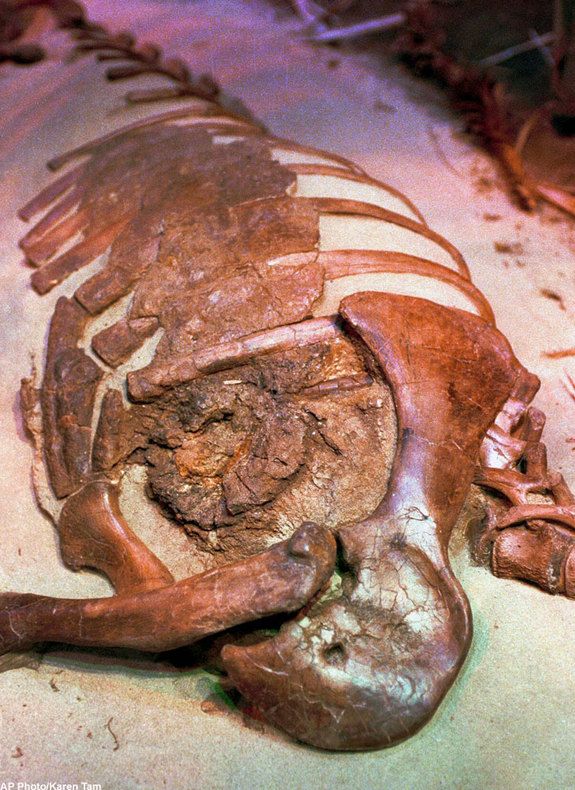 Fossilized HeartCredit: AP Photo/Karen Tam
The bones and fossilized heart of a 66-million-year-old dinosaur skeleton is shown at the North Carolina Museum of Natural Sciences in Raleigh, N.C. The fossilized heart _ with two ventricles and a single aortic stem, shown in the lower- center of the photo, between an apex of shoulder bones, is the first one ever found in a dinosaur. Researchers said it resembles the heart of a mammal or bird more than that of a reptile and leads to the conclusion that some, if not all, dinosaurs were warm-blooded.
---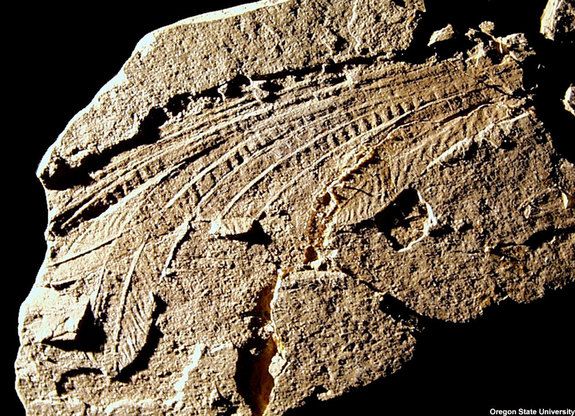 Longisquama insignisCredit: Oregon State UniversityAccording to some scientists, this 220-million-year-old fossil, from the late Triassic era. offers evidence that dinosaurs were not ancestral to birds. An archosaur called Longisquama insignis, a small reptile roughly the size of a mouse, has ignited scientific controversy due to the six vane-like appendages attached to either side of Longisquama's back. Some researchers believe the appendages were non-avian feathers and that early archosaurs were the ancestors of modern birds. Longisquama is controversial because it's not a dinosaur, and most paleontologists believe that birds evolved from dinosaurs. In 1999, a team of scientists who studied the fossil found arresting parallels between the appendages and feathers, most notably, a hollow shaft with a sheath characteristic of modern feathers. Some scientists believe this shows that the genetic and developmental potential to produce feathers was present in these early archosaurs. The team also reached the conclusion that the feathers weren't used for thermoregulation but likely allowed the creature to glide between trees.
---
"Dinosaur Mummy" Found; Has Intact Skin, Tissue
John Roach
for National Geographic News
December 3, 2007
Scientists today announced the discovery of an extraordinarily preserved "dinosaur mummy" with much of its tissues and bones still encased in an uncollapsed envelope of skin.
Preliminary studies of the 67-million-year-old hadrosaur, named Dakota, are already altering theories of what the ancient creatures' skin looked like and how quickly they moved, project researchers say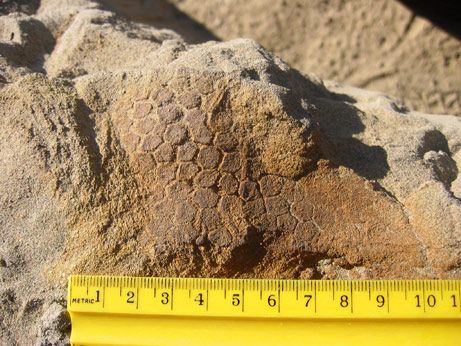 Further investigations may reveal detailed information about soft tissues, which could help unlock secrets about the evolution of dinosaurs and their descendents, the scientists added.
For now, the team continues to examine the rare specimen, which included preserved tendons and ligaments, and to prepare scientific articles on the find for publication.
"This specimen exceeds the jackpot," said excavation leader Phillip Manning, a paleontologist at Britain's University of Manchester and a National Geographic Expeditions Council grantee.
Most dinosaurs are known only from their bones, which are seldom found joined together as they would be in real life.
But "we're looking at a three-dimensional skin envelope," Manning said. "In many places it's complete and intact—around the tail, arms, and legs and part of the body."
(The excavation is the subject of Dino Autopsy, a National Geographic Channel special airing December 9 at 9 p.m. ET/10 p.m. PT. The National Geographic Society owns National Geographic News and co-owns the National Geographic Channel.)
Find of a Lifetime
The hadrosaur, or duck-billed dinosaur, was discovered in 1999 by then-teenage paleontologist Tyler Lyson on his family's North Dakota property.
It was an extremely fortuitous find, because the odds of mummification are slim, researchers noted.
First the dinosaur body had to escape predators, scavengers, and degradation by weather and water. Then a chemical process must have mineralized the tissue before bacteria ate it. And finally, the remains had to survive millions of years undamaged.
"What usually would have been wiped out by the decay process—the mineralization has been so rapid that it is trapped and preserved," Manning said.
"It's such a unique preservational environment here that we'll be able to say, Well, you basically need these conditions to mummify a dinosaur," Lyson, now a graduate student in geology at Yale University in New Haven, Connecticut, told a National Geographic reporter during a field trip to the excavation site.
"I think that's going to be pretty neat."
Big Rear, Fast Runner
Plant-eating hadrosaurs are often called the "cows of the Cretaceous"—the geologic period that spanned 145 million to 65 million years ago—Manning said. They had horny, toothless beaks but hundreds of teeth in their cheeks and a long, stiff tail that was likely used for balance. (Related: "Giant Duck-Billed Dino Unearthed in Utah" [October 3, 2007].)
Preliminary studies are revealing a surprising side to these reptiles, suggesting that Dakota—even though roughly 35 feet (12 meters) long and weighing some 3.5 tons—was no slowpoke.
With the aid of a large-scale CT scanner, the researchers determined how much muscle mass was packed between the bone and skin of Dakota's tail.
This allowed the researchers to infer the muscle mass of the dinosaur's rear end, which they calculated is about 25 percent larger than previously believed. A more muscular rear end means more powerful legs, Manning noted.
He plugged this new measurement into a computer model his team created to figure out how dinosaurs moved.
"Our models confirm this hadrosaur would have had potential to run faster than T. rex," Manning said.
The preliminary calculations suggest Dakota could run 28 miles (45 kilometers) an hour. Tyrannosaurus rex tops out at about 20 miles (32 kilometers) an hour, according to the model. (Related: T. Rex Quicker Than Fastest Humans, Study Says [August 23, 2007])
For Manning, the finding makes perfect sense. Hadrosaurs are believed to have been T. rex prey, so evolution would have favored a faster running speed.
"And that's what our initial findings support," he said.
John Hutchinson studies the movement of living and extinct animals at the University of London's Royal Veterinary College. He said caution is warranted for claims based on computer simulations, which he uses for his own work.
The margin of error for locomotion computer models can be greater than 50 percent, he noted—enough to wipe out the speed difference between a hadrosaur and a T. rex.
"Knowing the leg muscle mass would reduce at least one uncertainty," he commented via email. "That's progress, but there are still huge uncertainties left."
Showing Some Skin
Research into Dakota's fossilized skin is also yielding image-altering clues to how hadrosaurs may have appeared, Manning's team says.
Though the skin has lost its color, much of its texture is still intact, allowing scientists to map it in 3-D to see what Dakota might have looked like.
"There seems to be a variation in scale size that might possibly correlate—as it does in modern reptiles in many cases—with changes in color," Manning said.
"There seems to be striping patternations associated with joint areas on the arm," he added, "and there's interesting information we're looking at in the tail as well."
The 3-D preservation of the skin has also prompted the researchers to search for traces of unfossilized soft tissue in the hopes that it might yield protein.
This April, for example, two teams announced the successful extraction and analysis of collagen, a bone protein, from 68-million-year-old T. rex fossils. Those findings supported the hypothesis that modern birds are descended from dinosaurs.
Manning's team is currently unable to discuss specific findings, which are pending peer review for publication in a scientific journal.
But team member Roy Wogelius, a geochemist at the University of Manchester, said: "We have an array of chemical analysis techniques that we're applying to the organism—and not just to the skin."
Remains to Be Seen
Other experts remain tight-lipped about the potential of Dakota to yield similar information as the T. rex studies.
Mary Schweitzer, a North Carolina State University scientist who worked on one of those projects, declined to comment until formal publication.
And Peggy Ostrom, a zoologist at Michigan State University who also studies ancient proteins for clues to how organisms are related to each other, commented only in general terms.
"It's rare to find an articulated skeleton and even more so to find one with fossilized soft tissue," she wrote in an email.
"If such finds show extraordinary preservation, they tempt us to wonder about the possibility of finding [unfossilized] biomolecules that might be remnants of the ancient organism."
---
---
Dinosaur Boom Linked to Rise of Rocky Mountains

The evolution of new dinosaur species may have surged due to the rise of the Rocky Mountains and the emergence of a prehistoric inner sea in North America, researchers say.

Duck-billed and horned dinosaurs flourished in North America, reaching a peak about 75 million years ago, a time known as the Campanian. For instance, one Campanian region known as the Dinosaur Park formation in what is now Canada saw seven different duck-billed dinosaur species and five horned dinosaur species emerge. A comparable region known as the Hell Creek formation in the United States from the Maastrichtian, the time that led up to the end of the Age of Dinosaurs 65 million years ago, saw only a single duck-billed dinosaur species and maybe three horned dinosaur species at most.

"The reason for this discrepancy in dinosaur diversity has never been adequately explained," said researcher Terry Gates, a vertebrate paleontologist at Ohio University.

Dinosaurs and geology

To help solve the mystery behind this pattern of evolution, Gates and colleagues analyzed the ancient geology of western North America, since environmental alterations often influence evolution. After focusing on trends in mountain and ocean formation 70 million to 80 million years ago, they found the landscape experienced profound changes back then that may have influenced dinosaur evolution.

During the early to middle Cretaceous, geological forces lifted the western United States, creating a huge mountain range known as the Sevier Mountains. This extended in a line from the American southwest through Alberta, Canada. Later, one of the tectonic plates under North America's crust shifted, building another mountain range farther east — the Laramide Orogeny, the infant stage of the modern-day Rocky Mountains. [The World's Tallest Mountains]

The area just to the east of the new Sevier Mountains dipped downward, creating a shallow inner sea known as the Western Interior Seaway that flooded the continent from the Canadian Arctic to the Gulf of Mexico. This seaway divided the continent into three large islands to the north, east and west that were densely populated with dinosaurs.

The wild west

The dinosaurs of the west dwelled on an island called Laramidia. "Western North America has been a hotbed for dinosaur discoveries for more than a century, but the recent explosion of new dinosaur species coming out of Utah is sending waves through the paleontological community and revolutionized our understanding of dinosaur evolution on the continent," researcher Lindsay Zanno said in a statement. Zanno is the director of the Paleontology and Geology Research Laboratory at the Nature Research Center of the North Carolina Museum of Natural Sciences. [The Bones Album: Photos of Dinosaur Fossils]

Specifically, the new finds helped illustrate how dinosaurs evolved on an island with changing geography. The growth of the Sevier Mountains and the Western Interior Seaway caused dinosaur habitat to shrink on Laramidia.

"It appears that geographic as well as probably also ecological barriers created by the rise of mountain ranges and the seaway caused isolation of the northern and southern populations of the crested duck-billed and horned plant-eating dinosaurs," researcher Albert Prieto-Márquez at the Bavarian State Collection for Paleontology and Geology in Munich, Germany, said in a statement. "We hypothesize that such isolation facilitated rapid speciation and increased diversity in these animals."

New species of duck-billed and horned dinosaurs were being born at an explosive rate of every few hundred thousand years during the brief time when the two mountain ranges and the seaway coexisted. Isolated populations often evolve new features more rapidly, Gates said.

Eventually, the continued rise of the Rocky Mountains kept the sea away from the continent's interior. This change opened up a vast territory for these dinosaurs to roam. This, in turn, reduced how fast new species evolved in the region to every few million years, the researchers suggest.

"Our data suggests that changing geography contributed to the pattern we see in western North America," Gates said.

During the times of isolation, a number of species of giant duck-billed dinosaurs "roamed a much smaller area than you might think given that many were larger than elephants," Gates said. It may be possible these dinosaurs evolved to eat specialized plants found only in certain regions, explaining why they lived in relatively tight confines.

Dinosaur diversity dip

Researchers had suggested that dinosaurs were declining before their mass extinction, due to a dip in diversity in the years leading up to the calamity.

"The major question I've been thinking about for 10 years was, 'Were dinosaurs really declining before they went extinct?'" Gates told LiveScience. "It turns out the time period of dinosaur diversity we were looking at, the Campanian, was a bit of an anomaly. It saw three converging geologic structures all coming together to form perfect conditions for a dinosaur species boom. Everyone was using this time as a baseline for dinosaur diversity, when it should have been seen as an anomaly, and the decrease in diversity later on was really a return to the status quo."

The mountain and seaway changes not only influenced dinosaur diversity in North America, but they also may have had effects elsewhere in the world. For instance, the rise of the predecessor to the Rocky Mountains created a barrier, meaning that only species living in the southern part of Laramidia could get to South America, and only species living north of the mountains could reach Asia across modern-day Alaska.

"These giant herbivores were truly invasive species that seemingly came to dominate these other continents," Gates said.

Gates and his colleagues are now exploring the western United States to better understand patterns of dinosaur evolution and diversity there, as well as how other groups of animals, such as mammals and amphibians, might have been affected by these geological changes.
---
suprized no ones connected the dots between the two threads....
---
Most dinosaur bones discovered are highly radioactive. Because of this, the bones displayed in museums are covered with heavily leaded paint.

Mainstream scientists explain this phenomenon by citing elemental uranium deposits in Colorado and Wyoming. These deposits were formed during the Jurassic-age. The radioactivity is generated from sandstones found in the region. However, not all dinosaur bones that are radioactive are discovered in the areas.

Elemental uranium does not occur in nature. This isotope forms through combination with oxygen and several uranium oxidized minerals and compounds.

Many dinosaur bone discoveries are made with mobile scintillators using sensitive Geiger-Muller tubes.

To explain the purveying evidence of radioactivity during ancient times, scientists at NASA and the University of Kansas claim that gamma-ray bursts could have facilitated mass extinctions that would have remodeled our atmosphere.

A gamma-ray burst consists of a sudden explosion of a nearby star that may well have depleted half of the earth's atmospheric protective ozone layer.

"A gamma-ray burst originating within 6,000 light years from Earth would have a devastating effect on life," said Dr. Adrian Melott of the Department of Physics and Astronomy at the University of Kansas. "We don't know exactly when one came, but we're rather sure it did come — and left its mark. What's most surprising is that just a 10-second burst can cause years of devastating ozone damage."
---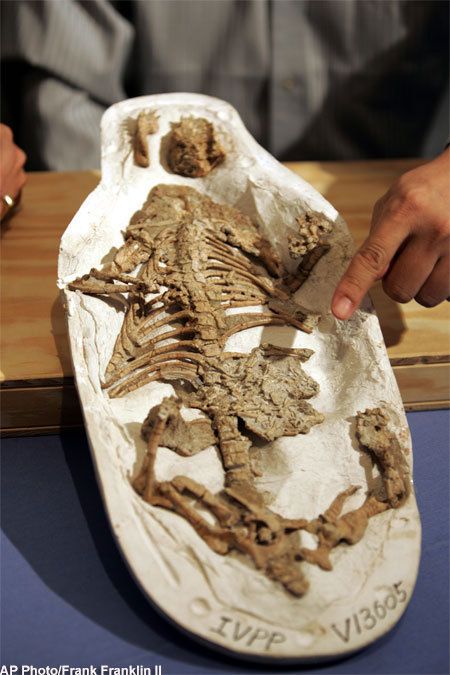 Dinosaur Fossil Found in Mammal's StomachCredit: AP Photo/Frank Franklin II
Hu Yaouming, unseen, a graduate student who studies at the American Museum of Natural History points to the fossil of a 130 million year-old mammal called Repenomamus robustus with the remains of a very young Psittacosaurus in its stomach Wednesday, Jan. 12, 2005 at the American Museum of Natural History in New York. Scientists say the animal's last meal probably is the first proof that mammals hunted small dinosaurs some 130 million years ago. It contradicts conventional evolutionary theory that early mammals were timid, chipmunk-sized creatures that scurried in the looming shadow of the giant reptiles
---
Related topics

Replies
Views

Last post