It's no wonder the ancients were in such awe of the heavens
This is not a time lapse. This moonrise, recorded just two days ago and presented here in real time, was shot in Wellington, New Zealand — and it is positively spellbinding. Seriously. Just watch.
The moon illusion is working overtime here, thanks to some clever camera placement by astrophotographer Mark Gee, who set up shop a full two kilometers away from Mount Victoria Lookout in anticipation of the Moon's appearance over the horizon. Writes Gee of the video, which he calls, appropriately, "Full Moon Silhouettes":
Source
http://io9.com/5980370/a-moonrise-unlik ... -ever-seen
WELCOME TO THE D.D.C
DTV Doomtards Club
---
---
---
---
Posts: 17855
Joined: Thu Jul 22, 2010 4:20 am
Location: babysitting
.
...nice cagey...
.....''perspective is a helluva drug''..
.
..... If you can't be kind, at least have the decency to be vague.......
.
---
Posts: 6249
Joined: Sat May 14, 2011 10:00 pm
Location: Zin-Uru
awesome!
It was written in prophecy that a Gelfling would end Skeksis rule...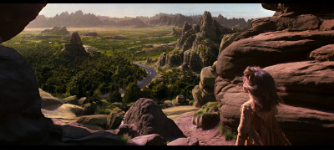 https://www.youtube.com/user/kinninigan
---
---
---