This man claims the American moon walks were faked. Uses Newton's Law to explain why.


Antiwar.com
---
Posts: 5997
Joined: Sat May 14, 2011 10:00 pm
Location: Arulu
figured i would slide in and listen.........
http://www.disclose.tv/media/list/user/Kinninigan
http://www.youtube.com/user/kinninigan


---
---
HONORI­FICABILI­TUDINI­TATIBUS

Remiel
VULCANIC PNEUMONO­ULTRA­MICRO­SCOPIC­SILICO­VOLCANO­KONIOSIS
---
Soooo..... why would the government add another layer of complexity in the so called 'fake' moon landing/moonwalk conspiracy by making the astronaut apear to be floating or bouncing around? Wouldn't it be simpler to just state that the effects of the gravitational pull on the moon are very similar to those on the earth and man can simply walk on the moon instead of bouncing around... surely, if you are going to lie about something you don't make the lie more difficult to digest. The 'lie' would be just as easily swallowed by the 'ignorant' person (me included) regardless of the effects of the moons gravity. Telling me there is gravity on the moon or no gravity on the moon does very little to change my opinion.

So, my honest opinion on this one.... there is still no proof the moonwalk was faked, this video proves nothing and does nothing to discredit the moon landing. To me it simply shows that some people simply want us to believe one unproven theory over another..
Fortes fortuna iuvat
---
I wont even look at what you call evidence. As you are dismissing the commitment and effort that hundreds if not thousands of people put into putting a man on the moon. I bet you have never looked into what it took to get a man on the the moon. The self-sacrifice and years of trial and disappointment that went into the final triumph. You disrespect your country if you live in the USA. And more to the point YOU ARE FUCKING WRONG. Dick head.
I question everything. I don't believe anything I'm told or anything I see. Prove it, or fuck off. And that's not me I see in the mirror in the morning.
---
HONORI­FICABILI­TUDINI­TATIBUS

Remiel
VULCANIC PNEUMONO­ULTRA­MICRO­SCOPIC­SILICO­VOLCANO­KONIOSIS
---
---
I would hope this guy is joking, but he probably believes this nonsense.
Gravitational acceleration varies with the mass of the attractor. It would be suspicious if the astronauts DIDN'T appear to float.
You can review the formula in any 9th grade science book or here:
http://en.wikipedia.org/wiki/Gravitational_acceleration
---
Posts: 1055
Joined: Sat Sep 19, 2009 1:55 am
The "only" way to really know if it was achieved as theyve been stating all these years, but first, one will have to get through that blast furnace called the Van Allen Belts is to go to the moon and be in the physical presences of "ALL" 6 landing sites..

But to get there youll have to have the money resources of the 6 riches men on the entire planet to make it work... cause if it IS been a hoax and the money resources are coming from outside, those of the elite will stop at nothing to prevent it and the money WILL stop dead in its tracks.


Simple...... isnt it. *shrug*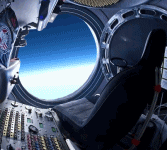 ---
Related topics

Replies
Views

Last post