Lostprophets Singer Held On Child Sex Charges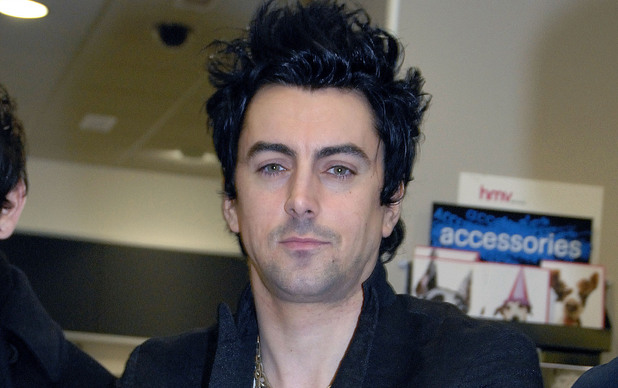 The Lostprophets frontman will appear at a Cardiff court on Wednesday (December 19).
The singer is charged with conspiracy to engage in sexual activity with a female aged under 13 and possession and distribution of indecent images of children.
Two women aged 20 and 24 from Doncaster and Bedford are also facing similar charges, and have been questioned at Cardiff Bay police station.
Senior investigating officer Peter Doyle said: "Specially-trained staff are available to speak to anyone with concerns or information regarding this investigation and a dedicated telephone number has been set up.
"I want to encourage anyone who has any concerns or information which they think may be relevant to contact us.
"Safeguarding children involved in such cases is always a high priority and as such measures have already been taken."
Watkins co-founded Welsh band Lostprophets in 1997, and the group have sold around 3.5 million albums worldwide.
Their 2005 album Liberation Transmission reached number one in the UK, while their fifth LP Weapons hit number nine earlier this year
Read more:
http://www.digitalspy.co.uk/showbiz/new ... z2FXerNbOw
Follow us: @digitalspy on Twitter | digitalspyuk on Facebook
---
---
Flecktarn wrote:the world is getting sicker
Or just more transparent
...I say, ''no mercy''
---
FFS somebody else should comment on this...Fuck 21/12/12...
---
---
Muchtyman wrote:

Fatdogmendoza wrote:FFS somebody else should comment on this...Fuck 21/12/12...

I am outraged ,Castrate this piece of Shit .

.....................................Happy Now ?
HAPPY??
---
A one year old child
living in the UK is embarrassing, hang the fuckers.
THE case of former Coronation Street actor Andrew Lancel who has been charged with historic child sex offences has been sent to Crown Court.
Andrew Lancel, 42, was charged last month under his real name Andrew Watkinson and was listed to appear at South Sefton Magistrates' Court on Wednesday.
However, a court official confirmed on Tuesday that the case had already been dealt with and had now been sent to Liverpool Crown Court on April 15 next year.
Watkinson, who has been granted bail, faces five counts of indecent assault on a child under 16, Merseyside Police said. The actor, from Gateacre in Liverpool, is best known for his role as Frank Foster in the ITV soap.
Merseyside Police said Watkinson has been charged under the Sexual Offences Act 2003
http://ufomaniacs.blogspot.com/
http://tiny.cc/Rizzesearch
"The greatest things on earth are us,supposedly.
Why don't we act accordingly, with humanity" Rizze
---
---
Fatdogmendoza wrote:
Sorry buddy , not making light of your rightheous anger .
Don't know if you follow this gentleman , Mr High .
More of this unsavoury shit still to be revealed .
http://www.grinningplanet.com/articles/ ... ctions.htm
---
---
Related topics

Replies
Views

Last post