The word Anarchy comes from the word Antichrist. so, if you are an anarchist, you are fighting for the spirit of chaos, you are fighting against the spirit of hope and goodness. Exactly what the masons and their Illuminati brethren want. Ordo ad chao - order out of chaos.
V for Vendetta is a propaganda film which promotes anarchy, and luciferianism, and it is one of many things being used to control the truth movement. And now, alex jones is promoting a new V campaign to stand up against global tyranny. so lets take a closer look at V.
V in 'V for vendetta' represents Satan.
his first line to
EVE
y is the beginning is the first line from the song 'sympathy for the devil,' which is actually supposed to be Lucifer himself singing.
He tempts EVEy (Portman) he then completely brainwashes her to get her to think his way. and she ends up loving him.
He quotes the satanist Aleister Crowley numerous times, and even at times seems to have horns in the comic.
Alan Moore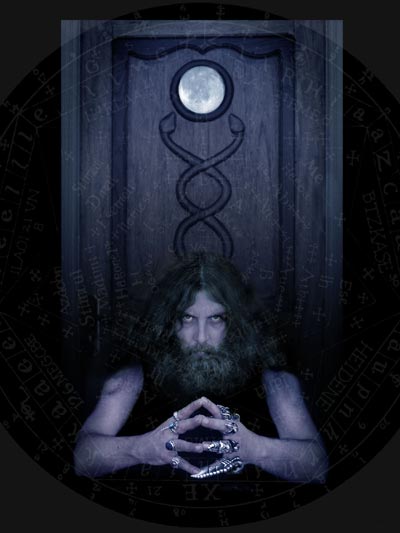 Also in his graphic novel 'The Watchmen' the bad guy stages a false flag alien invasion to unite the people, and many readers come out of reading the book thinking that he may have been right. This is all conditioning.
Guy Fawkes in V for Vendetta was trying to murder King James I, a good king, who fought against the occultists with all of his might. When the murder attempt failed, it became a tradition to burn a doll of Guy Fawkes on the 5th of November, in celebration of the King's living! Yet this man is glorified in the movie, as a hero fighting tyranny.
So now lets look at what Alex Jones is pushing: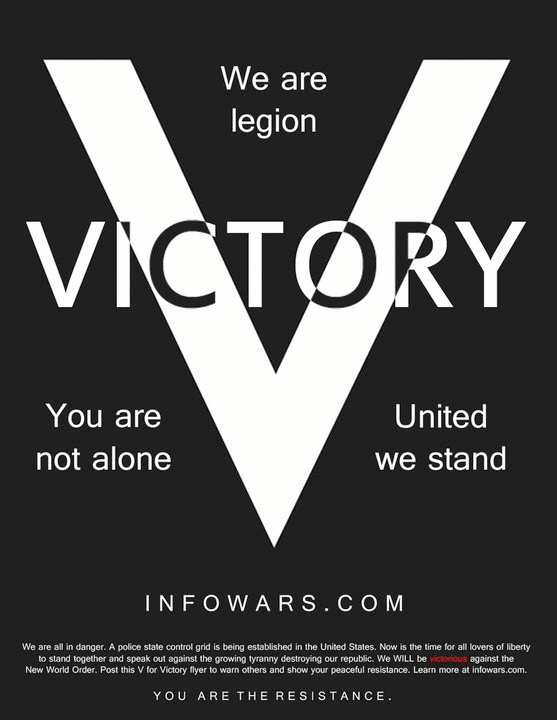 'We are legion.'
If you know what that is from and you are a decent person, you would not ever want to refer to your 'truth movement' as 'legion.' Let me explain if you dont understand. This comes from a story of Jesus exorcising a man with many demons Mark 5:9
'And He asked him , "What is thy name?" And he answered, saying, "My name is Legion: for we are many.'
But this saying has been used by another group recently, the hackers who are supposedly working to help the truth movement by fighting for the disinfo outlet wikileaks, by shutting down businesses and such online, makes the truth movement look so good.
and their motto:
"We are Anonymous. We are Legion. We do not forgive. We do not forget. Expect us."
So this is the face of the mass movement?
Will you hide behind the face of Guy Fawkes, of Legion, of Satan? or will you actually stand for TRUTH?
"All that is necessary for the triumph of evil is that good men do nothing." ~Edmund Burke
---
Posts: 929
Joined: Tue Nov 02, 2010 9:40 pm
The word Anarchy comes from the word Antichrist
Does it. Odd, I thought it was Greek (ἀναρχίᾱ, anarchíā) for "without ruler". Nothing to do with the antichrist (a different word).
"In the wardrobe of my soul ... in the section labelled 'Shirts'"
---
---
Posts: 929
Joined: Tue Nov 02, 2010 9:40 pm
megame23 wrote:ok, no connection, think what you want about that its pretty fucking obvious though.


what about the rest of it?
Taking two words which are vaguely alike and of different meanings does not make a correlation. It's only obvious to you.
Since I don't believe in Satan and I've not seen V for Vendetta, I couldn't comment on the rest of it.
"In the wardrobe of my soul ... in the section labelled 'Shirts'"
---
who cares if you beleive in Satan? what matters is that a character of evil is being propped up as a character of good. and how they are manipulating the truth movement.



You seriously think that 'they' never hide more meaning in words or symbols? With out a leader? without Christ? without god? you can see no connection? really?
"All that is necessary for the triumph of evil is that good men do nothing." ~Edmund Burke
---
---
---
---
Alex Jones, David Icke, and those like them are final step in keeping the people in ignorance.
They are the ones who let you know almost everything about illuminati, EXCEPT the part that the one and only true target is human rejecting his Creator! All this wars, all banks, all bs that's happening on planet for over 2000 years are made to convince human that there's no God who created him and that one is not required to worship it's Creator. Totally opposing the thing GOD ASKED YOU TO DO. Their only purpose is to make you go to hell once you die, filling one's head with messages like:" Adult people who have imaginary friends are stupid" and such.

There's no one on this planet who was able to "infiltrate" illuminati, it's all their propaganda. Think about it. Think about what's happening. People all over the world started to getting this "something's wrong on this planet" feeling, and they needed their own agenda to still keep them away from truth.

You can find out everything, even about our fabricated aliens which are to invade our planet, but the only one truth will remain hidden. The one that's been fabricated for over 2000 years.
The great lie that's there's no God and that you can "do what you wilt".

RESIST ILLUMINATI!!!!!!!!"!!!
---
---
Related topics

Replies
Views

Last post