Posts: 863
Joined: Tue Feb 09, 2010 11:28 pm
http://www.guardian.co.uk/science/2011/ ... ilisations
Wait for it....
Wait for it...
Because of Global Warming!
Rising greenhouse emissions may tip off aliens that we are a rapidly expanding threat, warns a report for Nasa
FUCK
to the
YOU
Go back to your Muslim Outreach program...
---
Posts: 9348
Joined: Thu Jun 03, 2010 11:08 am
not if we destroy them first
and we humans are very good in destroying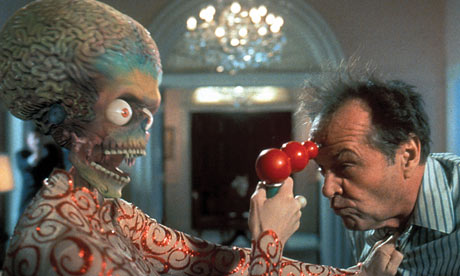 ---
Why use so much energy in destruction, when better use can be made in exploitation.
We are referring to advanced intelligent aliens right.
In Lak'ech

May the force be with you, always.
---
That is in a UK broadsheet not a tabloid, looks like there is going to be a fake invasion killing millions
---
If et's wanna to wipe us it would be done a long time ago,imo.
---
cosmine wrote:If et's wanna to wipe us it would be done a long time ago,imo.
Haha, resistance is futile
In Lak'ech

May the force be with you, always.
---
Posts: 5117
Joined: Thu Nov 05, 2009 5:11 am
Location: Earth
The aliens have done a mind control on
you
to post this. You are part of their info program. I am sorry to tell you this.
I was also one of the Alienagrams. Once I broke free from their mind meld I was placed in an older lunatic asylum. To which some military personal would present for testing. Some of the testing was done while I was awake. Others as I slept. The testing while I was awake consisted of. Oxygen depraved brain and motor skills. I was put in a decompression type container then deprived of oxygen. I was asked to re write or copy a letter. Then flash cards of different types of aliens would appear. I had to push a red button or a blue button. Depending on what I had thought looked familiar. Then math problems.Then to the alien cards again. Oxygen was then brought back up. More of the same questioning. This was a 20 hr stint. It was a very disturbing experience.
The sleep testing was a bit different. Also very awakening. This started immediately after the awake testing.
I was lead to an
elevator
. I still think I had went down 7 levels the over 3. Yes over 3. I do not know if it factually went this way or if it was more of the mind fuck I was receiving. But after what I thought was 7 levels and a pause I had fell a little off balance falling to the right so I believed I could be traveling left due to shifting to the left. After the initial off balance I felt none until the stop. I say 3 levels over because of the sound. Like any mechanical device there are noise/sounds.
Back to the sleep testing.
Electrodes were attached to my head, They had asked me if I wanted my whole head shaved or just were they would place the electrodes. I choose the whole head. I know it had only been 15 minutes at this point .I had over hear one of the new military dressed personal say under her breath "its been 15 minutes there is a 30 minute window" Once my head was shaved placed on a hospital bed. I found it very comfortable. May be because I was just up for 20 hrs being mentally screwed. Then a I.V. was inserted.
After that I was great comfort. I recall being outside with four cats around me. One of which could communicate with me. I can not recall if the cat actually spoke or if it was through thought. in the dream 3 aliens approached me. One at a time,. I was in a different location for each. One was on a ship,one was on earth and the last on what I believe was another planet.Each asking the same question. "do you remember why I am here" I answered
no
to all.
After going through this all It was 3 days later but I had believed it was only 48 hrs.
I really did know why they were here. it was to...
destroy humanity to protect other civilizations
I would have loved to type more but thought was taking to long.

Opinionated turds. Thats what its about
---
Posts: 994
Joined: Thu Sep 02, 2010 8:27 am
Hey, Shaggie, were you at Vacaville when they did this to you?
---
If you're serious shaggy,thank's for sharing your experience.
---
Posts: 21107
Joined: Thu Jul 22, 2010 3:20 am
Location: Odin's Palace
cosmine wrote:If you're serious shaggy,thank's for sharing your experience.
even if you weren't serious .......
if you don't like my opinions....please lower your standards
.
---
Related topics

Replies
Views

Last post