Posts: 3889
Joined: Sat Apr 04, 2009 5:01 pm
Strange move for Anonymous...imo....??WTF?
Massive UFO Prank On The Way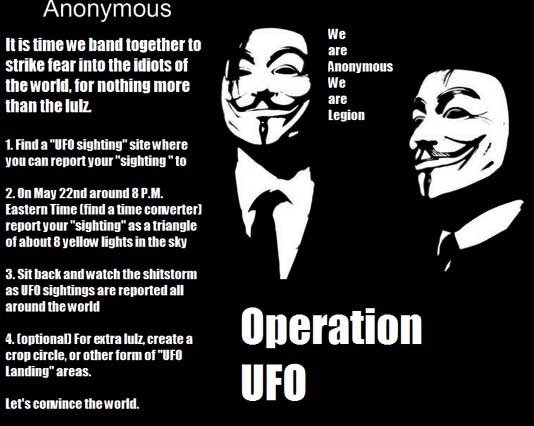 Anonymous is in the midst of planning a world wide prank, this time, targeting UFO enthusiasts and well…almost everyone else.
If you aren't familiar with who Anonymous is, then let me quickly fill you in. Anonymous is the name of an online group of people that come from all walks of life and stand for social justice. Online or offline. This group of people are made up of 'hacktivists' and the curious. But besides the political aspect, they also do things for the "lulz". Meaning that the group of talented anonymous users like to stage big elaborate pranks.
Operation UFO is one of their latest pranks.
On May 22nd, 2011 at around 8:00 pm EST the operation is set to commence.
The plan is simple, flood UFO websites with fake reports of a triangular UFO. Then just sit back and watch the world go crazy. LOL.
Is it childish? Yes. Is it funny? Yes.
I think we're becoming a society that is becoming dangerously to dependent on technology. I was at a bar the other night and noticed that almost everyone in the bar was taking pictures of themselves using their cellphones and uploading them to Facebook. Chatting online and browsing is the new thing to do I guess. Given that almost every American is so dependent on the internet for their daily dose of news, celebrity mishaps and knowledge, it's easy to see how this can be detrimental.
On the morning on May 23rd, let's see what major news sites start to report these fake UFO sightings as the real thing. How many do you think will tie them to Obama possibly disclosing UFO files? How many will make a connection with UFOs and terrorism? FOX News….I'm counting on you for that.
So, sit back and watch the UFO world go crazy on May 23rd.
Online hacker group Anonymous has sent out a call-to-arms for its latest prank: attempting to convince the world (or alien enthusiasts, more like) of the existence of men form outer space.
At 8pm on May 22, anyone in on the idea is encouraged to report the same UFO sighting ("a triangle of about 8 yellow lights in the sky") to the relevant hotline or website of their choice. The idea is that the sudden influx of identical reports will convince UFO buffs that contact is finally about to be made.
http://www.ghosttheory.com/2011/05/16/m ... on-the-way
---
---
---
Posts: 2772
Joined: Tue Feb 10, 2009 5:05 pm
Location: Southeast States
Let's reverse the situation; What if it was the PTB who put this together (as it wouldn't take anything more than Photoshop and we all know how much they love that program) to put this together and cause some image damage to this organization?
Anonymous loses face and the PTB can do exactly what the above poster stated. Con them with another fake false flag operation.
Let's not forget, the governments best game to play is
Discredit the Monkey
baring fruit "That's not a bananna, it's an apple. Now repeat after me,..."
Sometimes, simple is better
---
Posts: 119
Joined: Mon Jan 31, 2011 2:53 pm
Hmmm...

Anarchists posting rules?

Think about it.
Reel hard.
---
Posts: 331
Joined: Sat Jul 04, 2009 2:09 am
So many more things they could be doing that would actually be useful rather than stroking their collective egos.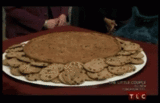 Happiness is subjective ;)
---
---
---
Posts: 2369
Joined: Tue Jul 28, 2009 12:43 pm
I don't trust anonymous, they are faceless therefore we have no idea of their genuine intentions and who is behind them. The PSN hack was unforgivable imo. I think they may have been hijacked, there has been a split within anonymous recently, divergent agendas no doubt.
"People assume that time is a strict progression of cause to effect, but *actually* from a non-linear, non-subjective viewpoint - it's more like a big ball of wibbly wobbly. time-y wimey... stuff." - The Doctor
---
Posts: 2212
Joined: Sat Jan 16, 2010 2:55 pm
Location: GERMANY
99socks wrote:See, this could be bad....

What happens when the woefully naive hear this was a prank... and then if something like Blue Beam happens and they take that seriously because it's coming through "official" channels..?
thats exactly that came to my mind first!
Your eyes are useless when your mind is blind.
---
Related topics

Replies
Views

Last post