Posts: 10120
Joined: Wed Jul 01, 2009 9:10 pm
Location: Packing my stuff and moving to Denver like you should be doing
More Half-human creatures:
Pan was half human half goat
Eros had wings
There were the Gorgons - Stheno, Euryale, and Medusa
The Harpies
There was Hymen & Nike
Now, Nigeria. Another half-human creature is born to a sheep. Thousands of onlookers flocked to see the creature at the Fakon Idi Veterinary Clinic...but what is going on? This is but the latest in a series of half-human creatures born across the globe. Some have suspicions that alien experimentation is at work...
The picture is from Nigeria's Daily Sun and it is clear that the creature is some kind of a mysterious mutant. The large crowd that gathered was demanding that the owner of the beast explained what had happened, suspicious that he had been having relations with the animal and that a half man-child had been born.
So furious did the crowd become that the Nigerian Security and Civil Defence Corps had to be called, to protect the owner, who some of the crowd wanted to summarily execute. Some were shouting: "Who did do that there?" One bystander commented to the Nigerian newspaper: "This is an abomination in our land. To see a sheep give birth to a half human being is a mystery and that shows how terrible some people are. It is unimaginable that some people will be having intercourse with animals".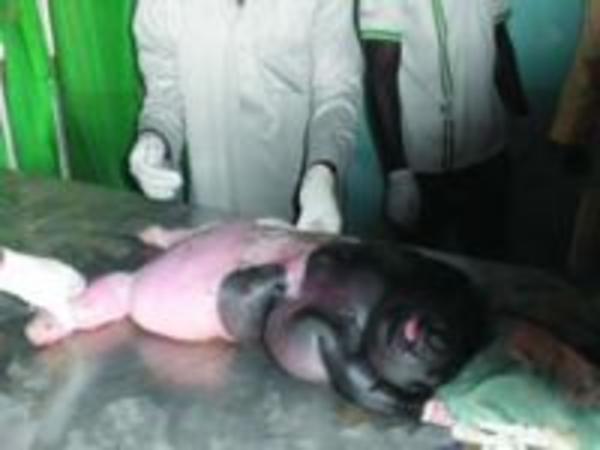 Experts claim that there is a perfectly logical reason for the aspect of this creature, namely that the sheep had been in labour for two days and that the lamb had become deformed. But what about the other similar cases that have happened recently? In 2010 in Turkey, a dead lamb was born with a half-human face, near Izmir. And if a sheep is in labour for two days, its lamb assumes human features? Such a notion defies logic.
Are these genetically modified organisms being let out into the wild? Are they experiments by military researchers? Is this a new form of medical exploration, trying to find donors for organs? Or is alien experimentation at work?
http://english.pravda.ru/society/anomal ... f_human-0/
FAIR USE NOTICE.
Section 107 of the US Copyright Law. In accordance with Title 17 U.S.C. Section 107, . http://www.law.cornell.edu/uscode/17/107.shtml

---
OR..............
Is it a genetic trait carried by sheep to begin with which through the due course of history repeats off and on?
Humans have a similar genetic flaw built in as well which causes "rare birth defects" which can only be guessed at as cross hybridization failures.
Either way, there is definitely some serious mucking about going on.
cheers

The Book of Man
http://vimeo.com/album/2701770
The Book of Man Blog
(announcements) http://brianonley.wordpress.com/
---
Happens all the time in Yorkshire!
"If at first, the idea is not absurd,
then there is no hope for it"
>>>>>
---
dagnamski wrote:Happens all the time in Yorkshire!
LOLz...........
So when leaving, they say, "...baa, baa, baaa...."?

The Book of Man
http://vimeo.com/album/2701770
The Book of Man Blog
(announcements) http://brianonley.wordpress.com/
---
Related topics

Replies
Views

Last post