You can following it here while it happening, I'm sure the video will be up this afternoon.
http://live.gizmodo.com/
Around conservatives I sound like a liberal, and around liberals I sound like a conservative.
---
Still seems a bit uncomfortable to me, at this point I'm sticking with a MacBook Pro - the iPad is just a huge iPhone - that won't fit in your pocket.
Around conservatives I sound like a liberal, and around liberals I sound like a conservative.
---
No 3-G, only WI-FI.

At this point - it's a waste of money - like the MacBook Air.
Around conservatives I sound like a liberal, and around liberals I sound like a conservative.
---
You cannot be serious! Apple iPad met with derision and amusement by web users
http://www.dailymail.co.uk/sciencetech/ ... users.html
iPad has been derided for sounding like a feminine hygiene product. iTampon quickly became a popular topic on Twitter
Much hilarity has come from the unfortunate link between ''iPad' and the common name for feminine hygiene products. Internet users were quick to trade time-of-the-month iPad jokes.
'If you and your friends all buy one, will they sync up?' one woman asked. While another questioned, 'Does it come with wings?'
Bloggers have been quick to poke fun at the 'revolutionary' iPad, saying it looks similar to an oversized iPhone
A spoof of the Apple website shows an alternative name for the iPad
Many virals revealed disappointment that the iPad failed to live up to its great promise and hype
Another more contorversial spoof video on YouTube shows an actor playing Hitler in his Berlin bunker, apparently complaining about the iPad.
The video, which has already been viewed 27,000 times, shows the Fuhrer shouting at his subordinates after he discovers the iPad won't support multi-tasking or have Flash support.
In his subtitled tirade he says: 'It could have changed the market. It could have single handedly destroyed netbooks. But what do we get instead? An oversized iPod Touch! It can't even make phone calls!'
And while the pictures and videos could be seen as just innocent fun, it could be a worrying sign for Apple that punters simply aren't taking the iPad seriously.
It surely didn't help that Apple grandly announced the gizmo with a quote from the Wall Street Journal that said: 'Last time there was this much excitement about a tablet, it had some commandments written on it.'
---
Posts: 3339
Joined: Tue Jun 08, 2010 9:47 am
LOL, his second meme is funny.
I just want to let everyone know who might be buying a tablet computer that I came across some information

that might be good for someone looking for a desktop replacement as well.

I discovered that the new Microsoft Surface Pro 3 has a hidden problem making the old Surface Pro 2 better in
the long run.

Now is also the time to consider especially in Australia at purchasing a Surface Pro 2 cheap as the new model
comes in and the old model is slowly phased out.

I went to harvey norman and started hagling and playing mind games with the sales man immediately, I'm
not sure if I'm sadistic or something, cynical and pessimistic definately.

I started out by saying that I know you are already taking pre orders on the Surface Pro 3 which is being
released next month late August here in Australia.

The salesman let on that they were not selling early on and I made use of this later in my mind grooming exercise of
logic. The Surface Pro 2 comes in 3 flavours as they say now.

1. 64 gig 4 gigabytes of ram. windows 8.1 i5 dual core.
2. 128gig 4 gigabytes of ram. windows 8.1 i5 dual core.
3. 256gig 8 gigabytes of ram. windows 8.1 i5 dual core.
they start in price at 920 aus for the 64gig model, however 64 gigs is not enough and even when expanding
with an minisd card your operating system being windows 8.1 is already using near half of the primary storage device.
My target is the 256 gigabyte ssd model with double the ram at 8 gigabytes.

The more memory the more has the computer can cache the ssd for faster reads and be more useful

for productivity for making videos and photoshopping which require more then 4 gigs.

The worlds most powerful tablet! Sure you can get i7 razor tablets but quad core just means you

will have a hungry tablet that overheats even more then an optimised dual core.

This tablet has a fully fledged intel i5 dual core not just the run of the mill chrome book dual core celeron cheapies.
This tablet gives you the performance of a desktop pc in a tablet form and runs full win 8.1 pro.
1. It has a modest 5 to 6 hours of continuous use battery life. This is increased by 1 hour in the new pro 3.
2. It has a modest 10.1 inch lcd multi touch screen.
4. It shares the new Intel 4400 iris discrete graphics chipset giving it the ability to run pc games quite well.
Though ofcourse not being a dedicated video card means that it will run higher end games on low settings only.
However It is a very capable chipset as I will show in some videos.
5. recommended model I want, 256 solid state harddisk and 8 gigs of ram.
for perspective most tablets are lucky to have 2 gigs and most cannot run windows 8.1 desktop.
6. I has hdmi mini out to a bigger screen which is what you would do if you were to buy this as a desktop
light gaming pc replacement.
Also you would get an external kb and mouse.
Only a single usb 3 means you have to either get a wireless kb mouse blue combo dongle or you
can get a usb hub and have plenty of ports to run other devices. It has full wireless
support like any modern device as well as bluetooth.
Before I forget this is why you will get a good deal, it turns out the surface pro 3 was built so slim
that it can't expel the heat enough.
I will show the evidence now:
http://www.anandtech.com/show/8077/micr ... 3-review/3
Surface Pro 3 compared to Surface Pro 2. Benchmarks will show an increase in performance due to more aggressive ramping up/down of clock speeds vs. Surface Pro 2, but prolonged load cases will likely show a decrease in performance vs. last year's model.
So last years is more reliable and puts out better performace, LOLOL!!!
I first stumbled upon this behavior while trying to gather thermal data for Surface Pro 3. I noticed large run to run variance if I repeatedly ran 3DMark 11. I'm used to seeing this sort of behavior on smartphones that throttle quickly, but it was unique for a Surface Pro device.
3DMark is a synthetic test so the real question was how would Surface Pro 3 perform in a real world scenario where sustained CPU/GPU load was guaranteed for a long period of time. I figured a game playable on the machine like Dota 2 would be a great example. I asked our own Ryan Smith to whip up a custom benchmark using the game and I ran it on Surface Pro 1, 2, 3 as well as a 13-inch MacBook Air (Early 2014). The graph below illustrates average frame rate during our Dota 2 benchmark for all of the systems:
As you can see, even with Surface Pro 3's fan running the platform doesn't deliver sustained performance equal to last year's model. It's an understandable tradeoff given the substantial reduction in device thickness (and thus improvement in usability), but it's important to note nonetheless.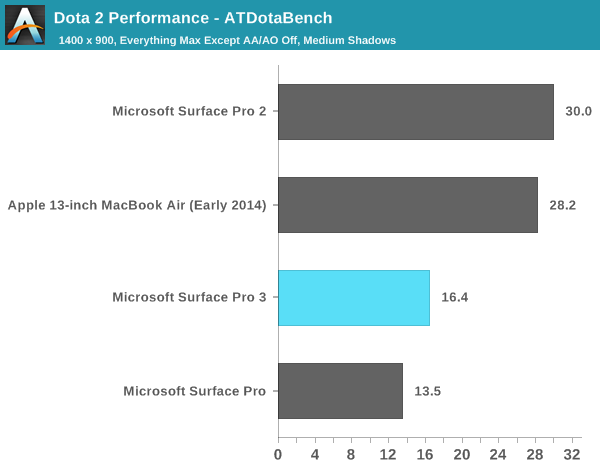 I won't repost the whole article, you can simply cllick on the link to see the
daming benchmark of the new pro 3 in action.
Anyway, You can likely get a good deal when the Surface pro 3 is released soon,
I don't know if it's been released in america yet or europe.
Though Harvey normans are taking pre orders on the Surface pro 3 now!!!
I'm going to wait strategically and ply a good deal out of harvey norman gladstone next
month. I already know they have 7 in stock and they haven't been selling well.
Thats because they are hideously expensive. The 256 gig model retails for 1400 bucks.
I will get them down to under a grand I'm sure or they will have to donate them to
charity or something.
Having 256 gigs ssd and 8 gigs of ram and a proper i5 dual core means I can use this
tablet for much more then just watching videos.
lachlanlikesathing
[/youtube]http://youtu.be/_qfXYODpR9o[/youtube]
The connectivity options.
Sean Ong
RedCrossKnight
Not a completely shameless endorsement.
This thing is so powerful you could use it like the character in watchdogs
and roam around using pc hacking software to invade networks through their wi fi.
Crikey.
Live by the Terror, Die by the Terror.
---
Posts: 3339
Joined: Tue Jun 08, 2010 9:47 am
OMG, I nearly spent money at harvey norman Instead I discovered REDPC on ebay which
is a computer refurbisher.
I bought instead the Toshiba U920T i5 cpu 8gig ram 256 gig ssd. Guess how much?
650 bucks, YAY.
Runs full windows 8.1
It's a powerful tablet with a 12.5 inch touch screen that converts into a laptop.
It has full size hdmi out and 2x usb 3 and full size sdcard reader.
Backlit kb. 2 cameras. solid 5 hours battery life for a big tablet/hybrid.
Same specs as surface pro but with bigger screen and inbuilt kb.
Ebay rocks. Screw harvey norman. Surface pro sucks anyway.
Other usb located next to card reader on side of hybrid tablet.
There are plenty on ebay. The 8 gig ram models are the best option as the intel hd 4000 chipset can't use
dual channel ram mode with only 4 gigs and it also shares memory with the system ram so more memory
is better. Anyway I have my order confirmation and tracking ticket.
I wanted a better steam platform for mobility as my metabox gaming laptop is too big to really
be portable. I can't run high end games at full settings but old games run at high settings
and low to medium demanding steam games will run fine on it.
You can play cod and battlefield on it too.
Have a nice day members.
Live by the Terror, Die by the Terror.
---
Related topics

Replies
Views

Last post