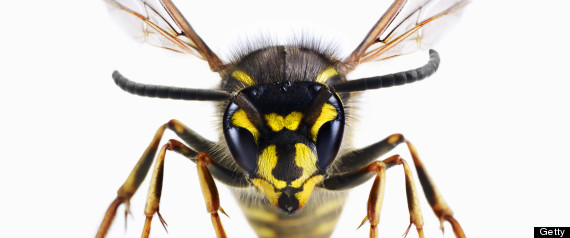 DRUNK WASPS: Just When You Thought They Couldn't Get Worse
Humanity's worst fear has been realized: wasps are getting drunk. And they're not fun drunks, either.
The British Red Cross is warning citizens of a record number of wasps in the UK that are out of a job. That is, their queens are fully supplied with nectar, leaving worker wasps to do nothing but laze around and drink fermenting fruit.
The Independent reported that as winter approaches, wasps are becoming bolder and angrier as they get older. And now these retirees are getting wasted and stinging with more frequency.
"It's hilarious that, now worker wasps have finished their life's work, all they are doing now is feasting on fermented fruit and getting 'drunk,'" Joe Mulligan, head of first aid at the British Red Cross, says in a news release.
"Hilarious" is not the word we'd use. "A threat to the well-being of everything good in the world" seems a more appropriate line.
A recent video of a wasp literally tearing a bee in half recently made waves online, and that wasp was sober. We can't even imagine what kind of atrocities this new breed of angry old drunks will commit.
http://www.huffingtonpost.com/2013/09/07/drunk-wasps-england-britain_n_3885800.html
Around conservatives I sound like a liberal, and around liberals I sound like a conservative.
---
Posts: 21457
Joined: Thu Jul 22, 2010 3:20 am
Location: Odin's Palace
.
....i've always tried not to piss 'em off...
Collapse is a series of events that sometimes span years.
Each event increases in volatility over the last event,
but as time goes on these events tend to condition the masses.
---
Hmm so they work there arses off and when they retire they get pissed everyday. I am going to take the lifestyle of a wasp when I retire. After all mother nature knows best.
---
Posts: 2388
Joined: Mon Apr 16, 2012 8:16 am
i loathe those vicious little bastards, kill the idjiot who brought em here to aus.
the story of life is quicker than the blink of an eye, the story of love is hello and goodbye, until we meet again my friend.
---
Posts: 3339
Joined: Tue Jun 08, 2010 9:47 am
Yeah, Party hard little soldiers. Don't let the fascists get you down. They done their hard yards.
COOL
New organic anti theft device:
Beer Goggles engaged!!!
TIDY
Live by the Terror, Die by the Terror.
---
Posts: 559
Joined: Thu Jun 13, 2013 10:55 am
When i was about 12 we had an Allotment to grow Vegetables in, and fruit.
There was this Eating Apple tree with juicy Apples, and a Conference Pear tree.
About August when the fruit was ripe the Wasps gorge themselves on this fruit until they were pissed up (Drunk) so it's not a new thing.
I remember about 6 or 7 Wasps attacking my little sister, and i scooped her up, and headed towards a big shed what we had, only one Wasp stung her, and i managed to shut the rest out.
I don't like to kill anything but i will make the exceptions to a Wasp, and Flies, evil little creatures.
If you're talking behind my back, you're in a good position to kiss my ass!
---
When I was ten I made my first atomic bomb.. Well not quite I took the black powder from a few fireworks (pigeon scares) my dad had. I made a big mother of all pigeon scares.

I had been stung on the tong by a wasp the week before, when I drank the tiny bit of beer which my dad had been drinking and was left in the bottom of the bottle. But the wasp had beaten me to it and swimming around in the beer. Anyway I needed revenge. A suitable target for ground zero. The wasps nest was in the top corner of the garage. I couldn't reach that high so I tied the bomb to the end of a wooden broom handle. I lit the fuse and rested it against the nest.

I ran to the open door and waited. Bang. I blew the fucking nest to pieces. But what I never took into consideration was that a wasp nest is made of paper. Apart from hundreds of pissed off wasps heading my way, there were flying bits of burning paper settling around the garage about to bring death and destruction to my world. I wont bore you with what happened next, as it's still to painful to recollect. Needless to say I have a healthy respect for wasps and a better understanding of how hard my dad can swing a stick.
A black-hole is not a hole it's a sphere. As will be the universe when compressed into the smallest unit it can be.
---
Wasps do get aggressive late in the year.
There was a renaissance fair, (faire), I went to a few years back and in addition to the interesting bodices around the grounds..
they served up some delicious deep fried turkey legs..
Those darn wasps, all having the munchies from partying no doubt, wanted some of that fried turkey. Granted they didn't eat much, but when one of 'em stung me, my hospitality ran out.
Antiwar.com
---
---
wasps are wicked little sods

.
---
Related topics

Replies
Views

Last post