spreadthetruth wrote:http://beforeitsnews.com/story/297/631/BILLBOARDS_IN_U.S._DECLARING_JESUS_WILL_RETURN_5_21_11:5_NEWS.html
Not being funny, but is this meant to be taken seriously?
---
Well...if he does come he'd best be wearing IronMans suit with Supermans powers or noone will give a toss. Plus he's got to deal with Eliakim, who seems to believe that the voice of god is theirs alone. If I were Jesus I'd pass on this trip.
You are an immortal being, so stop freaking out about losing another body!
---
Posts: 2442
Joined: Mon Nov 23, 2009 8:25 am
Location: Scotland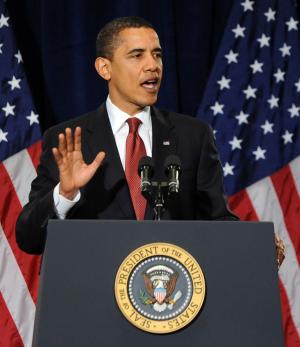 President Obama addressess the world...............
"People of America, and all the other places that don't really matter, I have grave news that could have affected all our lives.............Jesus Christ has returned.......He appeared at the Whitehouse some months ago and declared himself, proving his powers by turning two big mac's and fries into several thousand, our friends at McDonald's were not happy, but, nevermind, since his terrorist goals were clear from what he said and boy, were they bad, he wanted to:
1. Stop all wars and genocide, can you imagine what that would do to our economy and your jobs? That was bad enough in it's self, but
2. Feed the starving of the world, Shit!, he wanted countries with food surpluses, just to give it away!, See, a fucking anachist, right there! and
3. Bring all the people of the world together in harmony and brotherhood! Now, can you imagine that, who the hell would we invade and steal their oil and gas then? Who could we sell arms too? That was enough, I ordered him to be detained at our famous Holiday Camp for the duration. The church is right behind us on this, afterall, they too would be out of jobs and they're not happy!
So, your government has again acted in your best interests, and please keep voting, since it really doesn't mean shit - you vote me out, they just stick another one of their pal's in, and so on......anyway, good sheep, opps, sorry, people and remember: Anyone who disagree's with your government is a terrorist, there are good prizes on offer for all information about such barstards.....Goodnight and God bless.................."
---
truthdefender wrote:"First of all, you must understand that in the last days scoffers will come, scoffing and following their own evil desires. They will say, "Where is this 'coming' he promised? Ever since our fathers died, everything goes on as it has since the beginning of creation." 2 Peter 3:3-4
You can defend the Bible, I used to do so as well. But I would suggest you watch a vid called "Bloodlines of the Illuminati, Whos Who and How" Around part 7, on the original film, they go through the name change and the history book changes of "Jesus". And it ties in with what we already knew concerning the Liberty statue. Then watch the "Omega Project", and you will find that these are the cargo cults of the Anunnaki, and that is why Nepolians army found an Egyptian glyph of 'jesus' as a snake. He is cleo's line..Amon's bloodline. Amon/Yahweh wrote the bible and the torah..and not for the good of mankind. It is ment to deliberately mislead the person.
---
tuor10 wrote:

spreadthetruth wrote:http://beforeitsnews.com/story/297/631/BILLBOARDS_IN_U.S._DECLARING_JESUS_WILL_RETURN_5_21_11:5_NEWS.html

Not being funny, but is this meant to be taken seriously?
You will find
the
MOST
serious fanatics alive
, when you find a religion involved. That is what it does to the mind of the person under the influence;)
---
Related topics

Replies
Views

Last post