If a person were to choose his ideal way of dying, it would probably be peacefully passing away in his sleep. Unfortunately, it doesn't always happen that way. In some cases, the way a person dies can be very strange indeed. Here are some of the very strange ways people have died throughout history.

It's hard to believe, but sometimes plants take revenge. A 27 year old male discovered this after his friend suggested they do a little "cactus plugging" by shooting a cactus with a shotgun. This young man tried his plugging skills on a 25 foot tall Saguaro cactus. After blasting a large hole in the cactus, the cactus fell on him, crushing him to death!
Sometimes you can even die strangely while walking through your own city. Allan Pinkerton, famous for creating the Pinkerton detective agency in the 1800's, died at age 65 after biting his tongue when he slipped on the sidewalk.
It's hard to believe but there's actually a case of someone eating himself to death. The unfortunate victim was King Adolf Frederick of Sweden. His favorite dessert was a bun filled with marzipan and milk. He was so hungry that one day he ate fourteen servings of this dessert and subsequently died on the spot.
You've heard of video game fanatics. Well this young man have had the ultimate game addiction. A 28 year old Korean video game lover died at an internet cafe after playing Starcraft for almost 50 hours straight. At least he died doing something he enjoyed.
This may be the most nauseating death of all. In the early 1980's, a 25 year old Dutch woman arrived at the home of a classmate who had invited her to dinner for an intellectual conversation. The conversation must have turned bad because she was killed and eaten by her dinner companion.
Celebrities have been known to die in strange ways also. The author, Sherwood Anderson, died after developing an abdominal infection when he swallowed a toothpick at a party.
It pays to write down the combination of your safe. In 1911, the famous Jack Daniel, who founded the Tennessee whiskey company, died of blood poisoning after kicking his safe in anger because he couldn't remember the combination to open it.
Sometimes it just pays to stay at home. In 1972, Leslie Harvey, guitarist of Stone the Crows, was on stage performing for a crowd of fans. Unfortunately, he was electrocuted by his microphone and died at the scene.
It pays to use the best materials when you construct your laboratory. In 1277, Pope John XXI was killed after his scientific laboratory collapsed on him.
It just goes to show you, you never know what's going to happen and how you're going to die. Maybe it's better that way!

"Fear not the path of truth for the lack of people walking on it."
---
Would you rather burn to death or drown?

Fall off a high building, or die of cancer?

Do you want to know when you are going to die? For how long?
---
Posts: 6298
Joined: Wed Jul 22, 2009 3:06 pm
Location: coast
i find it amusing that pinkerton[who was probably responsible for quite a few deaths]died like he did,almost like instant karma!
with the power of soul,anything is possible
with the power of you,anything that you wanna do
---
Posts: 12228
Joined: Mon Jul 21, 2008 11:57 am
Location: The Pit
Spontaneous human combustion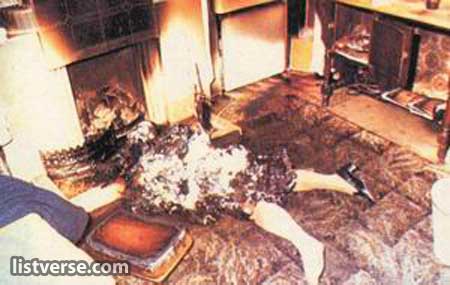 ________________________________________________________________________________

= Since Dawn Of Time The Fate Of Man Is That Of Lice =
---
2009: Sergey Tuganov, a 28-year-old Russian, bet two women that he could continuously have sex with them both for twelve hours. Several minutes after winning the $4,300 bet, he suffered a heart attack and died. It is believed that the heart attack was the result of Tuganov ingesting an entire bottle of Viagra just after he accepted the bet.
''A man with nothing left becomes fully empowered, and he is the most unassailable weapon.''
http://www.youtube.com/watch?v=QmZ8B8u4CUo
---
Posts: 4805
Joined: Sat Jan 09, 2010 3:27 am
A man died because he picked his nose so much he bled to death, an inquest heard.
Manchester coroner Nigel Meadows said about the death of 63-year-old Ian Bothwell: 'There is no explanation for this death other than he died from a nose-bleed, consistent with picking his nose. I do not think for a moment he knew what he was doing was going to cause his death.'
He recorded a verdict of misadventure.
A pathologist concluded that Mr Bothwell, who suffered from dementia brought on by alcoholism, had picked his nose so much that it had caused him to bleed to death.
His body was found by John Edwards, the manager of the Royal Court block of flats in Ladybarn near Didsbury, Manchester - where Mr Bothwell lived alone - on September 5.
Mr Edwards told the inquest: 'I thought he must have fallen out of bed and hit his head but it was obvious he was almost certainly dead.'
But Dr Emyr Benbow, the consultant who carried out the post-mortem examination at Manchester Royal Infirmary, said he could find no evidence that a bang to Mr Bothwell's head had contributed to his death.
The only place he found any contributory evidence was inside Mr Bothwell's nasal cavity, which was full of blood.
Dr Benbow told the inquest: 'The nasal cavity was filled with blood. My conclusion is that the most likely cause of death is epistaxis, the technical term for a nose-bleed.
'The most common cause of epistaxis is picking the nose and I believe that is likely to be what happened.'
Mr Bothwell had been a fit young man until he suffered a brain haemorrhage when he was 20. He was unable to work and he quickly descended into alcoholism.
His only relative was a sister living in Cornwall, who he saw just once in 30 years at his mother's funeral in 1986.
http://www.dailymail.co.uk/news/article ... z0s9yu3JH4
Skype: nnboogies
http://www.youtube.com/watch?v=ouyVS6HOFeo
---
http://tvshack.net/tv/1000_Ways_to_Die/
worst way to die (being cooked up in a drying machine)
stupidest way to die (hit by a lost bullet after a party before having the chance to fuck your date)
fastest way to die (being bitten by a poisonous animal)
horrible way to die (being cut in half by a 10 wheels truck... you dont die for a while cause you aint losing blood due to pressure of the truck... so you die watching all the people trying to do something and taking away your legs... dam thats horrible)
Speech
is
nt
free
.
Its only for those who can afford to raise their voice. -TFP
---
Related topics

Replies
Views

Last post