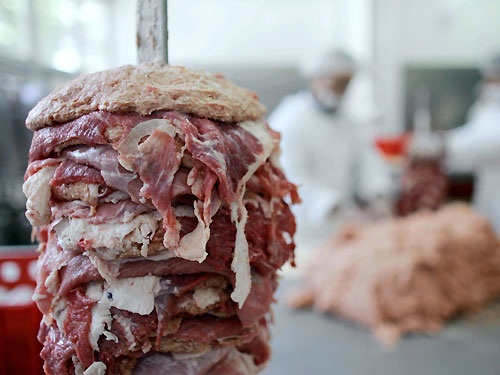 Russian police have arrested three homeless people suspected of eating a 25-year-old man they had butchered and selling other bits of the corpse to a local kebab house. Suspicions were raised when dismembered parts of a human body were found near a bus stop in the outskirts of the Russian city of Perm, 720 miles east of Moscow. Three homeless men with previous criminal records have been arrested on suspicion of setting upon a foe with knives and a hammer before chopping up his corpse to eat, local investigators said in a statement.
"After carrying out the crime, the corpse was divided up: part was eaten and part was also sold to a kiosk selling kebabs and pies," the prosecutor's main investigative unit for the Perm region said.
Bon appétit
________________________________________________________________________________
-= PREDESTINATION: Itz hard to be ze good guy when you turn into a fucking gun =-
---
Posts: 167
Joined: Thu May 14, 2009 12:54 am
wow.that's some crazy news.

a little a1 sauce and....
---
---
Posts: 3860
Joined: Sat Apr 04, 2009 5:01 pm
I think that its not halal certified..
---
---
---
Posts: 10609
Joined: Sun Mar 22, 2009 11:11 pm
Couldn't be any worse than some of the kebab I've had. At least it was fresh!

Best to stick with falafel...
Where's the beer and when do I get paid?
- Jimmy Carl Black (the Indian of the group)
---
Posts: 1539
Joined: Sat Nov 29, 2008 2:45 am
zegtelzegtel wrote:I think that its not halal certified..
lol now that is funny ..and true hahaha
---
Posts: 3620
Joined: Thu Oct 28, 2010 8:43 pm
Location: Avin a barbecue on Mercury
Next time i get ring sting i will be thinking what has passed through my anal tract.
We live a one directional life in an omnidirectional existence

---
---
Related topics

Replies
Views

Last post