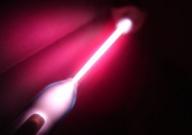 Forget spark plugs. You would soon be able to start your car by lasers, thanks to scientists who have developed what they claim is an
ignition system which uses focused beams of laser light to ignite the fuel.
A joint team from Liverpool University and car giant Ford has come up with the technology that is more reliable and efficient than current spark plug technology and would enable vehicles to start more easily in cold and damp conditions.
"We are running engines everyday in our lab with this system now and our ultimate objective is have it inside cars driven by consumers. Lasers can be focused and split into multiple beams to give multiple ignition points, which means it can give a far better chance of ignition.
"This can really improve the performance of the engine when it is cold, as this is the time when around 80 per cent of the exhaust emissions are produced and the engine is at is least efficient.
"The laser also produces more stable combustion so you need to put less fuel into the cylinder," team leader Dr Tom Shenton was quoted by the leading British newspaper 'The Daily Telegraph' as saying.
In current engines, spark plugs are positioned at the top or bottom of a cylinder and they can often fail to ignite fuel effectively if the petrol is not in the right position in the cylinder.

"Fear not the path of truth for the lack of people walking on it."
---
Honey, the car wont start..
Oh yeah..and I accidentally cut the kids in half.....again.

Yay future!
warløckmitbladderinfection wrote:blasphemous new gehenna inhabitant makes god sad...
---
Related topics

Replies
Views

Last post