Hi all
Israel is going through rough weathers now in the wake of the Turkish ship affair. The world does not seem to understand the complexity of the situation. Media and public are shunning the products of Israel. This looks like a provocation to isolate Israel from the other countries. Now is the time to show our solidarity and support to the country. We can do this by wearing the T shirts that contain pro Israeli words. A link to this effect is:
http://www.israeli-t.com/Israel-t-shirt ... Shirt-2331
Let us group and show our support to Israel.
Dannie
---
Posts: 6298
Joined: Wed Jul 22, 2009 3:06 pm
Location: coast
i support israel to a degree,but i dont condone innocents being murdered by any nation,including israel,
they need to do some more work on there attitude ,
so do many nations in this world,
i wont support them or anyone else until they lift there game and stop wanton murder where its not necessary,same goes for usa .and the arab nations too,
maybe you should consider that there is plenty of wealth in israel,they dont need our support,
and if the world is shunning them,they only have themselves to blame,and perhaps that is what they need to curb there violent behaviour,so no,dont support them until they show change for the better,

no one is above god,
especially those who have problems with pride and humility.
with the power of soul,anything is possible
with the power of you,anything that you wanna do
---
Posts: 124
Joined: Sat Dec 20, 2008 8:06 pm
Dannie any idea where i can buy "fuck hasbara" t -shirts?
---
---
this is the 3rd identical support israel by buying my t-shirts we see from this fuck, and he started after the flotilla incident
take action please
as i understand, you have to pay for add space.
OH DANNY BOY, THE PIPES, THE PIPES ARE CRAWLING
---
---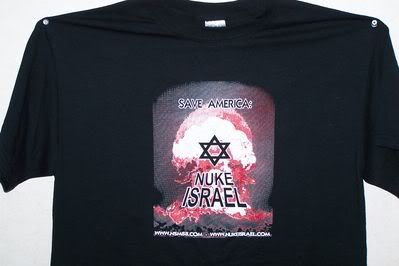 I would get one if it came from i different scource
http://nsm88records.com/theshop/product ... ts_id=2478
---
---
---
Related topics

Replies
Views

Last post