Nice pic Naught
, I havent witnessed a shuttle or rocket blast off before let alone at night which must be spectacular.
I am also in two minds about observing from a distance or on top of the rocket.
Space flight would be brilliant but I'd infinately prefer a nice saucer ride up there than sitting atop all that explosive material!
' I'm leaving because the weather is too good. I hate London when it's not raining'.
Groucho Marx
---
---
Posts: 229
Joined: Sun Jun 15, 2008 12:00 am
love it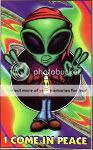 Believe only what you yourself test and judge to be truth.
---
Related topics

Replies
Views

Last post