OUR REVENGE WILL BE THE LAUGHTER OF OUR CHILDREN
better to die on your feet than live on your knees
---
How Fast Do Fleas Multiply?
Life Stage 1 - Egg
Fleas go through four distinct life stages, starting as eggs. Although there is some variance in different flea species, female fleas typically begin to lay eggs two days after mating. A single female lays about 15 to 25 eggs a day. These eggs are deposited into the host animal's fur along with some feces. This feces is comprised almost entirely of digested blood and will feed the newborn when the egg hatches. Flea eggs are not connected to the host animal's hair and easily find their way into an bedding, carpet, spaces between floorboards and dirt.
Life Stage 2 - Larva
In 5 to 10 days the flea egg hatches, producing a larva. The larva feeds primarily on the feces deposited with the egg but can also survive on dead skin particles and other organic materials. One week after hatching the flea larva start spinning cocoons in preparation for their next life phase.
Life Stage 3 - Pupa
Once in the cocoon fleas enter the pupal stage. The pupa develop into adults in one week. If the weather is cold or other conditions exist that a flea would find undesirable, the developing pupa are able to slow down the development process to the point of almost stopping it. This allows the pupa to live undetected until more favorable conditions exist. This is the reason why some new homeowners suddenly find themselves infested with fleas come spring when the weather gets warmer.
Life Stage 4 - Adult
Pupa become adult fleas when they leave their cocoon. Adult fleas do not leave the pupa until they sense shadows, warmth, changes in air currents, the presence of carbon dioxide, or vibrations created by movement. All of these signs signal that a host is nearby. While fleas have a life expectancy anywhere from 15 to 99 days depending upon the species, adult fleas can survive without a host for only about 2 to 7 days.
---
YOU CAN BLAME THE GERMANS FOR MANY THINGS BUT THERE TRAINS RAN ON TIME AND THERE SHOWERS WORKED
better to die on your feet than live on your knees
---
so you dont deny the holocaust ....thats a big progress for a punk jihad monkey like yourself
---
JHAD LOLOLOL IM FUCKING IRISH CATHOLIC YOU FUCK , NOW SIT IN YOUR ISREALI SLUM & SEETHI
better to die on your feet than live on your knees
---
ISNT IT TIME FOR YOUR CHILD KILLING SNIPER TRAINING ?
better to die on your feet than live on your knees
---
THIS THREAD IS TOTAL MOSSAD BULLSHIT
---
NO BRO THIS IS ZINZANA BULLSHIT , HE WOULDNT HAVE THE INTELLIGENCE TO GET INTO A TAXI NEVER MIND MOSSAD
better to die on your feet than live on your knees
---
Israeli Child Killers: Documentary Proof
Murdering Children for Sport
"Ali Murad Abu Shaweesh was 12 when Israeli soldiers shot him in the back. Ali was killed on the same day in June, 2001 that Sharon refused to let the Israeli foreign minister, Shimon Peres, meet with Yasir Arafat, yet his death also went unnoticed by American television news. But not entirely unnoticed, since the Israeli soldiers, who taunted the Palestinian boys over loudspeakers outside the Khan Yunis refugee camp in the Gaza Strip, goading them to come out and throw rocks, did so under the gaze of Chris Hedges, a reporter for the New York Times.
"Children have been shot in other conflicts I have covered--death squads gunned them down in El Salvador and Guatemala, mothers with infants were lined up and massacred in Algeria, and Serb snipers put children in their sights...in Sarajevo--but I have never before watched soldiers entice children like mice into a trap and murder them for sport," Hedges wrote. His account, coolly factual yet full of passionate intensity, was written not for his own paper but for Harper's Magazine, which sent Hedges to Gaza on his vacation." The Nation, March 11, 2002
Israelis Kill 13 Year Old Boy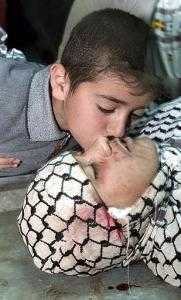 Little Ahmed Ghanem bids a final farewell to the remains of his big brother, Mahmoud, 13, in the village of Sara in the West Bank. Mahmoud was shot in the head March 10, 2002 by Israeli troops, west of Nablus.
Israelis Murder Palestinian Family: Mother and three children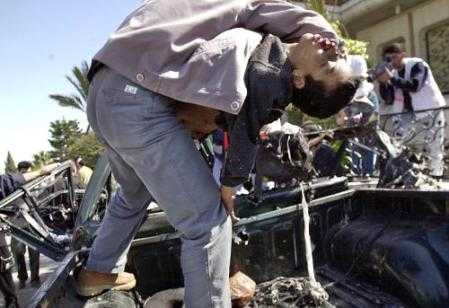 The body of Mohammad Abu Kweik, 8, is lifted from the carnage after the Mitsubishi pick-up truck he was travelling in was bombed by Israeli forces in the West Bank Palestinian ghetto of Ramallah, March 4, 2002. Six Palestinian civilians, including the boy's mother, Bushra Kweik, 38, and two sisters, Bara, 14, and Aziza, 16, were killed when Israeli troops bombed their truck after their mother had picked them up from school. The car behind them was also hit. The man the Israelis were attempting to assassinate was not in either vehicle. Two Palestinian children, ages 4 and 16, were killed in the second vehicle.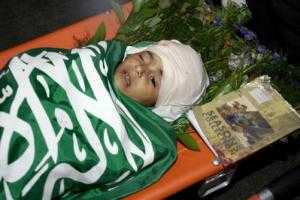 The body of Bara Kweik next to one of her school books
Also on March 4, Israeli troops opened fire on an ambulance in the Jenin refugee camp and killed a doctor, 57 year old Khalil Suleiman. Three medics and a nine year old girl were wounded in the Israeli army attack.
Commenting on the preceding Israeli army "raids" of March 4, Israeli Prime Minister Ariel Sharon stated: "Anyone wishing to conduct negotiations with Palestinians must first hit them hard...We must inflict heavy losses on their side." Source: Los Angeles Times, March 5, 2002
Curator's note: The Kweik family name is also spelled "Quaiek" in some reports
Israelis Murder Two Palestinian Boys: a 2 year old and a 13 Year Old

Hebron, Dec. 10, 2001. Editor's note: We have no post-mortem photo of the two year old victim, Burhan Sidir. The Israelis blew him apart. His head was found in the street. His legs were in different places.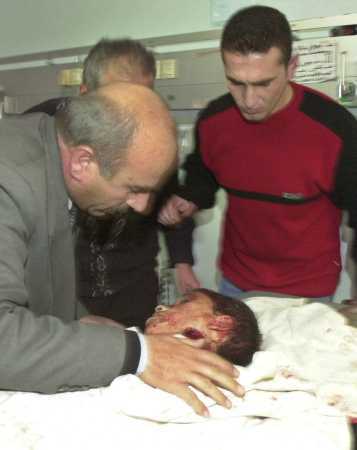 more here:
http://www.revisionisthistory.org/palestine46.html
NUKE ISRAEL !
---
the children are at the water park.......so why would i snipe at tham.....are you mad?
---
Related topics

Replies
Views

Last post