Posts: 9330
Joined: Fri May 14, 2010 6:03 pm
Location: Inside You.
For anyone who has been living under a rock for the last 20 years, Richard C Hoagland has been looking at Mars and the Moon and seeing things which upon first inspection appear "alien" to the terrain of the geology of the areas he is looking at. He was the man to break the Face on Mars story in the 90s, and he now has numerous highly controversial theories and has made wild claims involving C3POs head found on the moon...
As well as Lunar and Martian ruins which he claims are "everywhere" as well as claiming Mars Moon Phobos is an artificial space ship.
Wild claims indeed, however...
Those of you who know him best know that he appears on Coast to Coast virtually every night as science advisor "ahem".
Those who have heard the show with Hoagland on it will also know that he plugs his "New York Times Best seller: Dark Mission" at every available break in sentence. Best seller, its a best seller, Enterprise Mission.com, Dark Mission, New York Times... and on and on and on,.
So I thought you may like to actually read it.
Here is the synopsis...
Dark Mission: The Secret History of NASA by Richard C. Hoagland, Mike Bara
For most Americans, the word NASA suggests a squeaky-clean image of technological infallibility.
Yet the truth is that NASA was born in a lie, and has concealed the truths about its occult origins. Dark Mission documents this seemingly wild assertion.
Why is the Bush administration intent on returning to the moon as quickly as possible? What are the reasons for the current "space race" with China, Russia, and India? Remarkable images reproduced within this book provided to author Richard C. Hoagland by disaffected NASA employees provide clues why, including information about suppressed lunar discoveries.

Mystical organizations quietly dominate NASA, carrying out their own secret agendas behind the scenes. This is the story of men at the very fringes of rational thought and conventional wisdom, operating at the highest levels of our country. Their policies are far more aligned with ancient religions and secret mystery schools than the facade of rational science NASA has successfully promoted to the world for almost fifty years.
Dark Mission is proof of the secret history of the National Aeronautics and Space Administration and the astonishing, seminal discoveries it has repeatedly suppressed for decades.
Richard C. Hoagland is the former science advisor to CBS News, author of The Monuments of Mars, and a frequent guest on the popular radio programs Coast To Coast and The Art Bell Show.
Mike Bara is a consulting engineer for Boeing aircraft. This is his first book.

Ebook link. All is safe, checked and are clean.
http://www.free-ebook-download.net/othe ... -nasa.html
http://www.filesonic.com/file/16675895/ ... ission.rar
He is an interesting talker, but take what he says with a grain of salt, followed by a shot of whisky.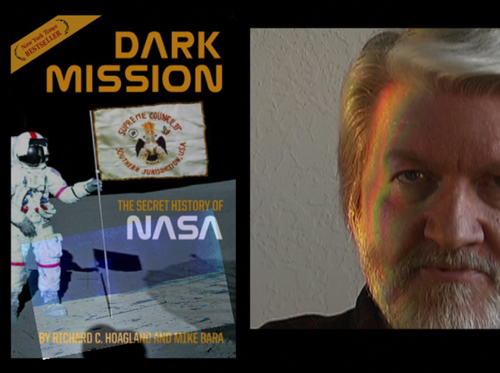 Censorship debunking & disinformation, it's all in a days work.
---
"A look into the occult influence of Aleister Crowley on Jack Parsons, founder of Jet Propulsion Laboratories (JPL) and subsequently on NASA"
Parson worshipped the devil (or so it seems).
http://fusionanomaly.net/jackparsons.html
http://www.theforbiddenknowledge.com/ha ... ockets.htm
http://www.bariumblues.com/occult_roots_of_nasa.htm

Deception in life is nothing but a lie reduced to practice
---

Deception in life is nothing but a lie reduced to practice
---
Posts: 9330
Joined: Fri May 14, 2010 6:03 pm
Location: Inside You.
2020vision wrote:Troll his work is very similar to Chris Everards, i think there is a definite correlation, good post mate.

Edit; Secret Space Vol 1
Yes I have spoken with him before, he has strong opinions, unfortunately it doesnt make them fact.
Interesting films though, for the most part, on another note the file size limit for DTV is pretty poor, trying to get my documentary on here.
Jeeessshhh, DTV needs to upgrade its upload software.
The Ebook is quite a good read.
Censorship debunking & disinformation, it's all in a days work.
---
Related topics

Replies
Views

Last post