Posts: 2465
Joined: Thu Apr 08, 2010 11:21 pm
Location: Chillin with Buckaroo Banzai in the 8th dimension

You might like:
Days before 2013, Sun goes unpredictably quiet
December 30, 2012 – SPACE – SOLAR CYCLE UPDATE: 2013 is only days away, and according to most forecasters, Solar Max should be approaching as well. But is it? Barely-increasing sunspot counts and anemic solar activity suggest an interesting possibility: Perhaps Solar Max is already here. (Below) This plot of measured vs. predicted sunspot numbers illustrates the idea: The blue curve traces monthly sunspot numbers measured since 2000. The red curve is the prediction of the NOAA-led Solar Cycle Prediction Panel. So far, Solar Cycle 24 is underperforming even compared to the panel's low expectations. There is still a strong chance that Cycle 24 will rebound and peak in 2013 as expected. It might even be a double-peaked cycle like the cycle before it. As 2013 nears only one thing is certain: we don't know what will happen. Stay tuned. –Space Weather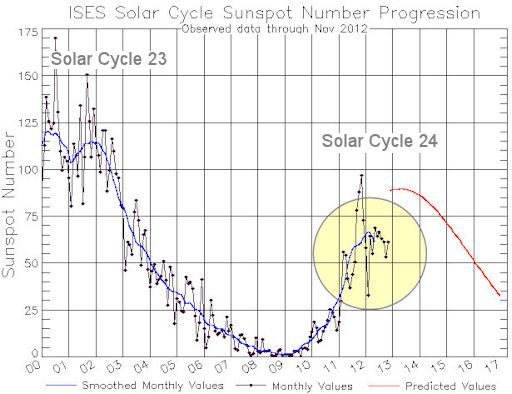 Source
http://theextinctionprotocol.wordpress. ... bly-quiet/
WELCOME TO THE D.D.C
DiscloseTV Doomtards Club
---
Yeah they've been predicting a weak solar cycle for years now.. well many scientists were, even at nasa there were different view points on offer.. Seems they were right, it's a weak cycle. They went as far as saying the sun will go quiet for the decades ahead and we could end up in another maunder minimum type climate.. So much for global warming eh!
---
Related topics

Replies
Views

Last post