The Zionists are threatening the journalists of a bullet in the head if they dare to try and visit the Gaza Concentration Camp. Insane racist states always behave the same way:- with no humanity and with wanton violence.
Antiwar.com
---
harbin wrote:The Zionists are threatening the journalists of a bullet in the head
first lie - the threat was to ban entry into Israel for 10 years for journalists who collaborate
with the political provocation that is called Gaza flotilla , later on the threats were dropped
completely .
(
http://www.huffingtonpost.com/2011/06/2 ... 85059.html
)
harbin wrote:Gaza Concentration Camp.

second lie .
this is not how a concentration camp looks like ... :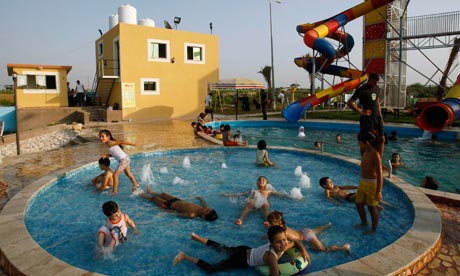 http://luxurygaza.blogspot.com/2010/09/ ... ns-in.html
harbin wrote:Insane racist states always behave the same way:- with no humanity and with wanton violence.
Abbas: No Israelis or Jews in Palestine
http://www.israelnationalnews.com/News/ ... spx/191102
talking about racists ...
---
Antiwar.com
---
I say to every red-blooded American, every European, every human: If someone comes into your home, threatens your family, imprisons and even kills your family what do you do? I do not care if every Westerner of any station is afraid to say it, it is part of my purpose in life to say it: I would fight. In fact I would kill before I would allow my family to be harmed. I would fight to the death.

I say to my American brothers and sisters in particular: Can you not see that the Iraqis, the Afghanis and the Palestinians are people? They are mothers and fathers, uncles and aunts, brothers and sisters and sons and daughters. They love their family every bit as much as you. Imagine that you were in their shoes. Would you be passive? Would you sit by and watch your wife and child being violated? Or would you fight?

I want every reader of this article to come on a journey with me. We are in our home. We are brothers, poor in terms of money but rich in our love of family. We love each other as brothers do. Our wives are in the kitchen preparing food for our children. We do our best, poor and impoverished, surrounded by war brought in the form of occupiers from halfway around the world. The sound of rifle butts banging on the door shatters the semblance of peace. You, my brother, go to the door quickly, but not quickly enough. The door slams open and the soldiers from another land come storming in.

With weapons pointed at our heads, they shout orders which we believe tell us to put our hands on our heads and get down on our knees. We are not sure, English is a language brought to us, not our mother tongue. Our wives come to the room frightened, begging the soldiers to calm down for the sake of the children in the other room. The soldiers respond by shouting at our wives and pushing my wife to the ground with their assault rifles. Our hearts are racing; our manhood is being crushed; and we wonder if we are men at all.

The shouting and the chaos increase. Next comes the sound of your baby girl. You hear her crying for her mother. You imagine her look: terrified. Thinking of your little baby girl you feel tears on your face. You look at your wife; she is now on the ground, bleeding from where the rifle butt slammed into her head. In the chaos you do not even know when this happened. The soldiers begin throwing all that we own everywhere, overturning furniture, throwing papers and family items to the ground and breaking dishes. They ransack while one demands to know our names. As soon as I say my name they grab me and take me into the next room, the room between you and our children. They begin to beat me, mercilessly. They are shouting at me, but you do not know what they are saying.

Now all the children are crying frantically, the soldiers keep yelling and you catch the word "terrorist." You realize that they are calling me, your brother who you have known your whole life, a "terrorist." I plead with them to stop the beating, blood drenching every inch of my face, for the sake of the children, who are by now screaming, crying and begging for their mom and dad, I beg. All you can think to do is nothing: You are paralyzed. And eventually the soldiers take me away … You will never hear from me again.

Your children are alive, for now, and your wife will survive, but she is scarred. Your sister-in-law is without her husband; you are without your brother; your parents are without their son and the children are without a father. You find out later that "someone" gave your brother's name to the soldiers as a "terrorist."

And so you ponder, do I do nothing or do I resist?

This is a scenario of war/occupation. It is not extreme – it is inherent. Indeed we could include scenarios where wives and daughters are raped in front of husbands and fathers. You think Americans do not do this? You are wrong. War makes everyone crazy; the question is to what degree. Insanity is inherent in war. The folly of chanting "Support the troops!" while sending them off to bullshit wars could not be more stark.

And so I ask: If you came from the lands we invade, would you fight? And if you did, would you see yourself as a "terrorist"? Or a man?

And if you did not fight, would you see yourself as noble? Or cowardly?
http://www.adbusters.org/magazine/92/do-you-do-nothing-or-do-you-resist.html
Antiwar.com
---
harbin wrote:
target practising
---
The Arabs spread Islam throughout the Middle East, North Africa, and Iberia in an amazingly short period of time. The conquests were carried out by the sword. They began in the harsh deserts of Arabia and spread as far west as Spain and Portugal and east into Centrl Asia and the southwest Pacific.
http://histclo.com/chron/me/islam/is-spread.html
The Islamic Conquest, Occupation, and Colonization of The Middle East
http://amerisrael.typepad.com/my_weblog ... -east.html
Muslim conquests
http://en.wikipedia.org/wiki/Muslim_conquests
---
Defending the criminal acts of the Zionist state of Israel, by pointing out historical events, is sad and ever less relevant.
Antiwar.com
---
I think it shows the hypocrisy of some people quite accurately .
---
You know whats funny and sad...i dont see any lybia flotilla or syrian florilla or yemen flotilla..so before u come and say oohh...damn israelis busted into my house and killed my family let me tell u that palestinians bombed my children,my buses,my hospitals and kindergardens...regarding to the first post of the thread....that is why the israelis are doing...fighting like ur article said....funny thing the ships prevented boarding and revision that is why they returned to shore.they could have went on but they refused the check up,i saw that on cnn..now why would an american captain of a ship wich has nothing to hide returned to shore to avoid check up?

You may wanna make the israelis look bad,but as u have seen they dont give a shit...so if people really support the palestininan movement they should understand there is a reason this blockade was imposed and no one is refusing to deliver aid,by un means.most important they should be willing to discuss peace issues and recognize israels existence they way israel recognizes theirs....so it should be from both sides wich is not,the palestininans have enjoyed playing the victims...the israeli govt is fucked up and has done some unforgivable things the last years...but so have the palestininans,but the palestinians have been victimized not for the situation,but for the rest of the world hates israel and would support satan against it.
---
Posts: 9775
Joined: Sat May 14, 2011 9:00 pm
Location: Zin-Uru
why doesn't the flotilla just roll up into gaza on saturday when jews cant use machines or electronics, like their god says, the same god who says they cant eat pork and to cut your sons penis at 13 and suck the blood out, and that jews are the only choosen people
https://www.youtube.com/user/kinninigan
http://www.disclose.tv/user/kinninigan/
---
Related topics

Replies
Views

Last post