Posts: 10119
Joined: Wed Jul 01, 2009 10:10 pm
Location: Packing my stuff and moving to Denver like you should be doing
Dr. Laura's N-Word Rant: Radio Host Apologizes For Offensive Language (AUDIO)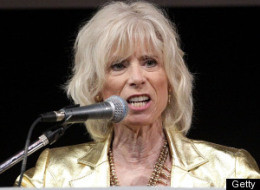 Dr. Laura Schlessinger has apologized after a shocking rant on her radio show this week during which she said the n-word 11 times over the course of five minutes.
In conversation Tuesday with a black female caller who was complaining about her white husband's racist friends and their use of the word, Schlessinger said:
Black guys use it all the time. Turn on HBO and listen to a black comic, and all you hear is n****, n*****, n*****. I don't get it. If anybody without enough melanin says it, it's a horrible thing. But when black people say it, it's affectionate. It's very confusing
.
LISTEN (via MediaMatters):
http://mediamatters.org/mmtv/201008120037
After a break, the caller said she was appalled by Schlessinger's use of the word.
"Oh, then I guess you don't watch HBO or listen to any black comedians," she said. "My dear, the point I am trying to make...we've got a black man as president and we've got more complaining about racism than ever. I think that's hilarious."
Schlessinger and the caller then got into an exchange about the use of the word:
CALLER: Is it OK to say that word? Is it ever OK to say that word?
DR. LAURA: It depends how it's said. Black guys talking to each other seem to think it's ok.
CALLER: But you're not black, they're not black, my husband is white.
DR. LAURA: Oh, I see, so a word is restricted to race. Got it. Can't do much about that.
CALLER: I can't believe someone like you is on the radio spewing out the n***** word, and I hope everybody heard it.
DR. LAURA: I didn't spew out the n***** word!
CALLER: You said "n*****, n*****, n*****" and I hope everybody heard it.
DR. LAURA: Yes they did, and I'll say it again: n*****, n*****, n***** is what you hear on HBO.
[Crosstalk]
DR. LAURA: Why don't you let me finish a sentence? Don't take things out of context. Don't NAACP me, leave them in context.
"If you're that hypersensitive about color and don't have a sense of humor, don't marry outside of your race," Schlessinger said after hanging up with the caller.
She apologized the next day, opening her show with an apology.
"Yesterday, I did the wrong thing," she said. "I didn't intend to hurt people, but I did. And that makes it the wrong thing to have done. I was attempting to make a philosophical point, and I articulated the "n" word all the way out - more than one time. And that was wrong. I'll say it again - that was wrong."
Schlessinger said she "was so upset [she] could not finish the show."
"I pulled myself off the air at the end of the hour," she said. "I had to finish the hour, because 20 minutes of dead air doesn't work. I am very sorry. And it just won't happen again."
FAIR USE NOTICE.
Section 107 of the US Copyright Law. In accordance with Title 17 U.S.C. Section 107, . http://www.law.cornell.edu/uscode/17/107.shtml

---
Posts: 276
Joined: Thu Feb 18, 2010 2:14 pm
i like Laura, she sometimes is a little nuts, but keeps it conservative. and she didn't say anything wrong. good i am happy about how she handled it. good for her!
---
Posts: 9193
Joined: Fri May 14, 2010 7:03 pm
Location: Inside You.
People like this open themselves up for attack.

I know people who, look for people like this specifically and go to great lengths to have fun with them, and when the giggles are done, they take down the site., or make the person in question regret their actions.

Certain sites are dedicated to this avenue in and of itself.

LOLZ
Censorship debunking & disinformation, it's all in a days work.
---
---
Skype: nnboogies
http://www.youtube.com/watch?v=ouyVS6HOFeo
---
---
jax40 wrote:Dr Laura needs her head and mouth sorting. She has no idea what she is talking about!!!!! They should have sacked her on the spot. Fcuking Racist Bitch!!!!!
Idiot, she didn't say one thing academics haven't said either.
Skype: nnboogies
http://www.youtube.com/watch?v=ouyVS6HOFeo
---
Dr. Laura to End Show Amid N-Word Flap
LOS ANGELES -- Dr. Laura Schlessinger, the talk show host who recently apologized for saying the N-word 11 times to a caller on the air, said Tuesday she plans to give up her radio show when her contract is up at the end of this year.
The conservative advice maven made the announcement on CNN's "Larry King Live," saying she wants to "regain her First Amendment rights."
Schlessinger said she's not retiring or quitting. Instead, she said, she feels stronger and freer to say what she believes needs to be said.
"I want to be able to say what's on my mind and in my heart and what I think is helpful and useful without somebody getting angry -- some special interest group deciding this is a time to silence a voice of dissent and attack affiliates and sponsors," she said.
Schlessinger apologized last week for saying the N-word several times in an on-air conversation with a caller whom she accused of being hypersensitive to racism. She said on her website that she was wrong in using the word for what she said was an attempt to make a philosophical point.
"To imagine that there are people who refuse to accept an apology because they have an agenda and would like me silenced -- I'm done with that," she said.
During the on-air exchange, Schlessinger said the caller, who said she was black and married to a white man, was too sensitive for complaining that her husband's friends made racist comments about her in their home.
Schlessinger told King she "never called anybody a bad word" and "wasn't dissing anybody."
Corinne Baldassano, an executive with Schlessinger's production company, Take on the Day LLC, said the talk show host plans to pursue opportunities through her website, books, podcasts and a YouTube channel.
At least two national sponsors of her radio program, General Motors Co., and Motel 6, owned by Accor SA, have pulled out, Baldassano said.
Previously, Schlessinger's negative comments about homosexuality on her television show in 2000 inspired gay activists to campaign to get her off the air.
---
Political correctness... destroying the Bill of Rights, one amendment at a time.
Skype: nnboogies
http://www.youtube.com/watch?v=ouyVS6HOFeo
---
---
Related topics

Replies
Views

Last post