http://www.semirosmanagic.com/en/index.html
(Dr.sci Sam Semir Osmanagich, PhD.)
Semir Sam Osmanagich is Bosnian-born Houston (USA) resident author, researcher and businessman.(Biography)

He has discovered ancient pyramidal complex in Visoko (Bosnia-Herzegovina) which consists of five colossal stone structures in the shape of the pyramid with extensive pre-historical underground tunnel network.

He has established non-profit and non-government "Archaeological Park: Bosnian Pyramid of the Sun" Foundation to pursue the excavation and geo-archaeological work. (

http://www.bosnianpyramidofthesun.com

)

He teaches at the American University in Bosnia-Herzegovina as Anthropology professor, in particular Bosnian megalithic sites.

First International Scientific Conference about Bosnian Valley of the Pyramids was held in Sarajevo (Bosnia-Herzegovina) in August 25-30, 2008 (

http://www.icbp.ba

) with 55 leading experts from Egypt, Russia, China, Poland, Saudi Arabia, United Kingdom, Croatia, Austria, Montenegro and Bosnia giving full support Osmanagich's efforts and recommending establishment of the Center for Pyramid Studies in Bosnia.

Osmanagich is an owner and president of the manufacturing company Met Company, Inc. and holding company Met Holding Group, LLP. in Houston (USA).

Sam Osmanagich authored and narrated 12-epizode documentary "Search for Lost Civilization" for the state Bosnian television FTVBiH (2007) which was based on his book: "Civilizations Before the Official History" (2005) and filmed in Peru, Bolivia, Easter Island, Costa Rica, Mexico, United Kingdom, France, Germany, Malta, Egypt, Jordan and Lebanon. (Video clips)

Osmanagich lectures extensively and promote Bosnian Valley of the Pyramids Project and archaeological tourism in Bosnia-Herzegovina from Egypt and Jordan, to Malaysia, Canada, USA, China, United Kingdom, Switzerland, Austria, Norway, Sweden, Croatia, Montenegro, Serbia, Hungary, Italy, Macedonia, Denmark and other countries.

Osmanagich is a member of the Archaeological Society of Alexandria (est. 1895). Osmanagich has become a first "honorary citizen" of the Town of Visoko in 2006.

Daily newspaper "San" from Sarajevo awarded Osmanagich title "Man of the Year 2007 in Bosnia-Herzegovina" for his research project Bosnian Valley of the Pyramids and affirmative promotion of Bosnia-Herzegovina in the world.

Osmanagich has been admitted as a Foreign Member of the Russian Academy of Natural Sciences from Moscow, one of the most respected scientific institutions in the world.

Osmanagich holds his doctorate in Sociology of History. His PhD thesis about the Mayan civilization has been accepted at the University of Sarajevo.

EDUCATION:

- Ph.D. in Sociology of History: The Mayan Civilization, University of Sarajevo, Bosnia (Abstract)

- Master of Sciences in International Economics, University of Sarajevo

- B.S. in Political Sciences, University of Sarajevo

- B.S. in Economics, University of Sarajevo

- 2 years training in Sociology, University of Sarajevo

PUBLISHED BOOKS:

Osmanagich has authored ten books about ancient civilizations (The Mayan World, Peruvian, Mexican, Pacific, African and ancient European civilizations) that have been published in the United States, Turkey, Estonia, Croatia and Bosnia-Herzegovina. (Books)
Take a listen to this most recent interview with Dr. Osmanagich. He is a leader in exposing our ancient history to the general public and is not shy about his findings. He is dedicated to sharing our secrets from the past with everyone. Please give this a listen.
Outside walls of the Bosnian Pyramid of the Sun made of the concrete conglomerate blocks, Northern side, July 2008
Stone terrace made from sandstone plates on top of the Bosnian Pyramid of the Moon, September 2008
Prehistorical underground tunnel network connects all pyramids, water wells and other significant structures in Bosnian Valley of the Pyramids and runs for tens of kilometers
Megalithic blocks in the underground tunnel network have carved symbols that have been covered by conglomerate material for more than 30.000 years according to the radiocarbon dating.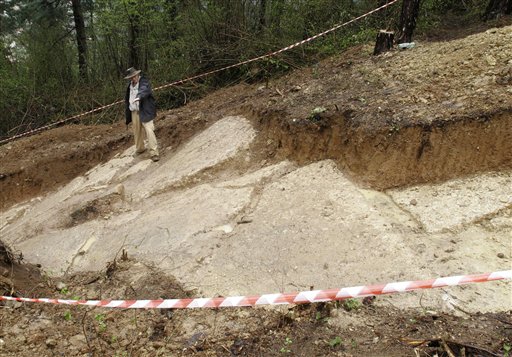 http://piramidasunca.ba/eng/pyramid/bos ... n-vratnica
Artificial conical hill just 5 km from the pyramid site. It was constructed using combination of two-layer megalithic blocks, clay and concrete. Its height is 32 meters above the road level. Megalithic blocks reach mass of more than 10 tons.

According to the geo-radar screening (2007) done by German geophysicists, number of underground tunnels were located. Geological core drilling (2009) produced the following results: 54-56 meters underground concrete was found (ceiling?), 56-59 meters hollow space (chamber?), 59-61 meter concrete (foundation?), and 61-70 meters sandstone layers (natural). Analysis of concrete sample done in France (2009) has shown presence of geopolymer cement used as an artificial binder.

Team of Croatian physicists detected (2010) electromagnetic phenomenon – energy beam of 28 kHz at the top of tumulus. Existence of energy beam in this pre-historical structure are becoming tourist attraction.
---
.
WOW Earthman - this is on DA LIST

The Book of Man
http://vimeo.com/album/2701770
The Book of Man Blog
(announcements) http://brianonley.wordpress.com/
---
"Team of Croatian physicists detected (2010) electromagnetic phenomenon – energy beam of 28 kHz at the top of tumulus."
cant wait for someone to explain this!
nice post new
---
You guys are not going to believe this. This absolutely blew me away. Check out this presentation starting at the 15 minute mark...I have it here for you! (I recommend watching the whole presentation)
It clearly shows a man inside of some sort of vehicle that looks like a car on the side of a temple in Honduras. It is similar to the depiction of Lord Pakal operating a space ship. Check it out!
Rosalila was not destroyed by the ancient Maya, like other buildings archaeologists have found. It was carefully buried with much ceremony. Its rooms, moldings, and niches were carefully filled with mud and stones, while its elaborate stucco panels were covered with a thick layer of white plaster. This plaster still protects Rosalila's many layers of original paint.
Absolutely mind blowing!
---
Go to the 1hour 45min mark for a real gem!!!


---
Great, thanks man!
---
http://piramidasunca.ba/images/2013/110 ... report.pdf
Official Report on activity, achievements and discoveries
International
Summer Camp 2013
Archaeological Report
Prepared by Timothy G Moon
Archaeological Project Manager For the Archaeological Park Bosnian Pyramid of the Sun Foundation
October 2013


i)
Ravne Tunnels from the 170m mark to the new
K5 Megalith is approx. 20,100 years old at
minimum, thus establishing an epoch for
occupation prior to being buried
under tens
of thousands of tons of conglomerate.

ii)
Bosnian Pyramid of the Sun now has a
guiding
timeline for the construction
phase. Organic material retrieved this
season suggests
a construction date of
29,200
years ago at minimum.

iii)
Three new symbolic languages have been
retrieved for investigation.

iv)
The Foundation held its first ever public
Museum exhibition displaying artefacts
recovered from t
his season and past years.
Report Ends

---
Related topics

Replies
Views

Last post