dlslith wrote:

Vulcanic wrote:This mine needs to be re-opened and explored.



Awesome stuff Vulcanic. Keep it coming mang
allways wonderd if this mine was anyplace near the lost library of metal scrolls, gold,silver,copper. the natives guard it and gave a local priest a few metal scrolls it was from a unknown race and language, when he died vthey went missing, some claim the natives took them back to the hidden library.
The Quest For The Metal Library
A system of tunnels and caves beneath Ecuador and Peru is reputed to hold an ancient treasure-house of artefacts including two libraries, one containing inscribed metal books and the other storing tablets of crystal.
It's not what you know, but who you know. In 1973, Erich von Däniken, at the height of his fame following the success of Chariots of the Gods?, claimed that he had entered into a gigantic subterranean tunnel system in Ecuador, which he was told spanned the length of the continent—surely evidence that our ancestors were highly advanced, if not extraterrestrial? The structure was believed to house a library in which books were made out of metal—this in an area where today there is nothing but "primitive" Indian tribes with no written language. Evidence of a lost civilisation? It was a major claim, and it did not go unchallenged.
The story centred around Janos "Juan" Moricz, an aristocratic Argentinian-Hungarian entrepreneur who claimed that he had discovered a series of tunnels in Ecuador that contained a "Metal Library". In a signed affidavit dated 8 July 1969, he spoke about his meeting with the Ecuadorian president, where he received a concession that allowed him total control over this discovery—provided he could produce photographic evidence and an independent witness that corroborated the discovery of the underground network. Newspapers reported on the expedition that Moricz had organised.
In 1972, Moricz met with von Däniken and took him to a secret side-entrance through which they could enter into a large hall within the labyrinth. Apparently von Däniken never got to see the library itself, just the tunnel system. Von Däniken included the event in his book The Gold of the Gods:
"The passages all form perfect right angles. Sometimes they are narrow, sometimes wide. The walls are smooth and often seem to be polished. The ceilings are flat and at times look as if they were covered with a kind of glaze… My doubts about the existence of the underground tunnels vanished as if by magic and I felt tremendously happy. Moricz said that passages like those through which we were going extended for hundreds of miles under the soil of Ecuador and Peru."
However, one of the world's potentially biggest discoveries soon turned sour. Journalists from the German publications Der Spiegel and Stern interviewed Moricz, who now denied ever having been in the cave with von Däniken. It undermined von Däniken's credibility (though some would argue he had none to begin with), branding him a liar.
For many, the incident proved that von Däniken was a fabricator of lies—a much more damaging assertion than being known to make outlandish claims that the gods were ancient astronauts. No one pointed out that if von Däniken had been lying, he would not have left such an easy trail to Moricz. He could have claimed that he could not reveal his source, and Der Spiegel and Stern would have been none the wiser. Instead, it seemed that something was amiss with Moricz, who had landed von Däniken in an international controversy from which his career never really recovered.
---
---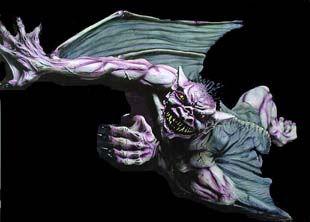 ---

Reptilian humanoids in world mythology include:
Male
Boreas (Aquilon to the Romans): the Greek god of the cold north wind, described by Pausanias as a winged man with serpents instead of legs.
Cecrops I: the mythical first King of Athens was half man, half snake
Dragon Kings: creatures from Chinese mythology sometimes depicted as reptilian humanoids
Fu Xi: serpentine founding figure from Chinese mythology
Glycon: a snake god who had the head of a man.
Ningizzida, Lord of the Tree of Life, mentioned in the Epic of Gilgamesh and linked to the water serpent constellation Hydra.
Shenlong: a Chinese dragon thunder god, depicted with a human head and a dragon's body
Sobek: Ancient Egyptian crocodile-headed god
Tlaloc: Aztec god depicted as a man with snake fangs
Typhon, the "father of all monsters" in Greek mythology, was a man from the waist up, and a mass of seething vipers from the waist down.
Zahhak, a figure from Zoroastrian mythology who, in Ferdowsi's epic Shahnameh, grows a serpent on either shoulder
Female
Echidna, the wife of Typhon in Greek mythology, was half woman, half snake.
Enchanted Moura from Portuguese and Galician folklore appears as a snake with long blonde hair.
The Gorgons: Sisters in Greek mythology who had serpents for hair.
The Lamia: a child-devouring female demon from Greek mythology depicted as half woman, half serpent.
Nüwa: serpentine founding figure from Chinese mythology
Wadjet pre-dynastic snake goddess of Lower Egypt - sometimes depicted as half snake, half woman
The White Snake: a figure from Chinese folklore
Either
Some djinn in Islamic mythology are described as alternating between human and serpentine forms.
Nāga (Devanagari: नाग): reptilian beings from Hindu mythology said to live underground and interact with human beings on the surface.
The Serpent: a character from the Genesis creation narrative occasionally depicted with legs, and sometimes identified with Satan, though its representations have been both male and female.

---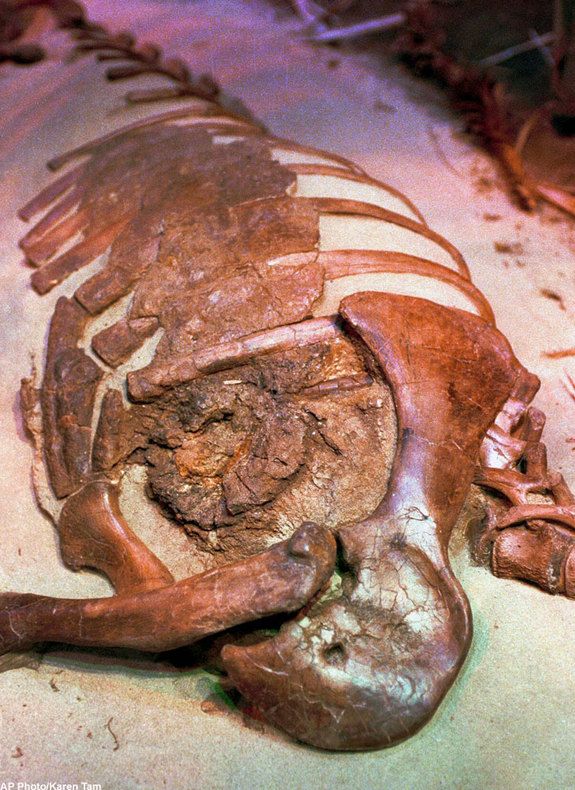 Fossilized HeartCredit: AP Photo/Karen TamThe bones and fossilized heart of a 66-million-year-old dinosaur skeleton is shown, Thursday, April 20, 2000, at the North Carolina Museum of Natural Sciences in Raleigh, N.C. The fossilized heart _ with two ventricles and a single aortic stem, shown in the lower- center of the photo, between an apex of shoulder bones, is the first one ever found in a dinosaur. Researchers said it resembles the heart of a mammal or bird more than that of a reptile and leads to the conclusion that some, if not all, dinosaurs were warm-blooded.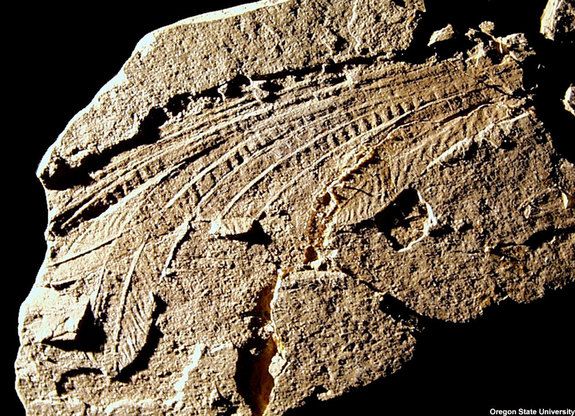 Longisquama insignisCredit: Oregon State UniversityAccording to some scientists, this 220-million-year-old fossil, from the late Triassic era. offers evidence that dinosaurs were not ancestral to birds. An archosaur called Longisquama insignis, a small reptile roughly the size of a mouse, has ignited scientific controversy due to the six vane-like appendages attached to either side of Longisquama's back. Some researchers believe the appendages were non-avian feathers and that early archosaurs were the ancestors of modern birds. Longisquama is controversial because it's not a dinosaur, and most paleontologists believe that birds evolved from dinosaurs. In 1999, a team of scientists who studied the fossil found arresting parallels between the appendages and feathers, most notably, a hollow shaft with a sheath characteristic of modern feathers. Some scientists believe this shows that the genetic and developmental potential to produce feathers was present in these early archosaurs. The team also reached the conclusion that the feathers weren't used for thermoregulation but likely allowed the creature to glide between trees.
---
Posts: 3042
Joined: Sun Jan 01, 2012 12:58 pm
Vulcanic wrote:
........................................

The nonplussed fabric of intellect is at inchoate state. any panache will be indefatigable unmartinate by the hoi polloi.
---
snake and ant people

---
---
Ohweia wrote:
lol that dudes eyes are just freaky and thats not a camera error lol
---
---
Related topics

Replies
Views

Last post
VIDEO - The Reptilian Alpha-Draconians True Appearance
1

,

2

,

3

,

4

,

5by Kinninigan » Wed Dec 05, 2012 4:17 am

48 Replies
6903 Views
Last post by Kinninigan
Thu Oct 30, 2014 10:45 pm

VIDEO: The Reptilian Alpha-Draconians True Appearence v2.0
by Kinninigan » Wed Dec 31, 2014 2:39 am

6 Replies
1030 Views
Last post by Mad Scientist
Wed Feb 18, 2015 9:50 am

VIDEO: Reptilian Alpha-Draconians and Their "Eagle Eyes"
1

,

2by Kinninigan » Mon Jan 26, 2015 9:33 pm

19 Replies
1014 Views
Last post by Kinninigan
Sun Jul 12, 2015 10:13 pm