I'm finding the increased Earth activity very interesting lately and wanted to create a little thread to compile and keep track of it all
For my part i'll try and update as often as possible with such related events. I've seen some great research and compiling done by other members here so any contributions to the info here will be greatly appreciated and
Current overview
Volcanoes:
I don't want to go too far back here, but Etna had quite a lava flow recently and is worth keeping an eye on...
Sakurajima, Japan
has been really busy with near daily eruptions and beautiful light shows!
Most recent
Previous eruptions
http://www.disclose.tv/forum/more-high-voltage-eruptions-from-sakurajima-t50226.html?hilit=sakurajima
And now we've got
Grímsvötn, Iceland
piping out it's plane grounding dust.
http://www.disclose.tv/forum/post569267.html
http://www.bbc.co.uk/news/world-europe-13489944
Webcam -
http://live.mila.is/jokulsarlon/
Also from today...
Seismic activity has increased at

Gamkonora volcano, Indonesia

. During January to May 2011 an average of two shallow volcanic earthquakes, and one deep earthquake was measured at the volcano per day, and emissions rose 50-100 m above the crater. On 1st May 46 deep earthquakes, and 6 shallow earthquakes occurred. On 2nd May 35 deep earthquakes and 2 shallow earthquakes were detected at the volcano, and emissions reached a height of 300 m above the crater. The smell of sulphur was reported at villages near the volcano. On the 3rd May the alert level at the volcano was increased from Normal (Level I) to Waspada (Level II).

http://hisz.rsoe.hu/alertmap/woalert_read.php?lang=eng&cid=30647
That's just the current major ones but there are many others that are experiencing a recent increase in activity.
The Philippines, Chile, Russia and others in Iceland and Japan are all worth keeping an eye on right now.
Earthquakes:
I've gotta mention
Japan
, but that's about all i need to do due to the unnecessary amout of threads that already exist on the subject.
That said, they are still having 5+ quakes there on a daily basis. In fact according to EMSC there has been
572 5+ earthquakes since March 11th
.
Aftershocks or not, that's mega
Then we've got
Turkey
with a 5.8(downgraded from 6.1) and 11 other of 4+ since the 19th of this month.
Courtesy of -
http://www.disclose.tv/forum/post568488.html
Jez
Not to forget the one in
Spain
last week
New Zealand...
And a 4.6 in
Oregon...?!
I need to do an updated version of this soon, but it gives a good example of the increase in eathquake activity...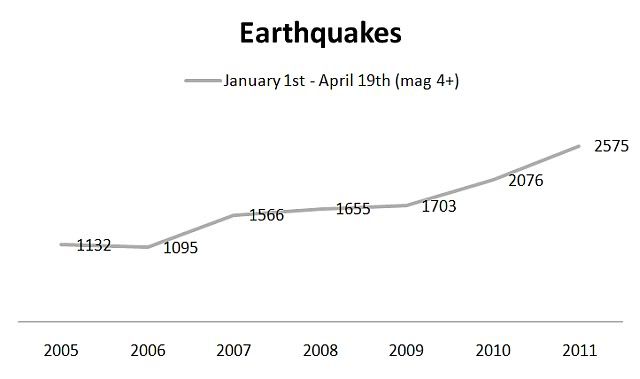 I'll leave it there for now.

But please remember, even if you can do nothing else, please spare a moment of your time to send thoughts of peace and love to anyone who maybe affected by the current unrest of mother nature.

Disclaimer:
This is in no way intended to be a doomtard type thread
If you see it that way i urge you to look within yourself a little further. This is just an overview, a research compilation if you will, of the current and spectacular Earth changing events!
---
I thought this video would go good here in this thread. I do not know how accurate this guy has been in the past. I will try to keep an eye on these ones.

---
Im in, ill help you do this. Its important, thankgod someones finally wanting to do it:)
Let me take the waves out of the ocean
Let me take the stars down from the sky
Let me take the faith from your foundation
Let me take the wrong to make it right

Let me take away the dark like I've been here all night
Ending before I begin
---
shaggietrip wrote:I thought this video would go good here in this thread. I do not know how accurate this guy has been in the past. I will try to keep an eye on these ones.
That's the idea shaggie!
I keep up with his vids most the time and he's pretty damn good. Ideal for here, thank you very much for contributing!
@ lahlaos, thank you also for your support pal, i'll look forward to seeing you around!
Just since i put up this thread there's been the following eq's...
4.5 DODECANESE ISLANDS, GREECE
5.6 OFF EAST COAST OF HONSHU, JAPAN
4.8 OFFSHORE O'HIGGINS, CHILE
4.7 NEAR EAST COAST OF HONSHU, JAPAN
4.8 NORTHERN XINJIANG, CHINA
4.6 OFF EAST COAST OF HONSHU, JAPAN
And now they're warning ash to reach the uk sometime between tuesday and thursday.
http://www.reuters.com/article/2011/05/22/iceland-volcano-forecast-idUSNLDE74L0E920110522
---
Now some of this footage clasifies as Crazy. Just amazing the triple funnel.

---
Posts: 363
Joined: Sat Apr 16, 2011 9:28 pm
Great site for keeping track of events..
http://theextinctionprotocol.wordpress.com/
current articles as well here..pics and vids at the site..
Paris by Air
: Icelandic ash cloud could reach Europe by next week
Posted on May 23, 2011 by The Extinction Protocol
May 23, 2011 – PARIS
– Ash from an erupting Icelandic volcano could reach northern Scotland by Tuesday and parts of Britain, France and Spain by Thursday or Friday if the eruption continues at the same rate, airlines were warned on Sunday. The warning is based on latest 5-day weather forecasts, but must be treated with caution because of the forecast period and the presence of different air currents from those prevailing at the time of last year's ash crisis, weather officials said. European authorities said on Sunday no disruption was expected to European or transatlantic airspace over the next 24 hours from the eruption of Iceland's most active volcano on Saturday. -Jerusalem Post



Iceland seismogram showing cyclical nature of harmonic tremors at Grímsvötn volcano
. Periods of calm are followed by sporadic explosions. This volcano is restless and unpredictable.
Posted in Earth Changes, Earth Watch, Environmental Threat, Volcano Watch|Leave a comment
Caribbean watch: number of quakes in plate doubles in 48 hours

Posted on May 22, 2011 by The Extinction Protocol
May 22, 2011 – PUERTO RICO
– The amount of earthquakes now occurring on the Caribbean plate has doubled in the last 48 hours. We've seen some lateral stresses on the Cocos Plate too as a result with a 4.8 magnitude earthquake striking today just off the coast of Guatemala, as this region is a subduction zone relative to the less dense an overriding Caribbean Plate.
Posted in Earth Changes, Earth Watch, Seismic tremors, Volcano Watch|Leave a comment
Japan:
Seismic tension on northern Japan highlights escalating danger
Posted on May 22, 2011 by The Extinction Protocol
May 22, 2011 – JAPAN
- The recent seismic breakout of 7 earthquakes along the northern sector of Sendai Japan should let us know the 9.0 March 11, 2011 Tōhoku earthquake was no random event. It underscores the fact that agitated earth, once awakened under Japan, will never acquiesce again. The tension for another large quake is building. The geological awakening of forces harnessing the driving motion of tectonic plate subduction, convulsing subterranean magma, and shaking seamounts that stand guard over volcanic arcs and trenches is now astir across the globe. –The Extinction Protocol
Posted in Earth Changes, Earth Watch, High-risk potential hazard zone, Potential Earthchange hotspot, Seismic tremors, Volcano Watch|3 Comments
Iceland trembles: Largest volcanic eruption in Grímsvötn in 100 Years
Posted on May 22, 2011 by The Extinction Protocol
May 22, 2011 – Iceland
– The current volcanic eruption in Grímsvötn on Vatnajökull glacier is the largest in that volcano 100 years and larger than the one in Eyjafjallajökull last year. It is similar to the eruption of 1873, according to geophysicist Magnús Tumi Gudmundsson. A large flood is not expected. This morning the ash cloud was 15 to 18 kilometers high which means that the volcanic eruption is ten times more powerful than the last eruption in Grímsvötn in 2004, Gudmundsson told ruv.is. However, it is not unique. Grímsvötn goes through phases where it erupts often in a period of 60-80 years, then there are quieter periods of equal length. In these quieter phases there are small eruptions such as the ones in 1998 and 2004 and then the third and fourth eruption are larger in scale, like in 1619 and in 1873, which is similar in character as the one we're experiencing now. It is much larger with much more magma flow and much more emission of ash than what we witnessed in the volcanic eruption in Eyjafjallajökull last year. The ash scatters widely and the ash cloud stretches over a large part of the country. –Iceland Review
(c) Reuters 2011 contribution Luisport
Posted in Earth Changes, Earth Watch, High-risk potential hazard zone, Land fissures, Potential Earthchange hotspot, Seismic tremors, Volcano Watch|17 Comments
20 presumed dead in series of landslides in Malaysia
Posted on May 21, 2011 by The Extinction Protocol
May 21, 2011 – MALAYSIA –
Two dozen people, mainly children, were buried alive when a landslide took down an orphanage in Malaysia on Saturday, the national news agency said. The victims were mostly orphans and staff of the orphanage in Hulu Langat, southeast of the capital, Kuala Lumpur. The landslide, triggered by heavy rains, occurred at 2:30 in the afternoon when all the children were gathered in a main hall at the orphanage, the Bernama news agency said. By Saturday evening, a search-and-rescue team had pulled nine orphans out of the debris. Three children died at the scene, and the other six were rushed to a hospital, Selangor Police Chief Datuk Tun Hisan Tun Hamzah said at a news conference. "We learned that two landslides occurred simultaneously at the orphanage," he said. "All the victims did not have time to escape." -CNN
(c) Al Jazeera 2011
Posted in Earth Changes, Earth Watch, Extreme Weather Event, Landslide & geological deformation|9 Comments
6.1 earthquake shakes volcanic trench of Kermadec Islands
Posted on May 21, 2011 by The Extinction Protocol
May 21, 2011 – NEW ZEALAND
– A 6.1 magnitude earthquake has struck the Kermadec Islands just north of New Zealand. The quake struck at a depth of 19 km. Seismic tension and volcanic activity has been steadily increasing in the area since the 2010 Cantebury earthquake struck New Zealand. A intermittent string of quakes have also rippled across Australia.
Posted in Earth Changes, Earth Watch, High-risk potential hazard zone, Potential Earthchange hotspot, Seismic tremors, Volcano Watch|4 Comments
Iceland's Grímsvötn volcano explodes
- massive swarm of large earthquakes follow
Posted on May 21, 2011 by The Extinction Protocol
May 21, 2011 – ICELAND
– Iceland's Meteorological Office confirmed Saturday that an eruption had begun, and local media said smoke could be seen coming from the volcano. Grimsvotn lies under the uninhabited Vatnajokull glacier in southeast Iceland. It last erupted in 2004. Scientists have been expecting a new eruption and have said previously that this volcano's eruption will likely be small and should not lead to the air travel chaos caused in April 2010 by ash from the Eyjafjallajokul volcano. -USA Today
History: Grímsvötn, Iceland's most frequently active volcano in historical time lies largely beneath the vast Vatnajökull icecap. The caldera lake is covered by a 200-m-thick ice shelf, and only the southern rim of the 6 x 8 km caldera is exposed. The geothermal area in the caldera causes frequent jökulhlaups (glacier outburst floods) when melting raises the water level high enough to lift its ice dam. Long NE-SW-trending fissure systems extend from the central volcano. The most prominent of these is the noted Laki (Skaftar) fissure, which extends to the SW and produced the world's largest known historical lava flow during an eruption in 1783. The 15-cu-km basaltic Laki lavas were erupted over a 7-month period from a 27-km-long fissure system. Extensive crop damage and livestock losses caused a severe famine that resulted in the loss of one-fifth of the population of Iceland.
uploaded by Martzata contributed by Flaijers
Posted in Earth Changes, Earth Watch, Earthquake Omens?, High-risk potential hazard zone, Landslide & geological deformation, Potential Earthchange hotspot, Signs of Magnetic Field weakening, Volcano Watch|5 Comments
Yellowstone: the world's most dangerous volcano is moving
Posted on May 21, 2011 by The Extinction Protocol
May 21, 2011 – YELLOWSTONE NATIONAL PARK
, Wyoming - The nation's oldest park is also one of the most studied. The interest is not just in its amazing vistas and wildlife, but in the volcanic beast below the park. Yellowstone sits atop one of the world's biggest, active volcanoes, one capable of laying waste to much of North America. Scientists keep an eye on it using a network of seismic and GPS sensors. Professor Emeritus Robert Smith of the University of Utah is one of those scientists. A geophysicist, Smith a leading expert on the Yellowstone super volcano. "We monitor it in real time for earthquake swarms and ground deformation." He says the park is in constant motion. Visitors can't see it, but the ground at their feet is moving up and down as magma pushes against the thin crust and powers the park's many geysers. The changes are most evident at the Norris Geyser Basin. Henry Heasler, the Yellowstone Park geologist said, "It changes daily. Sometimes it's hard to keep up with the change near boardwalks because that impacts visitor and employee safety.Why are all the hydrothermal features here?" Heasler continued, "The geysers? The mud pots? The steam vents? The hot springs? It's because of the heat beneath our feet." The heat from the volcano is the culprit. And beginning in 2004, volcanic pressure caused an amazing rise at the park: Three-inches a year for five-years. Professor Smith said, "That's a lot of uplift and it's over an area that's over the entire Yellowstone caldera — 50-miles long of uplift." "If you went under a rubber sheet," Heasler said describing the uplift, "And pushed your thumb up, it's not just sticking up where your thumb is, there's like a slope to it." In fact, as the land has bulged, Yellowstone lake has tilted enough that its water has flooded out trees on the south arms. And now, the ground is sinking. And the drop has brought up a whole new set of questions for scientists. "Why haven't the trees emerged again?" asked Heasler. "We don't know." They are watching the data as well as the geothermal features of the park for clues. At times, those geologists see themselves are doctors monitoring a patient. In this case, the patient took a deep breath (between 2004-09) and now it is letting it out. That much is clear from the observations. The unanswered question is, "why?" –ABC 4
Posted in Earth Changes, Earth Watch, High-risk potential hazard zone, Landslide & geological deformation, Potential Earthchange hotspot, Seismic tremors, Volcano Watch|11 Comments
Endeavour crew hooks up $2 billion cosmic ray detector
Posted on May 21, 2011 by The Extinction Protocol
May 21, 2011 – CAPE CANAVERAL, Fla
. —The International Space Station's signature science experiment, a $2 billion particle physics detector, is securely attached to the outpost. Endeavour astronauts Thursday morning lifted the Alpha Magnetic Spectrometer from the shuttle's payload bay and attached it to the right, space-facing side of the station's structural truss, completing their top mission objective. The device was confirmed attached at 5:46 a.m. EDT. "AMS is probably the most significant scientific experiment on the station," radioed Endeavour mission specialist Greg Chamitoff. "We all look forward to seeing what AMS will discover about the nature of the universe." Power and data connections must be made before the 7.5-ton instrument is operational, but it should begin collecting data soon. The instrument will sift through cosmic rays travelling from distant reaches of the universe, characterizing the high-energy particles passing through it in the hopes of better understanding the structure and origin of the universe. The cosmic ray detector is designed to look for dark matter, the mysterious, unseen substance believed to account for most of the universe's mass; antimatter, which according to the Big Bang theory should have existed in equal quantity to matter at the universe's creation; and "strange" matter created experimentally but not found on Earth. A prototype instrument flew a test run on shuttle Discovery in June 1998, but it has since been upgraded with more sensitive detectors. It features a large permanent magnet and eight detectors to measure particles' speed, direction, mass and charge. –USA Today
Posted in Earth Changes, Earth Watch, Space Watch|2 Comments
Scientists find regions of the earth's core may be melting
Posted on May 21, 2011 by The Extinction Protocol
May 21, 2011
– The inner core of the Earth may be melting, scientists now find. This melting could actually be linked to activity at the Earth's surface, the researchers said, and added that the discovery could help explain how the core generates the planet's magnetic field. The Earth's inner core is a ball of solid iron about 1,500 miles wide, about the same size as the moon. This ball is surrounded by an outer core made up mostly of liquid iron- nickel alloy, a highly viscous mantle layer and, topping it off, a solid crust that forms the surface of the planet. As the Earth cools from the inside out, the molten outer core is slowly freezing. This is leading the solid inner core to grow at a rate of about 1 millimeter per year. However, scientists now find that the inner core might be melting at the same time. "The standard view has been that the inner core is freezing all over and growing out progressively, but it appears that there are regions where the core is actually melting," said researcher Sebastian Rost, a seismologist at the University of Leeds in England. The roiling of material in the core, coupled with the spinning of the Earth, is what generates the planet's magnetic field. For instance, when it comes to large regions under Africa and the Pacific where the lowermost mantle is hotter than average, the outer core below those areas can become hot enough to start melting the inner core. These findings suggest "that the whole dynamics of the Earth's core are in some way linked to plate tectonics, which isn't at all obvious from surface observations," Mound said. To see if the core really is melting, "we would need larger arrays of seismometers spread more evenly around the world, particularly in the oceans, which is a technological hurdle," Mound said. In addition, "we need to develop lab equipment that can explore the pressure and temperature conditions of the inner core — we are just on the edge of being able to do that reliably." Mound, Rost and their colleagues David Gubbins and Binod Sreenivasan detail their findings in the May 19 issue of the journal Nature. –MSNBC
"Now if some unknown phenomenon or energy has altered the Sun's rate of radioactive decay, we can assume something similar may have also occurred with the Earth and has set in motion a runaway heating trend that is now causing volcanoes to convulse, the Earth to tremble, the magnetic field to deteriorate, and the planet's climate to simultaneously crash." -The Extinction Protocol, p. 571
Posted in Climate unraveling, Earth Changes, Earth Watch, Forecast book quotation, Seismic tremors, Signs of Magnetic Field weakening, Volcano Watch|16 Comments
---
Hybrid! Great stuff mate
Meanwhile in the mainstream -
Millions 'at risk from earthquakes'
Millions of people in Europe, the Middle East and Asia are at risk from deadly tremors which can strike out of the blue in unmapped earthquake zones, scientists have warned.
Attention should be focused on these regions, which lie within the interior of continents, instead of well known earthquake "hotspots", according to two leading experts. Read more -
http://uk.news.yahoo.com/millions-risk-earthquakes-175919138.html
---
shaggietrip wrote:I thought this video would go good here in this thread. I do not know how accurate this guy has been in the past. I will try to keep an eye on these ones.
Another informative eq watch...
---
Here is a video of 2 eruptions 5/30/2011 -- Volcano Sakurajima Japan. Take a look half way throught the video. Are they orbs? UFO's? or swamp gas/weather balloons. Very interesting.

---
A little update on recent events...


And that's not to mention the multiple explosions in oil refineries and chemical plants around the world (2 in the uk in the last week), outbreaks of e-coli, more bird flu, the plague(in libya), bubonic plague in US, anthrax in Bangladesh and continuous mass die-offs of fish, birds, whales and antelope...

Feels like we've had a years worth of events in the last month!
---
Related topics

Replies
Views

Last post