Ex-DEA agent jumps jobs to join marijuana investment firm

By Jonathan Kaminsky 1/20/2014

SEATTLE (Reuters) - In a decade with the Drug Enforcement Administration, Patrick Moen rose to supervise a team of agents busting methamphetamine and heroin rings in Oregon - before giving it all up to join the nascent legal marijuana industry in nearby Washington state.

In November, the former federal drug agent quit his post to work for a marijuana industry investment firm, and says he relishes getting in on the ground floor of a burgeoning industry he was once sworn to annihilate.

http://news.yahoo.com/u-ex-dea-agent-un ... nance.html
How fast they switch their faces.
---
Posts: 3305
Joined: Tue Jun 08, 2010 9:47 am
Probably saw how crooked his mates were and thought he'd jump ship.
NextNewsNetwork
http://21stcenturywire.com/2014/01/25/t ... -smuggler/
The DEA: America's Largest Cocaine Smuggler.

Never before have we seen such naked corruption on a grand scale. Sooner or later, the US Federal government will have to come clean about their beneficiary role in the billions of dollars in narcotics imported into the United States each year.


LOOK THE OTHER WAY: US Attorney General Eric Holder knows how DEA are flooding his hometown of Chicago with cocaine.

Revelations surrounding 'Operation Fast and Furious' gave the public an insight into the nefarious, yet symbiotic relationship between US federal agencies and Mexican drug cartels.

This latest investigation (below) shows how the Greater Chicago area has been flooded with Class A drugs under the direct control of the Drug Enforcement Agency (DEA). It demonstrates without a shadow of doubt that the US Federal gov't in Washington DC is not only culpable, but profiting from this illicit trade…

Libertarian News

Newly released documents and testimony from Justice Department and DEA officials now show the stories of government running cocaine are true.
An investigation conducted in Mexico found the American government allowed that country's largest drug cartel, Sinaloa, to operate without fear of persecution. That groups is estimated to be responsible for 80 percent of the cocaine coming into the country through Chicago. In exchange, the leaders of Sinaloa provided the DEA information on rival gangs.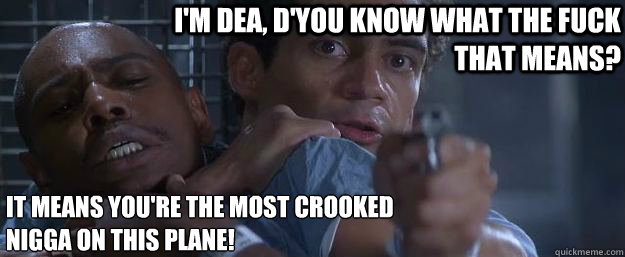 Live by the Terror, Die by the Terror.
---
The Ex-DEA agent is simply following the money. With the tide turning toward legalization of pot in the U.S., the smart investors are looking to get in on the ground floor.
---
Drug trading is a profitable business. The Feds harvest a fat profit on it. They won't give it up even it is legal now.
---
Nations Largest Cocaine Smuggler Revealed: The DEA

http://youtu.be/jbGaWSXfbWk

Mexico's largest cocaine cartel. The written testimony, combined with other evidence, shows DEA officials met with leaders of the Sinaloa cartel more than 50 times

between 2000 and 2012.
Watch the timing accordance of the two news.
Guzman not likely to be in US court soon

By ALICIA A. CALDWELL 2/23/2014

WASHINGTON (AP) —

After 13 years

on the run, narrow escapes from the military, law enforcement and rivals, Joaquin "El Chapo" Guzman is back in Mexican custody. Now starts what is likely to be a lengthy and complicated legal process to decide which country gets to try him first.

http://news.yahoo.com/guzman-not-likely ... itics.html
Is it too coincident that the drug gang head could escape from capture for 13 years? Was he under protection of the secret deal? Is it a cover up operation after the secret deal was exposed to public?
---
PHOTOS OF A MEXICAN DRUG LORD'S HOME AFTER THE RAID

AMAZING PHOTOS OF A MEXICAN DRUG LORDS HOME AFTER BEING RAIDED AND WHAT MORE THAN 23 BILLION IN CASH LOOKS LIKE -

The money and valuables found in this one house alone, would be enough to pay for health insurance for every man, women and child in the USA for 12 years!

http://www.infojustice.com/Topics/29%20 ... 0Raid.html
That's what they found in a small drug gang.
---
This is from a small drug gang. Could you imagine how much has a big cartel like Sinoloa made after twelve years of a licensed drug trade? You can never see this kind of picture in US. The money all gone to the corrupt D.O.J. They cultivate drug gangs, let them collect money for the agents, then grab the money. That's so said War on Drugs.
---
In Afghan fields the poppies grow.
http://russianfreedomforum.lefora.com/t ... row-on-row
-----------------
CIA, Wall Street establish drug empire in Afghanistan: Stephen Lendman
An analyst says the Taliban had eradicated poppy fields prior to 2001 and so Washington plans permanent occupation of Afghanistan to maintain control of its opium empire.
In the background of this the United Nations has advised that opium cultivation in Afghanistan has increased for the third year in a row. The report said poppy cultivation was highest in regions where US-led troops had been stationed over the past years, which is mostly in the southern parts. Last year Afghanistan supplied about 75 percent of the global supply of heroin, a derivative of opium, which is expected to jump to 90 percent this year due to the increased cultivation.
http://www.presstv.com/detail/2013/04/1 ... ghanistan/
---
Related topics

Replies
Views

Last post