lol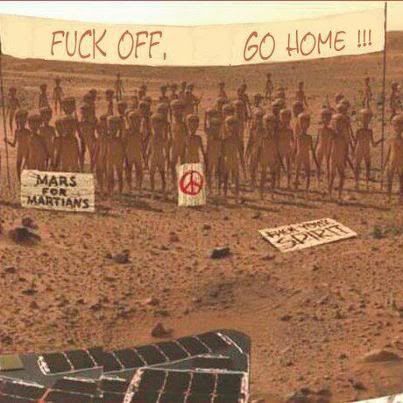 ---
That's not very nice is it?. I mean we come in peace "Shoot to kill"
I am what i am.

War does not determine who is right, War determines who is left. [img]http://i47.tinypic.com/5aro28.gif[/img]
---
Posts: 10441
Joined: Tue Jan 04, 2011 3:05 pm
Location: ON A GIF: HUNT
"I wanted to see exotic Mars... the crown jewel of our solar system. I wanted to meet interesting and stimulating beings of an ancient culture... and kill them. I wanted to be the first person on Earth to get a confirmed kill! ".......
Ok Ok so its plagiarized....But do you know from where?.....Lol
---
That joke is as old as...well, Mars.
---
Fatdogmendoza wrote:"I wanted to see exotic Mars... the crown jewel of our solar system. I wanted to meet interesting and stimulating beings of an ancient culture... and kill them. I wanted to be the first person on Earth to get a confirmed kill! ".......

Ok Ok so its plagiarized....But do you know from where?.....Lol
I haven't heard of it before Fatty
I am what i am.

War does not determine who is right, War determines who is left. [img]http://i47.tinypic.com/5aro28.gif[/img]
---
Fatdogmendoza wrote:"I wanted to see exotic Mars... the crown jewel of our solar system. I wanted to meet interesting and stimulating beings of an ancient culture... and kill them. I wanted to be the first person on Earth to get a confirmed kill! ".......

Ok Ok so its plagiarized....But do you know from where?.....Lol
Full Metal Jacket lol great film
---
Another olden
---
Cageyone23 wrote:Another olden
LOL not seen that in years Classic
---
Related topics

Replies
Views

Last post