Posts: 10120
Joined: Wed Jul 01, 2009 9:10 pm
Location: Packing my stuff and moving to Denver like you should be doing
As if the MH370 saga couldn't get any more strange, now officials are saying that the flight LANDED according to this newly released video report from Dahboo7 via the original story from the Daily Mail. Will Americans and the world EVER find out what REALLY happened to this doomed flight or are they sending us off on ANOTHER wild goose chase?
WHERE did this mysterious flight land? Was it Diego Garcia as long reported by alternative news outlets? WHY are we just finding out that this plane MAY HAVE LANDED now? WHAT happened to the survivors of Flight MH370? HOW were these officials able to keep this secret for so long? WHEN, if ever, will we ever find out the truth? The 2nd video below shares more from an MH370 family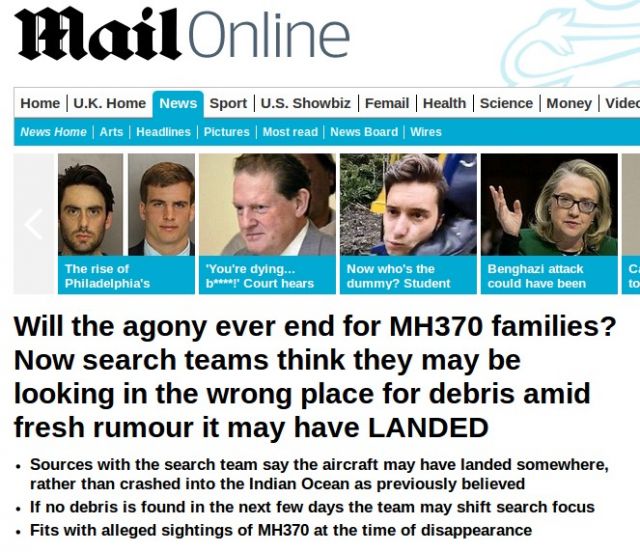 FAIR USE NOTICE.
Section 107 of the US Copyright Law. In accordance with Title 17 U.S.C. Section 107, . http://www.law.cornell.edu/uscode/17/107.shtml

---
Posts: 326
Joined: Mon Aug 12, 2013 12:27 am
The ship is nice though isnt it.
Top of the line.
---
Chaindrive wrote:CHRIST, I really feel "sorry" for all the naive people out there who actually think for a second that Dahboo7 is a hard core Journalist..

Isnt he the some bone head that brought you this stupid thing.?

Tell me if Im wrong..

Hmmm, me wonders if Dahboo7 is related to Blake Cousins.. wouldnt shock me for a second..
I think the first 3 letters of his name say it all
---
Related topics

Replies
Views

Last post