Posts: 9419
Joined: Sat May 14, 2011 9:00 pm
Location: Zin-Uru
The entire female cast of Gone of Thrones in/out of make-up...Enjoy
Emilia Clarke (Daenerys Targaryen)

A brunette Emilia Clarke is nearly unrecognizable as her very blonde "Game of Thrones" character Daenerys Targaryen, Khaleesi of the Dothraki and the Mother of Dragons.

Lena Headey (Cersei Lannister)

Cersei Lannister is an evil, bad-ass Queen with super long blonde tresses. Lena Headey actually smiles, so she's much less evil -- but still a bad-ass, sans medieval wig.
Sophie Turner (Sansa Stark)

Poor Sansa is stuck under the thumb of the cruel King Joffrey, but in real life, 16-year-old British actress Sophie Turner can spread her wings and shine -- and smile!
Maisie Williams (Arya Stark)

Tomboy Arya Stark would never be caught dead in a dress and makeup, but 15-year-old Maisie Williams -- even with short hair -- looks ultra-feminine and lovely.
Michelle Fairley (Catelyn Stark)

Wow! She may look dowdy as the protective matriarch of the Stark family, but "Harry Potter" vet Michelle Fairley looks glamorous -- and, dare we say it, fierce -- sporting a furry black vest on the red carpet.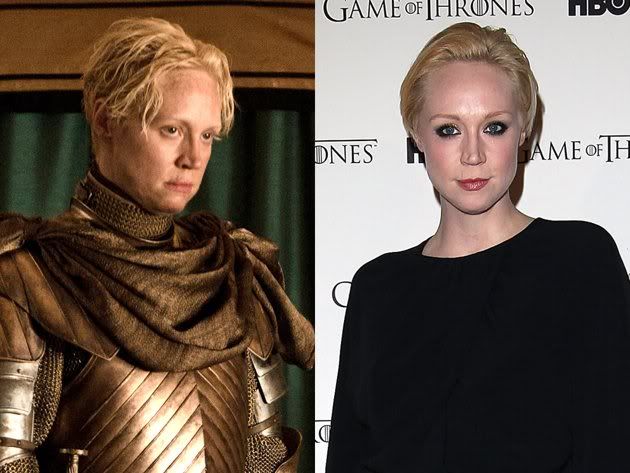 Gwendoline Christie (Brienne of Tarth)

Her "Thrones" character, the androgynous swordsman Brienne of Tarth, isn't exactly what you'd call "feminine." But here in the real world, Gwendoline Christie strikes a downright ladylike pose on the red carpet -- though she still has Brienne's close-cropped blond hair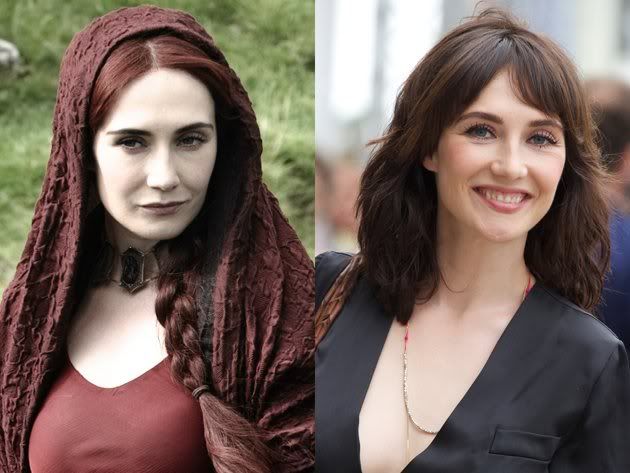 Carice van Houten (Melisandre)

If we didn't know it, we'd never recognize this fresh-faced Netherlands native (who co-starred in Tom Cruise's "Valkyrie") as "GoT's" wickedly manipulative red priestess, Melisandre. Maybe if we saw her giving birth to an evil smoke monster of some sort?
Rose Leslie (Ygritte)

She plays fiery wildling Ygritte, but this 25-year-old redhead looks a lot more comfortable once she's safely away from the harsh snowy climate surrounding The Wall. And Jon Snow may know nothing, but we know the lovely Leslie as ambitious maid Gwen Dawson on PBS's "Downton Abbey." In fact, speaking of "Downton"...
https://www.youtube.com/user/kinninigan
http://www.disclose.tv/user/kinninigan/
---
Related topics

Replies
Views

Last post