From Cassini for the Holidays: Backlit View of Saturn and Its Rings

Dec. 18, 2012 — Just in time for the holidays, NASA's Cassini spacecraft, in orbit around Saturn for more than eight years now, has delivered another glorious, backlit view of the planet Saturn and its rings.

http://www.sciencedaily.com/releases/2012/12/121218153633.htm
NASA's Cassini spacecraft has delivered a glorious view of Saturn, taken while the spacecraft was in Saturn's shadow. The cameras were turned toward Saturn and the sun so that the planet and rings are backlit. (Credit: NASA/JPL-Caltech/Space Science Institute)
We gather knowledge faster than we gather wisdom. - William Bell
---
Saturn's Crazy Christmas Tilt
Dec. 22, 2008: You look through the telescope. Blink. Shake your head and look again. The planet you expected to see in the eyepiece is not the one that's actually there. Too much eggnog?
No, it's just Saturn's crazy Christmas tilt.
All year long, the rings of Saturn have been tilting toward Earth and now they are almost perfectly edge-on. The opening angle is a paper-thin 0.8o. Viewed from the side, the normally wide and bright rings have become a shadowy line bisecting Saturn's two hemispheres--a scene of rare beauty.
Amateur astronomer Efrain Morales Rivera of Aguadilla, Puerto Rico, has been monitoring Saturn and he created this composite image to show how the geometry has changed:
Astronomers call the phenomenon a "ring plane crossing." As Saturn goes around the sun, it periodically (once every 14 to 15 years) turns its rings edge-on to Earth. Because the rings are so thin, they can actually disappear when viewed through a backyard telescope. At the precise moment of crossing, Saturn undergoes a startling metamorphosis. The ringed planet becomes a lonely ball of gas, almost unrecognizable: Hubble photo.
(Historical note: Shortly after Galileo discovered Saturn's rings in 1610, they disappeared in precisely this fashion. Galileo didn't understand the nature of the rings and the vanishing act confused him mightily. Nevertheless, his physical intuition prevailed. "They'll be back," he predicted, and without ever knowing why, he was correct.)
We're not quite there yet. The opening angle won't be precisely 0o until Sept. 4, 2009. Don't bother marking your calendar, though. Saturn will be so close to the sun, no one will be able to see the rings wink out.
The best time to look is now.
The 0.8o opening angle of Christmas 2008 is the minimum for some time to come. In January 2009 the rings begin to open up again, a temporary reversal caused by the orbital motions of Earth and Saturn. By the time narrowing resumes in summer 2009, Saturn will be approaching the sun; looking through a telescope then could actually be dangerous. The next ring plane crossing that's easy to watch won't come until 2038.
So wake up before sunrise on Dec. 25th, point your telescope at the golden "star" in Leo, and behold Saturn's crazy Christmas tilt:
http://science.nasa.gov/science-news/sc ... crazytilt/
"The third-rate mind is only happy when it is thinking with the majority.
The second-rate mind is only happy when it is thinking with the minority.
The first-rate mind is only happy when it is thinking."
A. A. Milne
---
Scientists from Cornell University, led by Jonathan Lunine, reported that on Titan, a Moon of Saturn, they discovered a hydrocarbon ice floes based on a fluctuations in the reflectivity of the surface of lakes on Titan. As reported by scientists from Cornell University, sometimes the surface of Titan lakes looked darker and sometimes brighter in the radio, so the group "Cassini" linked the presence of such fluctuations of the reflectivity with the melting and the growth of ice on the lakes on Titan's surface. Scientists believe, that the ice can remain on the surface of methane-ethane lakes on Titan's surface if the temperature on the surface just below the freezing point of methane (90.4 Kelvin), and if the temperature drops a few degrees, the ice begins to sink, THE VIDEO:
http://hainanwel.com/en/unusual-world/2 ... floes.html
---
Section of an interview from Jack Blood interviews David Icke 8/16/12


________________________________________________________________________________

= Since Dawn Of Time The Fate Of Man Is That Of Lice =
---
If those rings are built rings then I wonder if there is a message in them like a record, when you look at them in certain light fall it seems the same as many ways we record stuff on.
Pablo Neruda:
…and now, nothing more,
I want to be alone with my essential sea…
I don't want to speak for a long time,
Silence! I want to learn,
I want to know if I exist.
---
________________________________________________________________________________

= Since Dawn Of Time The Fate Of Man Is That Of Lice =
---
GALVATRON wrote:Section of an interview from Jack Blood interviews David Icke 8/16/12


"Responding to the ridiculous theories of David Icke and his distorted usage of the research of NASA scientist, Dr. Norman Bergrun. The fake cosmology of the Sun-Moon-Saturn menace; the Moon-Mind Control Orb scenario, fake alien invasion thesis; weather wars and genocide; The Greed-To-Death cycle of wars; Werner von Braun's leak of the hostile alien thesis. A call to reason and unity among humans against the Global Elite Death Wars." - Randy Maugans

James' comments from Facebook:
Tomorrow, Crystal Clark and I will have an interview with Randy Maugans on Off Planet Radio. I rarely ever ask for a host to interview me but time is short and the association of so many in the alternative cottage industry to promote the hostile alien thesis has come to a full-forced wind against freedom and any social equity. For fifty years now those conspiring to deliver upon us a global corporate fascist police state have written about and brazenly suggested that final step in implementing this evil upon the world would be the false flag of an hostile alien war with humanity. Commonsense would dictate to freely functioning minds the absurdity of this and just how egregious to be supplied by the very people that have suppressed and denied ET presence for even longer that those fifty years...even to the point of witnesses' deaths.
This consideration and others are missed or ignored by the majority of people within the alternative community, foremost ufologists, who have themselves performed as a cottage industry garnishing money in lecture tours and book contracts. For them, the sensational sells best and the line is not drawn at fear-mongering. Then there are the government agency plants and gatekeepers. And the ego-maniacal who don't even stop at identifying themselves as Christ. Yet in reality not individualist nor honorable enough not to give into an agenda they should well know by now is the single most deceptive and injurious of all others combined.
Even beyond this, the very monsters you have heard announce the "attributes" of depopulation can slip by those already sold on this lie, that extraneous forces (obviously alien) are responsible when the hammer falls on the beginning of that program. Be wise, use your common sense. Frame arguments in your own words to dispel what you can of this lie to your friends, neighbors and family. Your world hangs in the balance. JCH
I do not usually cross swords with those of alternative cottage industry. Allow me to discern between those of this cottage industry and myself in order to demonstrate how we differ. (1) I do not wish to sell books, fill arenas, place myself any closer to the face of God/gods than you, steal the work of others without giving them credit, twist that work to suit my own agenda, and serve the powers-that-be just to curry promotion in their controlled media. (2)
I have a record of long-standing support for the work of Dr. Norman Bergrun. I didn't just pick his findings up recently to help sell the agenda behind the hostile alien thesis, though poorly disguised, in order to twist it around to a poorly based construct that is insupportable. (3) When I came forward to speak of the EMVs it was at the urging of others who had already begun their own pursuit of discovery after seeing various space agency images displaying them in our sun.
Once you research about two hours into my work you will see the difference between how what I have to offer develops a supportable new cosmology for solar system astrophysics, one that incorporates anomaly, not avoids it. In contrast, Mr. Icke begs, borrows and steals to weave a web so entangled it ultimately serves no one. JCH
________________________________________________________________________________

= Since Dawn Of Time The Fate Of Man Is That Of Lice =
---
Incredible UFOs caugt by NASA near Saturns rings
It only takes that one person to go missing for the world to become empty
---
Titan's Tales Continue To Be Strange
by Stephen Smith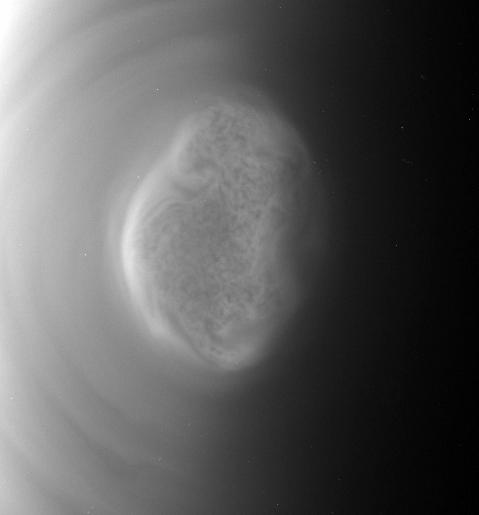 Polar cloud vortex on Titan. Image credit: NASA/JPL/Space Science Institute
Images from Cassini seem to indicate deltas and river channels. Could electricity have formed these features on Titan? Recent data from the Cassini-Solstice mission is said to reveal oceans of liquid ethane, in one case occupying an area as large as 26,000 square kilometers, in Titan's north polar region.
Cassini-Solstice has been analyzing information about Saturn and its family of moons for more then 10 years, with Titan, the largest moon in the Solar System and the only one with an atmosphere, as its primary target. Several previous Pictures of the Day discussTitan and its bizarre topography, as well as the electrical connection that it shares with its giant parent's plasmasphere. Radar images centered at 70 degrees north latitude reveal a "…coastline and numerous island groups of a portion of a large sea." A comparison of surface features between 2005 and 2007, scientists found that several of them have moved from their previous positions by as much as 30 kilometers. Since Cassini's radar is able to penetrate the cloud cover obscuring Titan from optical instruments, landmarks can be mapped and then compared to earlier scans of the surface.
The unexpected movement is thought to be from "disconnection", when Titan's crust separates from its core, allowing the 50 different grid markers to "slide" around more easily than if they were connected by solid buttresses. The grid-plotted formations included "river valleys", mountains, canyons and other terrain that would normally be slow to change in just two years of observation. NASA researcher Bryan Stiles, from the Jet Propulsion Laboratory, wrote:
"We believe that about 100 kilometers (62 miles) beneath the ice and organic-rich surface is an internal ocean of liquid water mixed with ammonia."
In a previously mentioned Picture of the Day, it was noted that flowing methane (or ethane) has never been found on Titan. The so-called "river valleys" on Titan do not look like they were carved-out by flowing liquids. Wal Thornhill predicted that a close examination of the images would demonstrate that the channels go uphill and downhill – not like the action of a moving stream that would always be downhill. In reality what we see on Titan are examples of "sinuous rilles" and are the result of electric discharges.
Another recent anomaly discovered on Titan is the rotating vortex of clouds at its south pole. The most striking aspect to Titan's south polar vortex is that it is reminiscent of a similar formation on Venus. It has been argued in the past that Venus and Titan might be new members of the Solar System whose dense atmospheres have not yet been dissipated by this high radiative environment. They appear to share many characteristics because of that atmospheric density. One of the principle tenets of Electric Universe theory is that the Solar System has been the scene of catastrophic encounters between charged planetary bodies at sometime in the recent past. Electric fields interacting with gigantic clouds of plasma caused major disruptions both in orbital arrangements and geological stability among the planets and moons. Indeed, many new objects may have been added to the mix in the form of cometary bodies scaling down in size from something as big as Venus to particles small enough to make up Saturn's rings. If it can be suggested, based on the presupposition that Electric Universe proposals are correct, that Venus is a new member of the Solar System, then why not apply the same theory to Titan? If Titan is a relatively new addition to Saturn's system of some 60 moons, then the fact of its methane atmosphere does not indicate replenishment, but youth. There simply hasn't been enough time for Titan to lose its atmosphere—its atmosphere has only recently been created.
If, like Venus, Titan is not an ancient member of an even more ancient system of planets, but is a new member of an entirely remodeled system that has come about recently, then new ways of describing its structure and behavior must be considered. Titan is an electrically charged body that is constantly bombarded by an intense ionic storm from Saturn. It shares many characteristics with its cousin moons, Io and Europa, that orbit the planet Jupiter: a particle fountain from its poles, a toroid of charged particles in a sheath and exchanges of massive electric charge. Electric Universe theorist Wal Thornhill wrote:
"How could this electric discharge model affect Titan's atmosphere? To begin, there is sorting of chemical elements in the discharge according to their critical ionization velocity. Also, isotopes will separate in the combined electric and magnetic fields of the cosmic plasma discharge. Lastly, the plasma gun effect (seen now ejecting material from Io into space) is known from laboratory tests to be a copious source of neutrons. The neutrons may be captured to form heavy isotopes and short-lived radioactive species."
Read more ->
http://www.thunderbolts.info/wp/2013/01 ... strange-2/
________________________________________________________________________________

= Since Dawn Of Time The Fate Of Man Is That Of Lice =
---
Saturn's Northern Hot Spot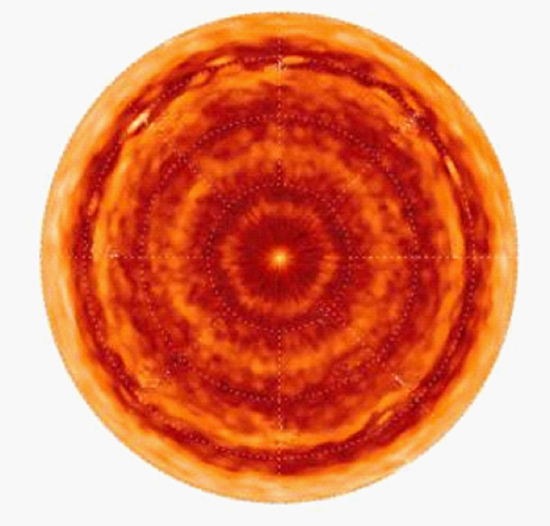 In a past
press release
, NASA scientists admitted their surprise at finding a hot north pole on Saturn, although the term "hot" is relative. The temperature of the pole is around 72 Kelvin (about minus 200 Celsius). Although the northern latitudes of Saturn were hidden from the Sun since 1995, the temperatures are equivalent to those radiated from the south pole.
According to Glenn Orton, one of two scientists monitoring the infrared spectrometer onboard the Cassini spacecraft: "We had speculated that the south pole hot spot was connected to the southern, sunlit conditions. Since the north pole has been deprived of sunlight since the arrival of winter in 1995, we didn't expect to find a similar feature there." Cassini mission specialists speculated that the glow from Saturn's north pole appears to be caused by convection currents carrying heat from warmer southern climes. As Leigh Fletcher, planetary scientist from Oxford University, said: "The hot spots are the result of air moving polewards, being compressed and heated up as it descends over the poles into the depths of Saturn. The driving forces behind the motion, and indeed the global motion of Saturn's atmosphere, still need to be understood." Previous Picture of the Day articles demonstrate that Saturn's south pole is hotter than can be explained by the relatively dim sunlight that it receives. The mechanical view of the anomalies in the south fails to explain the increased temperature there. Physicist Wal Thornhill suggests that another source for the energy input must be considered and that is electricity.
One of the most bizarre configurations discovered on Saturn is the hexagon that dominates its north pole. The formation was originally seen by cameras onboard the twin Voyager spacecraft that flew by Saturn in November 1980 and then again in August 1981. NASA researchers continue to refer to the structure as "unexplained," since the convective interpretations of Saturnian weather do not include mechanisms by which clouds can organize themselves into polygonal shapes. For many years researchers studying the issue have known that beams of electricity flowing through plasma produce a central column surrounded by concentric cylinders. The cylindrical current filaments exhibit long-range attraction and short-range repulsion braiding that result in evenly spaced vortices surrounding the column. As the filaments rotate around one another, a preferred hexagonal cross-section forms within the innermost column. Hexagonal craters can be seen etched into the surfaces of planets and moons. Weather patterns, such as hurricanes on Earth, also exhibit hexagonal "eyes" that defy conventional explanation.
The hexagon at Saturn's north pole is another example of electrical activity in the Solar System on a tremendous scale. Electricity moves along charged Birkeland current filaments that electrically connect the Sun with its family of planetary bodies. The current energy flows most strongly into the giant gas planets because their charge differential with the Sun is greater than that of their smaller, rocky cousins. The "electric Sun" is what drives the energetic meteorological phenomena on Saturn (and the other planets). Electrical circuits power the Sun and initiate the "anomalous heating" that has been found on Saturn, as well as on the other gas planets that have been examined – Jupiter and Neptune display "hot poles" just like Saturn. Once conventional science sees the question in electrical terms, the many puzzles with which they are confronted will become clear. Such issues as climate change on Earth and the double-eye vortices on Venus and Saturn will be illuminated. Theories regarding the hot poles on Enceladus, Titan and Io will also benefit from acknowledging the principal tenets of the Electric Universe.
Read more ->
http://www.thunderbolts.info/wp/2012/11 ... -hot-spot/
________________________________________________________________________________

= Since Dawn Of Time The Fate Of Man Is That Of Lice =
---
Related topics

Replies
Views

Last post