Hillary Clinton Rescued By Iranians from Near Fatal Plane Crash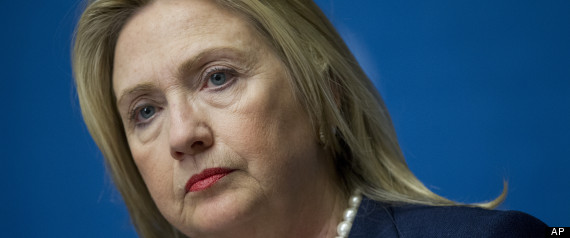 Sounds like Suchafail Manure , but heyho ................HNY everybody .

Clinton Injured, US Navy Seal Killed In Secret US Mission To Iran

A new Foreign Military Intelligence (GRU) report circulating in the Kremlin today is saying that United States Secretary of State Hillary Clinton [photo 2nd left] was injured, and a top US Navy Seal Commander killed when their C-12 Huron military passenger and transport aircraft crash landed nearly 3 weeks ago in the Iranian city of Ahvaz near the Iraqi border.

Iranian intelligence agents quoted in this GRU report confirm that the C-12 Huron aircraft is still in their possession in Ahvaz, but will only admit that the plane was "forced to land because of technical problems."

The US Navy Seal member reported killed in this bizarre incident, this report says, was indentified as Commander Job W. Price [photo 3rd left] who as a leader of this highly specialized American Special Forces unit protects high-ranking diplomats traveling in Middle Eastern and Asian combat zones.

Curiously, US media reports on Commander Price's death say it being investigated as a possible suicide as he died from what the American Defense Department describes as "a non-combat related injury."
http://www.stuartwilde.com/2012/12/hill ... ane-crash/
http://zen-haven.com/hillary-clinton-re ... ane-crash/
---
Hillary Clinton Admitted To New York Presbyterian Hospital With Blood Clot
Take your pick ................................
US Secretary of State Hillary Clinton has been admitted to hospital with a blood clot related to a concussion she suffered earlier this month, after fainting and falling down.

Doctors at the New York Presbyterian hospital made the discovery after Clinton, 65, went for a follow-up exam, her deputy assistant said.

"She is being treated with anti-coagulants and is at New York-Presbyterian Hospital so that they can monitor the medication over the next 48 hours," Philippe Reines, the deputy assistant secretary of state told reporters on Sunday.

Reines would not comment on the location of the clot.

Clinton suffered a concussion earlier this month after reportedly passing out after becoming dehydrated from a stomach virus she had.

The incident saw her cancel testimony she was due to give to Congress about a report into the September 11 attack on the US diplomatic mission in Benghazi, Libya, that killed Ambassador Chris Stevens and three other Americans, the Associated Press reported.

She also missed a planned trip to the Middle East and north Africa following the fall.

Clinton had been due to return to work this week, before the discovery of the blood clot.

But she is due to stand down as secretary of state before US President Barack Obama officially begins his second term in January.
http://www.huffingtonpost.co.uk/2012/12 ... 86643.html
---
---
---
---
---
---
Posts: 2382
Joined: Mon Apr 16, 2012 9:16 am
such a becoming look on that womans face.
the story of life is quicker than the blink of an eye, the story of love is hello and goodbye, until we meet again my friend.
---
Posts: 10281
Joined: Sun May 20, 2012 3:24 pm
The site owner Lukas said I could show you how to makes hundreds of dollars in your spare time like I do.
If you would like to get yours too, PM me and I WILL hook you up.
---
---
Related topics

Replies
Views

Last post