Found this interesting
Hollywood's Hidden Nazi Bunker
When we started developing the Badass Digest with Devin Faraci video show I knew I wanted to make something that wasn't typical. I wanted to make something that had interviews, that had roundtable discussions, but that also had adventures. I wanted to go beyond just talking about movies.

Our first adventure takes me hiking, which isn't exactly my natural environment. On a hot summer day the Badass Digest video crew hiked up into the Santa Monica Mountains in search of a strange, secret place that has all but disappeared from the history books: the Murphy Ranch. Built in the 1930s by Winona and Norman Stevens, this was a compound intended to serve as a hideaway for American Nazi sympathizers - Silver Shirts - after Hitler won WWII in Europe, which would cause the United States to collapse. The Aryan faithful would hide out there and, in a few years when Der Fuhrer showed up, they would welcome him to his new West Coast White House.

None of that came to pass, and now the Ranch is an amazing ruin hidden deep in a valley. It's a little piece of hidden history - and a good walk.
________________________________________________________________________________
-= PER ASPERA AD INFERI =-
---
Murphy Ranch: Los Angeles' Secret Nazi Compound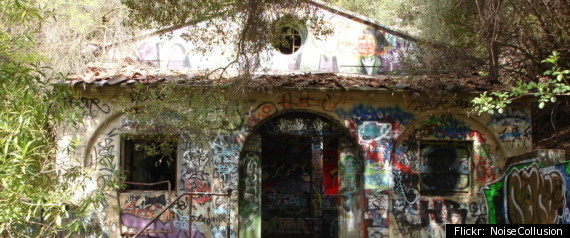 The Nazi compound high in the Santa Monica Mountains may not be a secret to born and bred Angelenos (it's a sightseeing stop on the Rustic Canyon hike), but it's still one of those strange, "only in LA" artifacts that underscores the city's rich and mysterious history.
Travel Channel's "Off Limits," a show about uncovering cities' hidden secrets, focused on Los Angeles for last night's series premiere. With historian Randy Young, host Don Wildman reveals that Los Angeles was supposed to be the "seat of American fascism" from where Adolph Hitler could rule the United States and restore order -- at least according to landowners Winona and Norman Stephens. The Stephenses began construction on the "Murphy Ranch" in 1933, a fifty-acre compound in the hills that was built to be a self-sustaining nazi community. Old blueprints reveal plans for a huge mansion complete with a 400,000 gallon water tank and a concrete-walled power station (the latter two are intact but have been defaced by graffiti).
Coming across an ornate, wrought iron gate, Young reveals that it was designed by renowned African-American architect Paul Revere Williams. He quips, "
They may have been Nazis, but they were Nazis with taste.
"
http://www.huffingtonpost.com/2012/03/1 ... 63362.html
http://www.huffingtonpost.com/2011/05/1 ... 63066.html
________________________________________________________________________________
-= PER ASPERA AD INFERI =-
---
Id like to know the names of the people that built it. Crazy bastards.
Good post
---
.
Wow.....neat story there Marduk.
Crazy find that.

The Book of Man
http://vimeo.com/album/2701770
The Book of Man Blog
(announcements) http://brianonley.wordpress.com/
---
Related topics

Replies
Views

Last post