---
bugmenot wrote:well its no star is it. why do i get a john lenard walson vibe about this. because it looks similar in appearance to what he was allegedly filming
reminds me too, but that big?!
Last edited by
-Marduk-
on Sun Dec 13, 2009 1:09 am, edited 1 time in total.
______________________________________________________________________________
-= PREDESTINATION: Itz hard to be ze good guy when you turn into a fucking gun =-
---
---
Posts: 163
Joined: Tue Nov 10, 2009 12:14 pm
Ah Slush with his posts
Nice.
One thing for sure, out there Blue seems to be the in colour especially with all the recent activity above Norway, was it a failed rocket? Wormhole? Haarp? Bluebeam?
Last edited by
Bladerunner
on Sun Dec 13, 2009 1:19 am, edited 1 time in total.
Do Androids Dream of Electric Sheep?
---
If this thing is now stationary, how do we know it will be visible next year ?
Coupled with all the other recent activity is anyone else's sphincter twitching ?
Theres gonna be some interesting cover up to explain this away but still nothing in the mainstream, if we pretend its not there it might go away......
---
marduk2012 wrote:

bugmenot wrote:well its no star is it. why do i get a john lenard walson vibe about this. because it looks similar in appearance to what he was allegedly filming

reminds me too, but that big?!
I had a feeling I had seen this before too, there is a resemblance, all the people that scoffed andscorned over those posts are going to eat a bit of the humble "blue"-berry pie methinks
---
---
Posts: 323
Joined: Tue Oct 13, 2009 6:09 am
Ive been analyzing the image carefully, and trying to find a way to extrapolate it into a 3d model, it's very difficult to do so in this low of a resolution, and not really knowing what is port aft starboard and bow. It does have the appearance(not saying that it is for sure) that this ship is sort of a spacecraft / art piece, and that would be consistent with many structures seen on Mars and on the Moon, makes sense .. I guess if you have this level of technology to make a ship this big and colonize who knows how many planets, you have probably been doing space travel for a VERY long time, and why not make it artistic??
Simple minds talk about each other Average minds talk about events And Great minds talk about ideas -- Elanor Roosavelt
---
[/quote]
Looks like the Lexx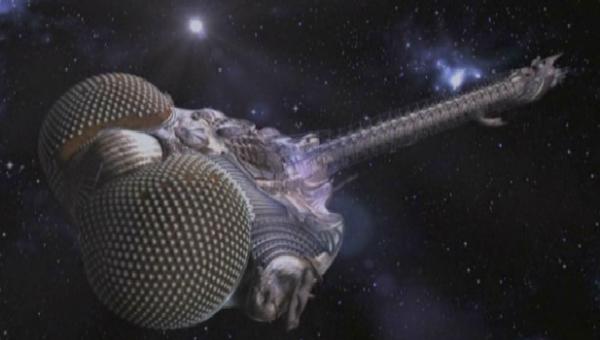 ______________________________________________________________________________
-= PREDESTINATION: Itz hard to be ze good guy when you turn into a fucking gun =-
---
---
Related topics

Replies
Views

Last post