Posts: 779
Joined: Tue Jan 20, 2009 1:09 pm
This beautiful formation near Marlborough, Wiltshire shows the wheat swirled around the bases of the circular standing clumps of wheat. At places where swirls of opposing direction collide, there is a smooth interweaving of the stalks. This technique was first seen in the famous "Chilbolton Face" formation of August 22, 2001.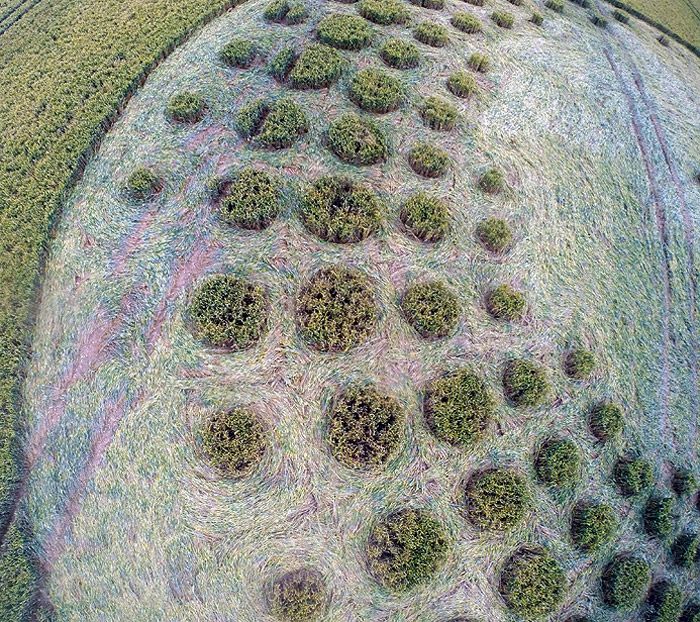 Berat Sancar stated on Crop Circle Connector: " This amazing crop circle may depict the internal energy pulse required for a space vehicle to achieve time-space displacement during the travel in space.
The phenomenon of internal energy pulse was first observed in the UFOs while they were watching the STS-75 "Tether Incident" in February 1996.
The black region around the center shows the radiating energy pulse from the center of the craft. Of course, NASA defined (all of) the pulsating and moving objects in their original video as "space debris"!
The original footage from NASA has been analyzed by many people. There are many video clips in YOU-Tube showing these analyses. This one is one of them:
http://www.youtube.com/watch?v=Q2DVeil21gc
where you can see that some of the pulsating "debris" has some intelligent flight paths."
See
http://www.cropcircleconnector.com/2014 ... ments.html
---
I'm going to propose a new hypothesis on the crop circle phenomenon. We all know that certain designs can be created with nothing more than planks and rope but, what of the other more complicated designs? This is not a method of alien communication. Who is responsible for these sick jokes? They were made from space but we also have star wars defense satellites that stream charged particles at targets. Most of the time they are seldom used. In fact, the last time I can remember them ever being used was the BP oil spill in 2010. George H. W. Busch was responsible for that but thats a whole other story.
---
Sherlock Holmes is looking for a new assistant. Maybe not, he used logic, reasoning and proof to arrive at an answer. Something which is sadly lacking in both your answers. Don't give up your day job.
A black-hole is not a hole it's a sphere. As will be the universe when compressed into the smallest unit it can be.
---
Posts: 9330
Joined: Fri May 14, 2010 6:03 pm
Location: Inside You.
I tend to believe that ALL crop circles are man made, usually by Vic and Bob with a plank of wood a length of rope and pre-planned measurements.
Some great artists out there, and I imagine they make them entirely so people can make forum posts about how aliens are travelling here to give us interstellar messages via crops of corn, rather than just beaming shit straight into our brains.
In my opinion. Each to their own.
Censorship debunking & disinformation, it's all in a days work.
---
Rachelwordsmith wrote: I'm a comparative religions, anthropology, history geek and atheist with a lot to say based on untenable facts
---
Maybe drone testing. Precise targeting practice.
---
Interesting video. I've seen another by the same person, I think it was about human mutilation, as apposed to cattle mutilation. Well worth a look.
---
humans with advanced technology can...
---
Posts: 779
Joined: Tue Jan 20, 2009 1:09 pm
At least it seems apparent that people are beginning to accept the fact that these formations cannot be made with a stomping board and a rope!
---
Posts: 21108
Joined: Thu Jul 22, 2010 3:20 am
Location: Odin's Palace
.
...definitely NOT humans with planks and ropes...
if you don't like my opinions....please lower your standards
.
---