Published on Apr 16, 2014

Almost 300 people are missing after a ferry sank off the coast of South Korea.

Two people have been confirmed dead so far - a male student and a female crew member.

The South Korean Coastguard says 164 people have been rescued and 295 remain unaccounted for.


---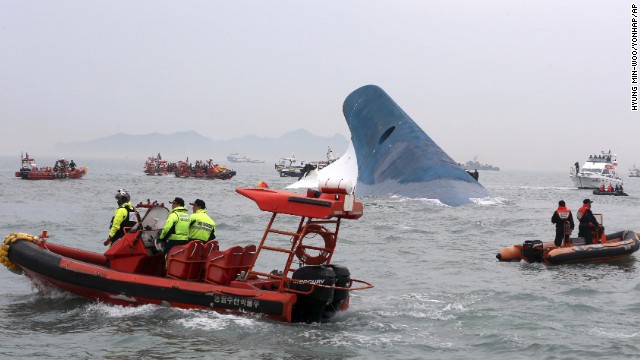 Seoul, South Korea (CNN) -- Rescue boats and helicopters scrambled to pluck passengers, most of them high school students, from a ferry as it slowly sank off the southwest coast of South Korea early Wednesday.
Of the 459 people on board, 164 have been rescued, the security ministry said. Many jumped from the listing ship to the freezing waters of the Yellow Sea.
At least two people -- a woman and a student -- were confirmed dead. Another 293 remain unaccounted for, the ministry said.
The rescue operation was still underway Wednesday evening, hours after the ferry first sent out a distress signal.
Authorities could not immediately say what caused the ship to sink. The weather at the time of the incident was clear.
http://www.cnn.com/2014/04/16/world/asi ... index.html
Last edited by
Willease
on Wed Apr 16, 2014 10:26 am, edited 1 time in total.
---
You don't bump into something when are moving through normal shipping routes? I would be looking towards North Korea. Maybe the ship just ran into one of their submarines?
The Korean People's Navy was established on June 5, 1946. The navy strength during the 1990s was about 40,000 to 60,000; current strength (2008) is at about 46,000.[1] There are some 708 vessels including 3 frigates

and

70 submarines

: approximately 20 Romeo class submarines (1,800 tons), 40 Sang-O-class submarines (300 tons) and 10 midget submarines including the Yono-class submarine (130 tons).
http://en.wikipedia.org/wiki/Korean_People's_Navy
A black-hole is not a hole it's a sphere. As will be the universe when compressed into the smallest unit it can be.
---
@Toxic, my first thought was along the lines of North Korean involvement.
When this first hit the news, reports went out that everyone was rescued. Boy were they wrong...


---
I'v been looking at a number of videos of the incident. I can't see any damage to the starboard side of the ship or the underside or the bow, so that means it was hit/damaged on the port side below the water line. Doesn't indicate it ran into a reef as the captain would have made to trip hundreds of times and in fact delayed the start of the trip by one hour because it was to foggy to leave port. Doesn't sound like a man that would take risks to me. The fact that it sank implies it was in deep water and unlikely to have run aground. But there are lots of small islands around the area so it could be a submerged rock of some sort. The passengers are reporting the sound of a big bang.
A black-hole is not a hole it's a sphere. As will be the universe when compressed into the smallest unit it can be.
---
Seems to me there couldn't be much under those waters they aren't aware of. If it was a reef, they would see that already having divers in the water looking for survivors. But if it hit a sub, I would think there would be a sunken sub nearby. Time will tell.
---
Hellish

prayers and thoughts sent

Nah half these ships boats are tubs of shit ima mind the fucker we took from Cyprus to Egypt ima was sure it was gonna sink a few months later the sister ship did

listen to the words


It only takes that one person to go missing for the world to become empty
---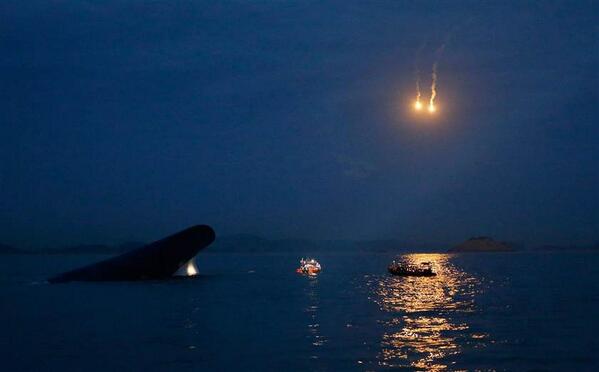 Experts said Wednesday that the prospects of survival were slim for almost 300 passengers missing for more than 12 hours after their ferry sank in cold ocean waters off South Korea.
The high number of people unaccounted for — likely trapped in the submerged ship or floating in the ocean — raised fears that the death toll could rise drastically.
Some 164 survivors were rescued from the listing "Sewol" before it fully capsized, but the vessel eventually became completely submerged except for the tip of its keel.
Many of those missing are senior high school students who were departing on a field trip. One survivor said students could have been trapped inside the vessel when water rushed in.
Satellite estimates put the temperature of the sea where the ship capsized and sank at between 50 and 60 degrees — temperatures roughly equivalent to those off the Mid-Atlantic U.S. coast.
The maximum survival time for adults in such waters would be about six hours, according to Mike Tipton, professor of human and applied physiology at Britain's Portsmouth University and co-author of "Essentials of Sea Survival".
The only hope for survival would be if the passengers were trapped in air locks, Tipton said, adding that prediction of survival time was "more of an art than a science."
"If they are in the water, the probability of surviving 12 hours is very, very small. If they are in air, it is better," he said. "In both cases, children will have a lower survival time than adults because they cool more quickly as a result of a lower body mass and higher surface area to mass ratio."
He added: "Sadly, I suspect that many drowned."
Dense fog caused delays to shipping at the ferry's departure point near the capital, Seoul. Conditions in the area of the disaster were calm, with winds at less than 12 mph during the day.
Continued
http://www.nbcnews.com/storyline/south- ... all-n82016
---
Posts: 184
Joined: Sat Aug 10, 2013 3:37 pm
Another tragic accident..thoughts to the families..Here's hoping they can find survivors.
My money is on crustal displacement as the cause,which in turn affected the water table/sea and therefore what was thought to be safe chartered waters was not so at that moment in time.I'm sure this can be verified by checking if the tsunami buoys registered a change in levels of the water table in that area.The same day Costa Concordia went down there were many other ships running aground, a few in the Medeterranean as well i beleive?
This kind of thing will only increase in frequency but still tptb will maintain a blackout linking this to the crustal movements and use the Captains and so on, as scapegoats.It's having the same impact on land, which is causing a vast increase in train derailments,building/mine collapses,chemical factory leaks,water/gas main breakages.
---
I went from sad to mad.
They more or less called off the search and rescue of the almost 300 missing...most of them high kids.
Considering the pain and anguish and ultimately slow death from hypothermia, I think they should have tried harder to locate them.
If nothing else, it's their jobs.
Oh and another thing that peeves me, the lack of a picture of the hull. How hard can that be?
http://files.dnr.state.mn.us/education_ ... hermia.pdf
---
Related topics

Replies
Views

Last post