Posts: 6298
Joined: Wed Jul 22, 2009 3:06 pm
Location: coast
great post spock.

the spaceship theory by hoagland is intriguing,
with the power of soul,anything is possible
with the power of you,anything that you wanna do
---
Posts: 310
Joined: Thu Jun 23, 2011 4:56 am
Good Morning...
Sometimes it just comes down to looking in the right places and asking the
right questions....
---
Not wanting to go against the grain, against the flow, burst balloons or rain on any parades here..... however...
Why is it that with soooo many unexplained 'mysteries' in our own countries/planet/moon/ solar system/galaxy/universe, why is it that every time we see something we cannot explain it comes back to extraterrestrials?
Why can't it simply be an anomaly or uncommon natural event that we simply cannot explain? Why is it that there must have been alien involvement and that this is the 'most' likely scenario? I would bet that the 'alien' theory or involvement is probably the 'least' likely scenario rather than the 'most' likely.
I look at that picture of the monolith on Phobos and think:
1/- Why is Phobos irregular in shape? Why does it look like a potato and not like a perfect sphere? Would an advanced alien life form build an irregular object? And why would they disguise it to look like a 'natural' rock? Do we humans disguise our space rockets to look like anything other than a space rocket? No, we actually promote our existence through them, not hide it... so why would another alien race not do likewise? What's that I hear???? The aliens don't want us to know they are there you say? Why the hell not? We could probably spot them coming and going no? Or do we really believe that they are lurking and hiding underground waiting for the opportunity to jump out and surprise us??? For what end exactly? They could have not only surprised us but enslaved us many times over by now.
2/- Exactly how large is the monolith? Not approximately, but exactly how large is it? 5 meters across? Not exactly a monolith in my guestimates. It is important to know this small detail, no?
3/- Would it be inconceivable that a 'shard' of rock from an asteroid etc ploughed into Phobos and became imbedded in its crust without disintegrating? No? Angle/dangle and speed of impact unknown? Maybe its speed on impact was slowed down substantially by said gravitational pull of mars?? Inconceivable?
4/- Could it be debris from a 'man' made space mission? 5 meters wide isn't exactly breath taking is it? How long is it? How wide and how long have our space ships been? I would bet the size of this thing could be large enough to launch from earth? No?
5/- Do we have any naturally occurring rock anomalies here on earth? Could this be one of many that occur through erosion etc on other planets? We are yet to determine is the underwater pyramids of Japan are actually man made, some prominent geologists are stating that these are natural rock formations (I think they are manmade), but the jury is still out.
I am simply saying that just because it looks out of place, it doesn't necessarily follow that it is 'alien' in origin. We are yet to fully explore and understand our own backyards and how the planet reacts, let alone trying to understand a place where all our scientific reality may become scientific fantasy.
I better disclose now that NASA and the NSA and CIA and FBI all pay small contributions into a trust account from where I draw my monthly home repayments, but my post has in no way been influenced by this small detail.
Good post btw... I guess this is what makes us what we are.. the ability to put up ideas and question ourselves in order to come to fruitful conclusions that we can use to destroy other preconceived ideas before coming up with new theories to question our latest thinking and in its very nature never really accepting that what we have discovered is the actual and categorical truth... and smile and shake hands at the end of the day.. We cannot truly convince others lest we ourselves are truly convinced.
Fortes fortuna iuvat
---
Fair questions Iwanci. We won't know until we have close up pics of it. What we do know is that it looks out of place and does not appear to be made up of the same stuff as in the local vicinity. If it came from a doomed mission of some sort, and embedded itself into the terrain like that, it must be one hard piece of material.
And the shape, like a domino.
The question that came most to my mind was, how did Clark & Kubric know? Was it just coincidence that he wrote 2000 A Space Odyssey around the idea of a monolith? Even if it isn't a monolith, it sure looks like one from our perspective.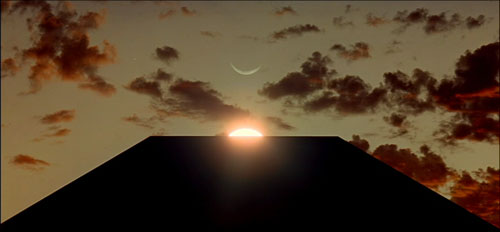 Some things seem way too coincidental to be coincidence.
All are lunatics but he who can analyze his delusion is called a philosopher.


Ambrose Bierce
---
Fuck you its aliens ok....
---
---
Posts: 10119
Joined: Wed Jul 01, 2009 9:10 pm
Location: Packing my stuff and moving to Denver like you should be doing
I found this out 2 years ago Pfffft

come on Spock

at least quote me beeeeatch
FAIR USE NOTICE.
Section 107 of the US Copyright Law. In accordance with Title 17 U.S.C. Section 107, . http://www.law.cornell.edu/uscode/17/107.shtml

---
Posts: 10119
Joined: Wed Jul 01, 2009 9:10 pm
Location: Packing my stuff and moving to Denver like you should be doing
I posted this shit two years ago
pffffft
monolith-on-mars-moon-phobos-t24028.html
FAIR USE NOTICE.
Section 107 of the US Copyright Law. In accordance with Title 17 U.S.C. Section 107, . http://www.law.cornell.edu/uscode/17/107.shtml

---
Thanks for contributing to my thread Sav!
All are lunatics but he who can analyze his delusion is called a philosopher.


Ambrose Bierce
---
Posts: 10119
Joined: Wed Jul 01, 2009 9:10 pm
Location: Packing my stuff and moving to Denver like you should be doing
I mean anytime Bro
FAIR USE NOTICE.
Section 107 of the US Copyright Law. In accordance with Title 17 U.S.C. Section 107, . http://www.law.cornell.edu/uscode/17/107.shtml

---
Related topics

Replies
Views

Last post