Posts: 10119
Joined: Wed Jul 01, 2009 10:10 pm
Location: Packing my stuff and moving to Denver like you should be doing
I wonder if he has to buy a seat for her or put her in the baggage compartment if he takes her on Vacation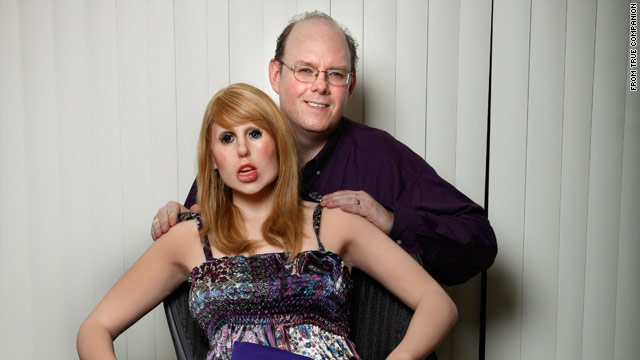 Inventor Douglas Hines with Roxxxy, his computerized sex robot that can carry on a conversation and have a simulated orgasm
Las Vegas, Nevada (CNN) -- To some men, she might seem like the perfect woman: She's a willowy 5 feet 7 and 120 pounds. She'll chat with you endlessly about your interests. And she'll have sex whenever you please -- as long as her battery doesn't run out.
Meet Roxxxy, who may be the world's most sophisticated talking female sex robot. For $7,000, she's all yours.
"She doesn't vacuum or cook, but she does almost everything else," said her inventor, Douglas Hines, who unveiled Roxxxy last month at the Adult Entertainment Expo in Las Vegas, Nevada.
Lifelike dolls, artificial sex organs and sex-chat phone lines have been keeping the lonely company for decades. But Roxxxy takes virtual companionship to a new level.
Powered by a computer under her soft silicone "skin," she employs voice-recognition and speech-synthesis software to answer questions and carry on conversations. She even comes loaded with five distinct "personalities," from Frigid Farrah to Wild Wendy, that can be programmed to suit customers' preferences.
"There's a tremendous need for this kind of product," said Hines, a computer scientist and former Bell Labs engineer.
Roxxxy won't be available for delivery for several months, but Hines is taking pre-orders through his Web site, TrueCompanion.com, where thousands of men have signed up.
"They're like, 'I can't wait to meet her,' " Hines said. "It's almost like the anticipation of a first date."
Women have inquired about ordering a sex robot, too. Hines says a female sex therapist even contacted him about buying one for her patients.
Roxxxy has been like catnip to talk-show hosts since her debut at AEE, the largest porn-industry convention in the country. In a recent monologue, Jay Leno expressed amazement that a sex robot could carry on lifelike conversations and express realistic emotions.
"Luckily, guys," he joked, "there's a button that turns that off."
Curious conventioneers packed Hines' AEE booth last month in Las Vegas, asking questions and stroking Roxxxy's skin as she sat on a couch in a black negligee.
"Roxxxy generated a lot of buzz at AEE," said Grace Lee, spokeswoman for the porn-industry convention. "The prevailing sentiment of everyone I talked to about Roxxxy is 'version 1.0,' but people were fascinated by the concept, and it caused them to rethink the possibilities of 'sex toys.' "
Hines, a self-professed happily married man from Lincoln Park, New Jersey, says he spent more than three years developing the robot after trying to find a marketable application for his artificial-intelligence technology.
Roxxxy's body is made from hypoallergenic silicone -- the kind of stuff in prosthetic limbs -- molded over a rigid skeleton. She cannot move on her own but can be contorted into almost any natural position. To create her shape, a female model spent a week posing for a series of molds.
The robot runs on a self-contained battery that lasts about three hours on one charge, Hines says. Customers can recharge Roxxxy with an electrical cord that plugs into her back.
A motor in her chest pumps heated air through a tube that winds through the robot's body, which Hines says keeps her warm to the touch. Roxxxy also has sensors in her hands and genital areas -- yes, she is anatomically correct -- that will trigger vocal responses from her when touched. She even shudders to simulate orgasm.
When someone speaks to Roxxxy, her computer converts the words to text and then uses pattern-recognition software to match them against a database containing hundreds of appropriate responses. The robot then answers aloud -- her prerecorded "voice" is supplied by an unnamed radio host -- through a loudspeaker hidden under her wig.
"Everything you say to her is processed. It's very near real time, almost without delay," Hines said of the dynamics of human-Roxxxy conversation. "To make it as realistic as possible, she has different dialogue at different times. She talks in her sleep. She even snores." (The snoring feature can be turned off, he says.)
Roxxxy understands and speaks only English for now, but Hines' True Companion company is developing Japanese and Spanish versions. For an extra fee, he'll also record customizable dialogue and phrases for each client, which means Roxxxy could talk to you about NASCAR, say, or the intricacies of politics in the Middle East.
Hines believes that Roxxxy is a step above other love dolls -- the similar but mute RealDoll costs about $5,500 -- because her conversational abilities provide something close to emotional companionship. His customer base? Shy, awkward or older men who "have trouble meeting girls," he says.
In an industry known for pushing the technological envelope, observers are curious about how Roxxxy will fare in the marketplace.
"Is this a viable product? Yes," said Sherri Shaulis, an editor at Adult Video News, a trade magazine for the pornographic industry. "There's a market for it. Granted, it's a very small market."
Maybe not. TrueCompanion claims that more than 4,000 men have placed pre-orders for Roxxxy robots, and another 20,000 or so have requested information about the product. TrueCompanion also is developing a male sex robot, named Rocky.
"There's really nothing like this on the market," said Hines, who speaks of his unique creation with what seems like genuine affection. "Whenever she's out in public, everyone wants to talk to her and pose for pictures. It's so cute."
Oh shut up. We all damn well know that if it was cheeper every women would buy one for their Hubby's and every single guy would have one in the closet
FAIR USE NOTICE.
Section 107 of the US Copyright Law. In accordance with Title 17 U.S.C. Section 107, . http://www.law.cornell.edu/uscode/17/107.shtml

---
Posts: 809
Joined: Sat Dec 12, 2009 9:07 am
Wow, some people are desperate! To spend $7,000 on something like that, is ridiculous. I am guessing that the people wanting to buy these don't plan to ever have a real relationship???
---
Posts: 10119
Joined: Wed Jul 01, 2009 10:10 pm
Location: Packing my stuff and moving to Denver like you should be doing
Hold on their Kitten
What else could a man ask for beside's this thing making dinner. I mean hell 7 grand and no muss no fuss relationship. How many times don't lie here has your hubby or Boytoy wanted sex and you just weren't "in the mood" I thinking if this was in everymans closet their would be no need for devorse lawyers no more broken home's no more children with two dad's and two mum's. The world would be so perfect.

Don't get me wrong. The need for personal intamatecy wouldn't die I would be enhanced 100 time's. No arguing or bickering not even resentment. Just walk over to the closet pull out Betty and bang
FAIR USE NOTICE.
Section 107 of the US Copyright Law. In accordance with Title 17 U.S.C. Section 107, . http://www.law.cornell.edu/uscode/17/107.shtml

---
---
Posts: 809
Joined: Sat Dec 12, 2009 9:07 am
hesop wrote:Hahahaha hahaaa,

Really, the talking part isn't necessary.

Leia, got any idea what my ex's cost me? Crap, I coulda saved a bundle
LOL.... *rolls her eyes*
---
is there a simulated crack pipe in the back pocket of that robo whore? lol cause I think I saw that thing seated down the road from me.
http://www.disclose.tv/forum/the-smokey-god-audio-book-t86832.html
The autobiography of olaf Jenson and his journey to the inner earth.
---
Wahaha she's also fcking ugly.. probably the dollmaker was inspired by:

Kathy lee sniffin, Lady BahBah & Bette Midler... waste of effort, time and money !
The Map Is Not The Territory, The Word Is Not The Object....
_______________________________________________________________
---
kingz wrote:Wahaha she's also fcking ugly.. probably the dollmaker was inspired by:

Kathy lee sniffin, Lady BahBah & Bette Midler... waste of effort, time and money !
Kinda looks like the inventor posed in drag, and modeled his whore after himself, don't it?
---
Posts: 10119
Joined: Wed Jul 01, 2009 10:10 pm
Location: Packing my stuff and moving to Denver like you should be doing
LADIES GATHER ROUND SAVY HAS FIGURED IT OUT AND IS ABOUT TO LAY IT OUT
THE POWER OF THE P

Now let me get this clear it isn't the warmth of a women's hand and glimmer of your sweet smile that keep's a relationship alive. Beating like your heart beneath you skin.
You can't see it but you sure can feel it. Right their bum bump bum bump.
For you heart to beat and the blood aka love to flow free and unrestricted.

Once you start to reduce the flow the body start's to slow. Like all natural things emotions feed as well .The thing are considered nourishment is what other consider a chore. A burden to be done as little as often and under preset ramification Oh now you all will say neigh, but to true this is as the master plan. You win the man with love and affection then over time ruin the man with a lack of fornication.
I believe this is the root of all confidence in the women the ability to use your precious like a weapon of war. Striking deep to the heart of a man's primal need's, The ability and shear mordacity of you ladies to do this shows you to be much more villainess they us men could every be.

This power of your P which you so proudly hold is your only one true possession that can control any relationship. This art form must have been handed down from generation to generation from Great Grand Mothers to your daughter today and this is why you are all deathly afraid of something or someone stepping across the line in the sand that you have set forth during your reign, That why A cheater is the ultimate taboo be cause you already understand that if you make the water to hot this guy will walk or worst cheat.
The men you all want the guy every woman is hunting for is a stable man a "True loving man" The kind of sad soul that will not grow ball's and walk/cheat. Well ladies those days are coming to a close the new tech. the world wild web love is only a click away.

Sure it's okay for you to have your egger beaver in the top drawer in the back behind the bible, their it sit waiting to be used with fresh AA batteries and with nice clean shine.
Using a fake dick is like undermining anything us guys could ever try to with hold
But do care would we care HELL NO have at it just as long as we get some too.

So their it is we know you do you know you do so lets just cut the bullshit out.

Thanks for reading and I hope you learn to love that man everyday sometimes twice.
Please remember these powerful words of wisdom as you ladies go forth in life and love

BLOWJOBS BLOWJOBS BLOWJOBS

Peace

SAVY
FAIR USE NOTICE.
Section 107 of the US Copyright Law. In accordance with Title 17 U.S.C. Section 107, . http://www.law.cornell.edu/uscode/17/107.shtml

---
---
Related topics

Replies
Views

Last post