Posts: 3130
Joined: Sun Jan 01, 2012 12:58 pm
Bananas Thrown At Black Italian Minister, Cecile Kyenge, During Speech
ReutersJul 27, 2013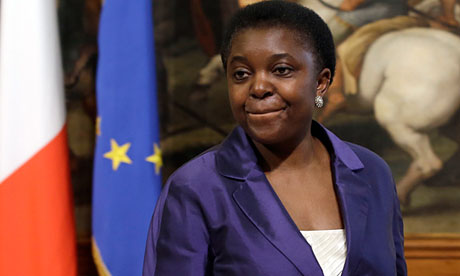 ROME, July 27 (Reuters) - Italy's first black minister, a target of racist slurs since her appointment in April, has condemned a spectator who threw bananas towards her while she was making a speech at a party rally.
Integration minister Cecile Kyenge, who was born in Democratic Republic of Congo, has angered far-right groups with her campaign to make it easier for immigrants to gain Italian citizenship.
Shortly before the incident on Friday, members of the right-wing Forza Nuova group left mannequins covered in fake blood at the site of the rally in Cervia, central Italy, in protest against Kyenge's proposal to make anyone born on Italian soil a citizen.
"Immigration kills," was written on leaflets accompanying the dummies - a slogan Forza Nuova has previously used when referring to murders committed by immigrants in Italy.
Although the bananas missed the stage where Kyenge was speaking, she responded to the gesture on Twitter, calling it "sad" and a waste of food, considering the economic crisis.
"The courage and optimism to change things has to come above all from the bottom up to reach the institutions," she added.
Kyenge has faced regular insults since becoming minister, often from other politicians. Earlier this month a senior parliamentarian in the anti-immigration Northern League party likened her to an orangutan and only apologised after a storm of criticism. (Reporting by Catherine Hornby; Editing by Mark Trevelyan)
http://m.huffpost.com/us/entry/3662860
........................................

I'm not violent. I'm creative with weapons.
---
Posts: 3130
Joined: Sun Jan 01, 2012 12:58 pm
Chaindrive wrote:Yea Id say its racist, just like this one....

How DARE you demean AND compare animals to humans in that fashion... ANY animal is FAR smarter then a great number of humans... how many times have you ever seen a animal stick its own head up its own ass..? NEVER... how many times have you ever seen a human stick its own head up its own ass.... 75,596,158 time so far this year...

If you wanna compare humans to something then use this...

sheehs..
after reminding in the last birthday of my wife I totally agree with you! :
hunny, do you have any special request for birthday present?

-yes. Buy a GORILLA SUIT.

-what the hell r u gonna do with a gorilla suit at your own birthday party???

-it's not for the party it's for the after party, and it's not me who going to wear it it's you !!! WTF???(did I mentioned that my mother is half African?)

and the most rediculous thing about it all-they sold out all the black gorilla suits! I could get only the pink or the white suite. I chosen the pink. Do you think it racist?
........................................

I'm not violent. I'm creative with weapons.
---
---
Antiwar.com
---
---
Posts: 2388
Joined: Mon Apr 16, 2012 8:16 am
yes, for the monkeys it is, how dare you insult them hahaha
the story of life is quicker than the blink of an eye, the story of love is hello and goodbye, until we meet again my friend.
---
"If at first, the idea is not absurd,
then there is no hope for it"
>>>>>
---
That is not racist. It is foolish and simple minded. Racism deals with an actual race. As in an race with the races of the earth. Racism has nothing to do with hatred or prejudice of ones skin color. Racism is the race to economical supremacy through means such as the transatlantic slave trade for example. T
---
Related topics

Replies
Views

Last post