Posts: 5268
Joined: Thu Nov 05, 2009 5:11 am
Location: Earth
Pretty good update. Maybe others could follow any event updates. I will not be looking again till morning or tomorow evening.
BPEathWatch
http://www.youtube.com/watch?v=5SRoNNTET4I

---
Nemesis Maturity has been saying it will break up for months.
I say it makes it.
---
Just a reminder...
*WillEase* wrote:As of Nov. 21, Comet ISON will begin to enter the fields of view of NASA's space-based solar observatories. Comet ISON will be viewed first in what's called coronagraphs, images that block the brighter view of the sun itself in order to focus on the solar atmosphere, the corona. Such images – from STEREO and the joint European Space Agency/NASA Solar Heliospheric Observatory, or SOHO -- will likely be quite visually compelling. NASA's Solar Dynamics Observatory, or SDO, will view the comet for a few hours around perihelion. SDO's imagery should be detailed enough to gather information about how the comet evolves through the radiation and pressure of the sun's atmosphere.

All of these observatories will have different views. STEREO-A will be the only one that sees the comet transit across the face of the sun. In SDO's view, the comet will appear to travel above the sun.

The exact dates of view for these observatories is as follows:

Nov 21–28: STEREO-A HI1 sees comet
Nov 26-29: STEREO-B coronagraphs sees comet
Nov 27-30: SOHO sees comet in coronagraphs
Nov 28-29: STEREO-A coronagraphs sees comet
Nov 28: SDO sees comet (for a few hours)
---
To reiterate: No one knows what is happening to Comet ISON. This could be the comet's death throes--or just the first of many brightening events the comet experiences as it plunges toward the sun for a close encounter on Thanksgiving Day (Nov. 28th)
---
Posts: 21457
Joined: Thu Jul 22, 2010 3:20 am
Location: Odin's Palace
*WillEase* wrote:Just a reminder...
.
................
.
Collapse is a series of events that sometimes span years.
Each event increases in volatility over the last event,
but as time goes on these events tend to condition the masses.
---
The57ironman wrote:

*WillEase* wrote:Just a reminder...

.

................

.
↑ this...
---
Newest pic:
[youtube]0rbtjW3iOsI [/youtube]
---
Posts: 437
Joined: Wed Jun 23, 2010 7:03 pm
Location: in front of my screen
the negitive image in the above vid reminded me of the ufo depicted in this painting.....
...you dont know your wearing a leash if you sit by the peg all day...
...some asshole thought of it, some sucker believed it, and look what its done so far...
---
This photo of the comet ISON is so good it's almost unreal...
Mike Hankey has captured this extraordinary photo of the comet ISON, which is experiencing some surprising activity as it approaches the Sun. It's so perfect it seems unreal. ISON was discovered only a year ago and it's now observable in the night sky.
Hankey took this photo with a 60 second exposure.
According to Pablo Santos Sanz—of the Institute of Astrophysics of Andalucia—ISON has experienced an impressive fifteen-fold increase on the sublimation of hydrocyanic acid and water in the last 48 hours.
Scientists don't know exactly why this explosive reaction has occurred. One of the theories, according to Santos Sanz, is that the comet's rotation axis is more or less aligned with its direction towards the sun, so it's getting a lot of solar radiation.
Here's the before and after the explosion, by Juano González Díaz
If you live outside of a city, you can see ISON in the sky now with your naked eye. With good binoculars, you will be able to see it clearly. Just wake up early (around 4:30am or so) and look for Mercury. Ison should be above it, to the right.
---
Posts: 5268
Joined: Thu Nov 05, 2009 5:11 am
Location: Earth
Nice update Will. Thanks for posting that
and all the others helping out with the thread thumbs up to you all.
Things are indeed happening and we all wait to see what next. So lets keep our eyes on the skies.
DrKStrong
http://www.youtube.com/watch?v=XgvPtKbOirg
Bruce Gary has some updates you may want to take a look if interested.
http://brucegary.net/ISON/CometISON%20Nov14%20r%27%20Gary%208-image%20animation.GIF
Link to latest observations
http://brucegary.net/ISON/#Observations_by_Date_
Link Sources and more data info:
http://brucegary.net/ISON/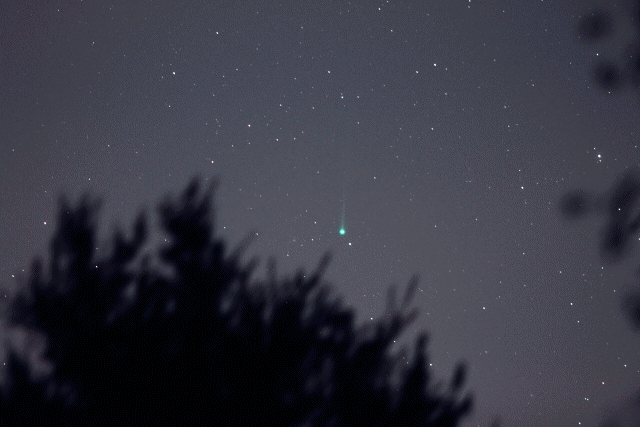 Source:
Mike Broussard of Lousiana shot Comet ISON on the morning of November 14th using a 200mm lens on a DSLR.

---
Related topics

Replies
Views

Last post