Posts: 924
Joined: Thu Apr 30, 2009 8:25 pm
some of these pictures are ridiculous they have nothing in them what so ever....
The Grand Canyon
here is my version of what ufosearcher has been showing you what a load of rubbish !!
Just proves If i can find a hole it must be a house hahah!
---
Posts: 323
Joined: Tue Oct 13, 2009 5:09 am
spoetnick wrote:I wonder what your house looks like uforesearcher??

But keep up the work and maybe something really amazing pops up and we can see ET having a candlelight diner at the dinertable!

You've seen this topic?

life-found-on-the-moon-t12225.html

Enjoy
I have.. and Note how a lot of these pics are upside down and backwards, remember perspective is everything in analyzing these pictures and flipping the pics around is one of the oldest and most basic forms of obfuscation used by NASA
Simple minds talk about each other Average minds talk about events And Great minds talk about ideas -- Elanor Roosavelt
---
I try again to upload a photo.That's an alien footprint.[img][/[IMG]http://i1003.photobucket.com/albums/af151/doommongerer/moon%20photo%20enhancement/15alienbootprint.jpg[/img]] failed again.
---
Thank you terrac1de512 for your observation.
58. HORRIBLE SENSE OF ART-- DOG EATING HUMANS?
If such a huge image is on the moon, we shall've to rethink calling him 'uncle'...
Added color:
---
another time [img][/[IMG]http://i1003.photobucket.com/albums/af151/doommongerer/moon%20photo%20enhancement/15alienbootprint.jpg[/img]] Sorry again.
---
Doommongerer, you'll have to copy and paste NOT the html code but the image code, the last in the series of photobucket. l learnt it here.
---
I try again to upload my alien bootprint.[url]http://www.disclose.tv/action/viewphoto/11971/alien_footprint/?ref=Doommongerer/url]sorry nothing works for me. thanks ufosearcher.
Last edited by
doommongerer
on Mon Dec 14, 2009 11:49 pm, edited 1 time in total.
---
Posts: 10609
Joined: Sun Mar 22, 2009 10:11 pm
There. FIFY.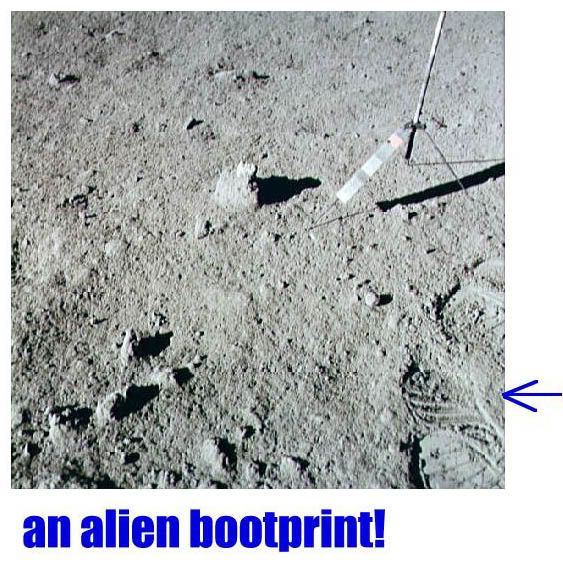 Where's the beer and when do I get paid?
- Jimmy Carl Black (the Indian of the group)
---
Thanks conrbread.
---
60. AN OBSERVATION...
____________________________________
One of the most intriguing features of the Lunar Orbiter photographs

is

the white snow in almost all pictures

. We may think initially that these are nothing but snowfall. But no! when you touch up the snow, you may see a lot of camouflaging. I not only see many 'human-like' faces, but also 'animals', even "jokers", etc.

It is surprising that the 'moon people' had time to "paint" so many of the apparently "human" faces.
So, two things could be possible, keeping in view the number of houses, buildings, drawings, etc in a satellite like our moon. We know that the moon has almost negligible gravity (1/6) and it would be difficult to survive building huge structures.

If the Lunar Orbiters took photos from a distance of 70 km, it is a wonder how some 'huts' appear so well. Anyway,


TWO POSSIBILITIES


1. The first possibility is, the Lunar photos are all a hoax--either photos of some regions of the earth, disfigured and posted upside down, or collaging. In which case, the conclusion would naturally be that the Lunar Orbiters did not go to the moon at all.
This means everything-- the so-called houses and buildings and animals and eagles are all a hoax-- just pictures pasted. And the idea that the gravity is a 6th of ours is also untrue.


2. The second possibility is, the Lunar pictures are real, and some race is still living on the moon, which is so averse or angry or fascinated with the human face that they paint every inch of their localities with human faces.
Can it be possible that thousands live or lived there on the moon and the world is totally ignorant of it?
---
Related topics

Replies
Views

Last post