BBC 4 now showing 03/08/2014 .....how can I get this on here...it's unreal
---
Posts: 3305
Joined: Tue Jun 08, 2010 9:47 am
Shemagh wrote:BBC 4 now showing 03/08/2014 .....how can I get this on here...it's unreal
Sounds like quite the propaganda piece.
Search it on youtube and then add the tags to embed it.
I bet they don't mention that he paid for education and housing, that he paid for half your
first car and wedding. Health care was free of course and generous 1k pensions per month
were given to the elderly.
Also that he had nearly completed a man made canal that was subsequently bombed
by nato airstrikes, Why?
That he also was on the verge of setting up an african bank for africans free of international
zionist bankers and that the new currency was to be made up of gold dinars. Real Gold!
http://havacuppahemlock1.blogspot.com.a ... illed.html
Cmon seriously, Qaddafi wasn't overthrown because he was a bad man, there are plenty that
run our governments and are war criminals to boot.
It was about trading oil in anything other then U.S. dollars and not complying with U.S. demands
plain and simple. The above blog as some more detail on examples of this.
I found this video which is based on the documentary.
TomoNews US
I found it kind of funny since it's very hypocritical of any other government that employs
assassins. Some governments even use the IRS to harass civilians.
Also mentioning his rape chamber is strange, I would think that it would be
just as unethical for call boys to visit the white house and service politicians and
then point out how gaddafi rapes young chicks. Who's worse?
Skip to 1:00 min in and see the chick that Gaddafi raped. Crikey
Anyway Shemah I'm just criticising you abit. Have a nice day.
TheRealNews
http://www.google.com/patents/CA2741523A1?cl=en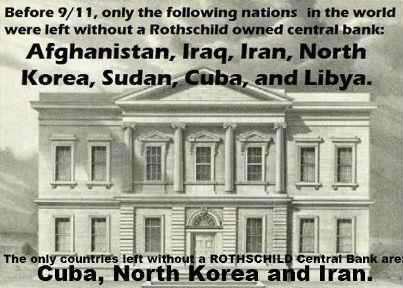 Live by the Terror, Die by the Terror.
---
Related topics

Replies
Views

Last post