Published on May 13, 2014

Turkish officials say as many as 201 miners died in the explosion, which happened during a shift change.


---
Turkey coal mine explosion: Death toll rises
An explosion at a coal mine in western Turkey has left at least 201 workers dead and scores injured, officials say.
Energy Ministry Taner Yildiz said 787 people had been inside the mine at Soma in Manisa province when an electrical fault triggered the blast.
Rescuers worked through the night to try to reach hundreds more miners still trapped underground.
Worried relatives have gathered near the privately owned mine, about 450km (280 miles) west of the capital Ankara.
Mr Yildiz confirmed the latest death toll on Turkish TV and said some 80 people had been injured.
He said that of the workers inside the mine at the time of the accident, only about 360 of them - including those killed - had been accounted for.
Mr Yildiz said that carbon monoxide poisoning had claimed many lives. Oxygen was being pumped into the mine to help those still trapped, he added.
The electrical fault triggered a power cut, making the mine cages unusable. Those trapped are reported to be 2km (1.2 miles) below the surface and 4km from the mine entrance.
The blast happened at about 12:30 GMT on Tuesday. Initial reports said 17 people had died but the death toll leapt later in the day.
TV footage showed rescuers helping workers from the mine, their faces and hard-hats covered in soot and dust. Some were carried on stretchers to waiting ambulances.
Police were keeping the crowds back to allow emergency services in and out of the area.
Continued
http://www.bbc.com/news/world-europe-27 ... EET1128041
---
Turkey mine explosion leaves more than 200 dead and hundreds trapped.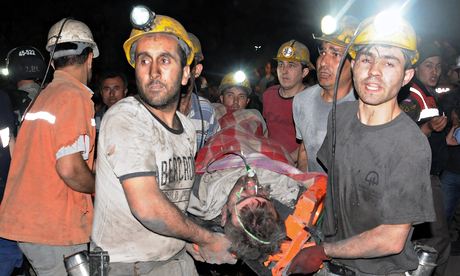 Disaster management agency says authorities are preparing for possibility that death toll in Soma disaster could rise sharply.
A large rescue operation is under way to free hundreds of coal miners trapped underground after an explosion and fire in western Turkey left hundreds of their colleagues dead.
Early on Wednesday Turkey's energy minister, Taner Yildiz, said the death toll had risen above 200. Hundreds more were believed to be still trapped inside the mine, while more than 360 had been evacuated.
As rescue teams made their way from neighbouring regions, fresh air was being pumped into the mine in Soma, about 75 miles north-east of the Aegean coastal city of Izmir.
Twenty people initially made it out of the privately owned mine, where a power distribution unit was said to have exploded, but local authorities in the western province of Manisa said that between 200 and 300 workers were still underground.
The blast in the power unit of the mine triggered an electricity cut, making the lifts unusable and leaving hundreds of miners stranded underground.
The disaster management agency said authorities were making arrangements to set up a cold storage facility to hold the corpses of miners recovered from the site.
Continued
http://www.theguardian.com/world/2014/m ... -operation
---
So surprised Opalasshole hasn't figured a way to blame the jews.
---
Sad News Will.
The Turkish gov have been neglectful in their duty to the whole industry.
They keep the safety regulations to a minimum to keep the price low, knowing people will be killed.
"The third-rate mind is only happy when it is thinking with the majority.
The second-rate mind is only happy when it is thinking with the minority.
The first-rate mind is only happy when it is thinking."
A. A. Milne
---
.
Jeebuz.......that's a lot dead and a lot still trapped.
I didn't realise a power distribution unit could explode with such force as to cause a collapse, im guessing it collapsed as they would be out if it hadn't.
I cant imagine the safety issues that must plaque these mines, hope the remainder get out ok.......
RRR
The more people i meet, the more i like my dog
If Monday had a face I would punch it
---
---
Published on May 14, 2014

Rescuers in Turkey worked through the night to reach hundreds more miners still trapped underground, as distraught family members waited for news of their loved ones.
Rengin Arslan reports from Soma.

An explosion at a coal mine in western Turkey has left at least 201 workers dead and scores injured, officials say.


---
Watch Live
: Rescuers Work To Save Trapped Miners In Turkey
Started on May 14, 2014
Hopes are fading for hundreds of miners trapped underground following an explosion and fire at a mine in western Turkey, which killed at least 205 people dead.
Rescuers have begun pumping oxygen into the mine shaft in Soma, some 155 miles (250km) south of Istanbul, to help any survivors who may be struggling to breathe.
---
Posts: 265
Joined: Sun May 04, 2014 5:08 am
Location: Somewhere Over The Rainbow
Hopes fade for survivors after Turkish mine fire kills more than 230
SOMA, Turkey (Reuters) - Hopes faded of finding more survivors in a coal mine in western Turkey on Wednesday, where 238 workers were confirmed killed and 120 more still feared to be trapped in what is likely to prove the nation's worst ever industrial disaster.
Anger over the deadly fire at the mine about 480 km (300 miles) southwest of Istanbul echoed across a country that has seen a decade of rapid economic growth but still suffers from one of the world's worst workplace safety records. Opponents blamed Prime Minister Tayyip Erdogan's government for ignoring repeated warnings about the safety of the country's mines.
"We as a nation of 77 million are experiencing a very great pain," Erdogan told a news conference after visiting the site, at which he gave the figures for those confirmed dead and still thought missing. But he appeared to turn defensive when asked whether sufficient precautions had been in place at the mine.
"Explosions like this in these mines happen all the time. It's not like these don't happen elsewhere in the world," he said, reeling off a list of global mining accidents since 1862.
Fire knocked out power and shut down ventilation shafts and elevators shortly after 3 pm (1200 GMT) on Tuesday. After an all-night rescue effort, emergency workers pumped oxygen into the mine to try to keep those trapped alive. Thousands of family members and co-workers gathered outside the town's hospital searching for information on their loved ones.
Massive Coverage Here:
http://news.yahoo.com/death-toll-turkis ... nance.html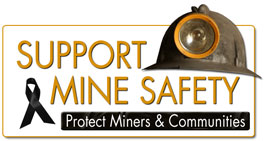 http://www.therealconspiracyforum.com/
---
Related topics

Replies
Views

Last post