Activision's developers have aggravated a portion of the Muslim community by hanging a painting above a toilet in Modern Warfare 2.

The painting has holy teachings written around its frame. "Allah is beautiful and He loves beauty," the text is reported to have read.

Apparently the presence of holy teachings in a place of number-ones and twos does not sit well with Islam. So Activision has pulled the Favela map out of rotation and will return it when edits have been made.

http://www.eurogamer.net/articles/2012-10-08-painting-on-wall-of-modern-warfare-2-toilet-upsets-muslims

---
Posts: 3920
Joined: Sat Apr 04, 2009 4:01 pm
---
You look at these folks the wrong way you have a jihad all over your ass. Pathetic really
---
Zegtelzegtel wrote:LMAO...



but sad..
Yeah, it is sad.
Especially because gamers should take in consideration the fact that the game developers most probably reuse some props. Like the paintings, animals, cars, whatever. So probably they've just reused the frame from another scene.
Silly world...

---
Posts: 12213
Joined: Mon Jul 21, 2008 11:57 am
Location: The Pit
________________________________________________________________________________

= Since Dawn Of Time The Fate Of Man Is That Of Lice =
---
Marduk2012 wrote:
Yup.

---
I wonder why no one reacted back then in the time of Postal 2 :

---
Posts: 3305
Joined: Tue Jun 08, 2010 9:47 am
What a good story, great jounalism, got some gaming geek to point out that a few muslims not the entire muslim population don't like having their gods name used in a bathroom.
Has anyone done any research on Arabic customs? Has this puny geek checked to see if muslims typically have prayers in their bathrooms?
No I guess not. Who promoted this story? where was it first seen?
Anyone got a link to press.tv showing the hate of the news anchors? no I guess not, just another bs story but this time by a geeky gamer which pisses me off since I'm a gamer too but far from geeky.
The geek himself says that it could have something to do with the prayer being in a bathroom, a place of filth.
What made the game developers decide to put arabic writing in the toilet. I will research and see what their customs are concerning this.
I'm looking at wiki now, like most religions they have their own sacred practices when taking a crap, who am I as a christian to criticize their sacred toilet ritual.
I can see why they get offended. They realise that tens of millions of people will play this game and witness their gods word in a toilet in their own language.
Muslims have their own religious beliefs about using the bathroom and take it seriously.
Info from Wiki:
Rules
A Muslim must first find an acceptable place away from standing water, or people's pathways or shade.[4] They are advised that it is better to enter the area with the left foot,[5] facing away from the Qiblah.[1]
While on the toilet, one must remain silent. Talking, answering greetings or greeting others is strongly discouraged.[1] When defecating together, two men cannot converse, nor look at each other's genitals, and especially not handle each other's genitals.[6] A man should not touch his genitals with the right hand.[7][8][9][10][11][12][13]
The Islamic prophet Muhammad specified that one should use an odd number of stones (preferably three) to cleanse the anal orifice after defecation and then proceed to a different location to wash it with water. Use of toilet paper in place of stones is now acceptable, but washing with water is still needed for ritual purity.[14] When leaving the toilet, one is advised to leave with the right foot,[5] and also say a prayer – "Praise be to Allah who relieved me of the filth and gave me relief."[1] This is similar in concept to Asher yatzar, the prayers said by orthodox Jews when leaving the toilet in which they thank God for the openings used to defecate/urinate[15], and exact ways of proceeding and accompanying prayers are also specified in traditional Zoroastrianism.[16] It is also reported in the Hadith of Bukhari that whenever Muhammad went to the toilet, he said "In the name of Allah, O Allah! I seek refuge with You from all offensive and wicked things" (alternate translation: "from evil deeds and evil spirits").[17]
Oh whats this, so the jews do the same thing, well the proper ones, not the zionist shit stiring ones that own the media and gullible geeks brains with propaganda.
the prayers said by orthodox Jews when leaving the toilet in which they thank God for the openings used to defecate/urinate[15], and exact ways of proceeding and accompanying prayers are also specified in traditional Zoroastrianism.
Going to the toilet is a religious experience for muslims and jews alike and if you mention their gods name allah and present it in a toilet then perhaps you are provoking them.
Feces is considered to be filthy and unholy to muslims and jews thats why they say a prayer when using the bathroom.
The prayer muslims use is similar to the jews but not the same.
""In the name of Allah, O Allah! I seek refuge with You from all offensive and wicked things (evil deeds and evil spirits.)"
So I've done some research in hopefully stopping bigotry and racism but unfortunately zionist mainstream media with it's ties in gaming knows how to stir the muslims up.
In black ops zombies the russian is clearly heard saying "Right between the Gaza" when using him and getting a good head shot on a zombie.
"Right Between The Gaza" does that kind of seem offensive to you? if you were palestinian? cheapening their lives by saying headshots are common in Gaza by a apartheid ragime? This is from a giant games developer that makes more money then cinema movies now.
If zionist phonywood makes alot of money out of movies then most likely they own alot of the gaming companies aswell.
Correct me if I'm wrong because I doubt it.
So some Geeky gaming nerd laps up the story about muslims being angry about their gods name used in a toilet setting. And then it's quickly reposted by zionists here.
So fcuking what, who cares, if this lap dog of zionism spreads his masters propaganda by insinuating that muslims take offense easily to whoever insults their religion.
I being christian want to be friends with all religions and research the customs and etiquette but unfortunetly gamers like the above dweebo maximus laps up a story from zionist msm and immediately not knowing anything about this fellow religion just regurgitates it like muslims are intollerant.
Well I'm intollerant of zionist mainstream media and zionist artists in general that insult my religion but christians are so asleep it doesn't matter, mighty zionist t.v. owns their brains now.
Citing examples of zionists insults to christianity I point out:
Good christian bitches produced by zionists. This alone should piss every christian of but does it? are we so brainwashed?
I forgot the name of the other program but you all remember, the one were a jew pisses on a portrait of jesus,
can you see why a christian would be angry, If I was their watching them pissing on a portrait of Jesus I think I'd be unimpressed but not americans, oh no, it's normal for our god to be pissed on.
Oh, check out this example of zionist art:
Piss Christ is a 1987 photograph by the American artist and photographer Andres Serrano. It depicts a small plastic crucifix submerged in a glass of the artist's urine. The piece was a winner of the Southeastern Center for Contemporary Art's "Awards in the Visual Arts" competition,[1] which was sponsored in part by the National Endowment for the Arts, a United States Government agency that offers support and funding for artistic projects.
Do you see how we christians have been desensitised to our religion being insulted every day, If I did more research I'd find mountains of insulting zionist propaganda against us christians, but they have conquered us already so they aren't worried.
However they have not conquered the muslims and niether did the russians so they stand firm against insults to their religion.
Notice how zionists like to use excrement when insulting our god? Jesus died in a barrel of boiling shit afterall!
So putting a clever message into a game that millions of gamers play from all age groups is good propaganda.
So if Uber Geek above can admit that putting allahs name in a toilet setting and saying he is beuatiful
when toilets are a place of filth could be considered insulting? correct me if I'm wrong, correct me if you
have done no research and just follow the zionist othordox way of insulting other religions.
So there you have it, another way to stir up tensions between a religion that still has faith and our dying
religion that acts as a zombie zionist bot to regurgitate and champion zionist propaganda.
I hope Uber Geek above in the video wakes up to his bigotry and see's that he's being played like a fiddle.
Putting Allahs name in a toilet setting and then implying that taking a shit must be beuatiful in allahs eyes is already insulting.
Please look at other religious customs first before being hardcore zionist regurgitators of hate.
And honestly who cares, this is nearly as shit a story as the time zionist media put out the story of black
people in egypt sleeping with dead white women or something. What a load.
Anyway, I'll look forward to hearing your arguments.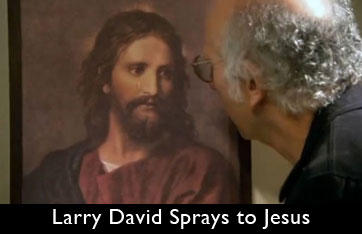 what did the above bloke do I wonder? did we christians get angry, shit yeah. I wonder why?
notice their godless 6 pointed star symbol, not 7 pointed atleast.
Too insulting to link this above zionist cartoon.
Brother Nathanael has a good video on the mindset of these zionist provocateurs
http://www.realjewnews.com/?p=651
I'm a Gamer myself and did ten minutes of research and realised why some muslims were insulted, placing Allahs name in a toilet setting and saying it's beuatiful when muslims consider defecating as evil and even say prayers for it could definitely be considered as insulting.
Wake up to yourselves you bigots and stop lapping up Lame Steam zionist media tripe.
It's bad enough that your usa are committing more war crimes and humanitarian crimes then any other nation as ever before except perhaps the jewish czars of the old soviet union. Correct me if I'm wrong.
Now I have to sit back and see obvious abdulla style propaganda turning up again just because they are desperately trying to make muslims look intolerant when we ourselves have had our religion so destroyed that we just don't know right from wrong anymore.
Check out rense, looks like U.S. forces are building up on the syrian border, the iran attack schedule is falling behind.
Live by the Terror, Die by the Terror.
---
What?

---
Posts: 3305
Joined: Tue Jun 08, 2010 9:47 am
It's okay edgar man, just stop watching mainstream news and stick to alternative websites like rense okay.

Disclose has excellent videos and good discussion. I like to try to make people understand that we are being played

against eachother by very powerful people that want us all to be terrorists so they can do what they want

with us if we question their fascist ways.
Live by the Terror, Die by the Terror.
---