another one from a discussion of same subject on (name of website removed)
---
Posts: 3303
Joined: Tue Jun 08, 2010 9:47 am
I was thinking that maybe it's a shadow of a very large object perhaps in orbit causing like a little lunar eclipse beam perhaps?

Lasers and beam weapons are usually invisible aren't they?

scalar interferometry or haarp, not enough information on either.
Live by the Terror, Die by the Terror.
---
---
i wonder, what kind of particles could darken the daylight in a precise beam? do such particles exist? if the 'shadow' in these pics is a focussed beam of such particles, did it originate down here, or up there?

.
---
Posts: 12213
Joined: Mon Jul 21, 2008 11:57 am
Location: The Pit
Sparkey wrote:
lol
________________________________________________________________________________

= Since Dawn Of Time The Fate Of Man Is That Of Lice =
---
---
Posts: 3303
Joined: Tue Jun 08, 2010 9:47 am
There goes my giant orbiting space craft theory.
Interesting, maybe this is the case that there is a chemtrail or contrail not seen in the photo
because it's not in frame.
3. Edge Shadow (Volumetric Shadow)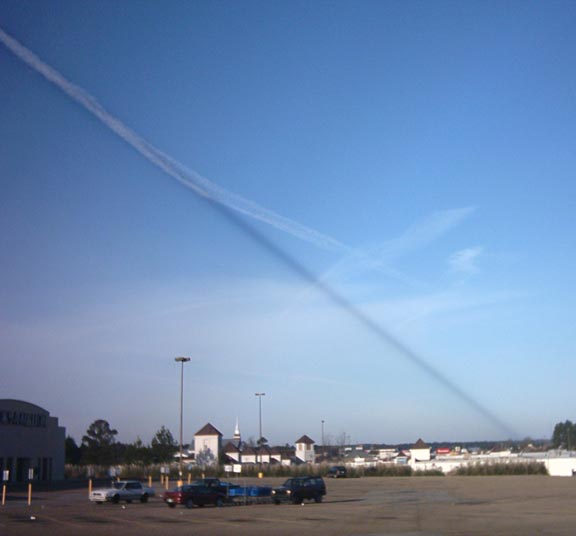 The most interesting type of contrail dark line is when the contrail is lined up with the sun. This produces a slice of shadow through the atmosphere that looks like a dark line when viewed edge-on. It is quite difficult to visualize what is going on since you have to think in three dimensions, and we are accustomed to thinking of shadows as being flat, since they are usually cast on surfaces. You are not seeing a thin dark shadow here, you are actually seeing a huge slab of very faint shadow, but it's viewed from looking along the edge. Imagine you have a thick sheet of glass. Viewed head on, it's transparent, but if you look at it from the edge, it seems a lot darker.
Live by the Terror, Die by the Terror.
---
Posts: 12213
Joined: Mon Jul 21, 2008 11:57 am
Location: The Pit
Shuttle Plume Shadow Points to Moon
Explanation attempt:
Why would the shadow of a space shuttle launch plume point toward the Moon? In early 2001 during a launch of Atlantis, the Sun, Earth, Moon, and rocket were all properly aligned for this photogenic coincidence. First, for the space shuttle's plume to cast a long shadow, the time of day must be either near sunrise or sunset. Next, just at sunset, the shadow is the longest and extends all the way to the horizon. Finally, during a Full Moon, the Sun and Moon are on opposite sides of the sky. Just after sunset, for example, the Sun is slightly below the horizon, and, in the other direction, the Moon is slightly above the horizon. Therefore, as Atlantis blasted off, just after sunset, its shadow projected away from the Sun toward the opposite horizon, where the Full Moon just happened to be.
http://apod.nasa.gov/apod/ap070603.html
________________________________________________________________________________

= Since Dawn Of Time The Fate Of Man Is That Of Lice =
---
---
Related topics

Replies
Views

Last post