Published on Mar 19, 2014
Washington ordered the Syrian government to suspend its diplomatic and consular missions in the US. All non-American staff were also told to leave the country.
---
Posts: 3898
Joined: Wed Oct 06, 2010 6:31 pm
Location: Looking for a city, not built by man!
Syria Becoming Ritualistic Slaughterhouse
I don't normally post WND news articles for a variety of reasons. I am posting this one because these are the animals our western governments would like to win this conflict. I make no excuses for Assad, but there is something far more evil operating in the spirits of the "rebels". There is a systematic extermination taking place at the hands of the "rebels." Shiites, Christians, and ethnic minorities, as well as other Sunni rebels, are all fair game for what is being labeled, human sacrifice.
Story and videos here:
Editor's Note: EXTREME CAUTION ADVISED: The videos linked and embedded in this story are extremely graphic, showing brutal executions, and the bodies of those killed in those executions.


The videos, posted by Walid Shoebat, and his son, Theodore Shoebat, are horrific, showing heads neatly lined up against a wall and bodies suspended by their feet in a room.

Also shown is the testimony of a witness who was threatened with being "sacrificed."

"I have never seen something like this," Shoebat told WND. "I have been investigating this story for the past two weeks. The story is probably the most horrific I have ever [done]. It proves with footage actual systematic slaughterhouses of human beings, including Christians in Syria."



"You are 'murtad' (apostate)," he was told.

"I asked him, what is my destiny. I want to get a closure. What is it, a year two years in prison?" Al-Adlubi said.

He said he was told, "Rejoice, you will be sacrificed."

Al-Adlubi reported seeing "bodies of young men who were systematically slaughtered and disemboweled."

"The slaughterhouse was on a hill. It is secluded and is void of any homes nearby," he said. "I witnessed lifeless bodies hanging upside down as if they were slaughtered sheep. In the center of the slaughterhouse is a huge Egyptian about two meters high. He was the one doing the slaughtering."
http://www.wnd.com/2014/03/christians-t ... hterhouse/
I'm not crazy, I have a profoundly developed worldview!
Acts 17:24-28
In Christ are hid all the treasures of wisdom and knowledge
http://proofthatgodexists.org/
---
FSA/Al Nusra terrorists executing Syrian Soldiers .

** WARNING GRAPHIC**

** FSA/Al Nusra terrorists executing Syrian Soldiers .

These syrian soldiers were guarding al kindi hospital in Aleppo,....A suicide bomber blew himself up in the hospital....some of the soldiers were taken captives by the free syrian army and alnusra front... the soldiers are being executed as you see in this video.

This video is not being uploaded to glorify the crime, it is being uploaded to document the crimes committed by the terrorist organisations in syria.

Video is posted on al nusra facebook page and FSA youtube channel ...It was posted on 15 march 2014....

https://www.facebook.com/photo.php?v=64 ... =2&theater
It only takes that one person to go missing for the world to become empty
---
It's been on my mind for a long time...

These "rebels" aren't acting any more civilized than the Nazis... Same sick, sad psychology going on.

The dark side of humanity.
---
Russian propaganda?
Published on Mar 23, 2014
BBC 'total fabrication from beginning to end' of Syria 'atrocity'; call to revoke visas for intel agents posing as reporters in NATO targets; CIA caught infiltrating CNN, and Operation Mockingbird is back.
---
'Nowhere is safe in Aleppo' - BBC News
Published on Apr 28, 2014

A BBC team has witnessed the devastating effects of air bombardment on Syrian civilians after gaining rare access to rebel-held areas of Aleppo. The BBC's Ian Pannell and Darren Conway are the first Western broadcasters in rebel-held Aleppo this year.


---
Published on May 8, 2014

Video shows a large explosion in the northern Syrian city of Aleppo which destroyed a hotel and several other buildings, according to the state media.


---
Published on May 15, 2014

Rebels detonated 60 tonnes of explosives packed underneath a large Syrian army base, blowing a hillside hundreds of feet into the air

Video have appeared on social media websites purports to show continuing rebel attacks on Syrian government strongholds and military trucks, said to have been filmed today and yesterday.

The first clip purports to show an explosion at the Tallet al-Swadi government checkpoint in rural Idlib. The attack is attributed to the Islamic Front rebel group.

The next video purports to show the moment rebels exploded a government stronghold in the al-Manshiyah district of Deraa al-Balaad. Rebels claimed to have caused the explosion from a tunnel beneath the stronghold.

The third video purports to show two government trucks in rural Hama carrying heavy machine guns. Rebels are shown firing a wire-guided anti-tank missile, exploding one of the trucks.

Rebels fighting to overthrow President Bashar al-Assad regularly carry out guerrilla attacks but have only started using large tunnel bombs in recent weeks on military targets, including a hotel used by soldiers in Aleppo last week.

The government boasts far superior firepower and its forces killed more than 40 people, many of them civilians, in air strikes on Wednesday, a monitoring group said.

Fifteen people were killed, including three from an emergency medical team, during five air raids in Atarib in the northern province of Aleppo, the Britain-based Syrian Observatory for Human Rights said early on Thursday.

Four rebel fighters were killed by air strikes in the same area, while 21 people, including women, were killed in air strikes on the Sarmada area in Idlib, the anti-Assad monitoring group said.

Gun battles, air strikes, car bombs, shelling and executions regularly kill more than 200 people a day in Syria, where a conflict that started as a peaceful protest movement has killed over 150,000 people and forced millions from their homes.

Despite the carnage and loss of swathes of territory in the north and east to insurgents, Syria plans to hold a presidential election next month that is all but certain to give Assad a third term.
Opponents have dismissed the vote as a farce.


---
Posts: 265
Joined: Sun May 04, 2014 5:08 am
Location: Somewhere Over The Rainbow
Kerry heads for Syria talks just as UN envoy quits
Washington (AFP) - US Secretary of State John Kerry left Wednesday for a whirlwind day of diplomacy focused on the conflict in Syria and efforts to resolve the crisis in Ukraine.
Related Stories
Russia says Brahimi departure must not bring pause in Syria talks Reuters
Saudis call for Arab League Syria talks to be put off AFP
Obama meets Syrian opposition leader AFP
Arab FMs to hold Syria meet in Saudi Arabia AFP
Syria peace prospects dim as Brahimi heads for the exit Christian Science Monitor
The top US diplomat was also to meet in London with Palestinian president Mahmud Abbas for the first time since peace talks with the Israelis collapsed last month.
The focus of his trip though will be a meeting on Thursday of the core group of supporters of the Syrian opposition, and it comes just after UN-Arab League peace envoy Lakhdar Brahimi stepped down after almost two years of fruitless efforts to end the war.
"Mr. Brahimi did not fail," Kerry insisted late Tuesday, blaming Syrian President Bashar al-Assad "who will not negotiate, who absolutely refused to negotiate at every single session."
"This represents a continuation of the stubborn clinging to power of a man who is willing to drop barrel bombs on his people, to gas them, to shell artillery on innocent civilians, to starve people in their homes, and somehow claim a right to be able to run a country," Kerry added.
Kerry will meet with ministers from Britain, Egypt, France, Germany, Italy, Jordan, Qatar, Saudi Arabia, Turkey and the United Arab Emirates, for their first ministerial talks on the conflict since January.
Syrian opposition leader Ahmad Jarba is also to attend after spending more than a week having high-level meetings in Washington in a bid to strengthen US support for the rebels in their battle against Assad.
Specifically he pleaded for anti-aircraft missiles to shoot down regime aircraft which are unleashing deadly barrel bombs on Syrian civilians.
The talks would focus on "the international community's efforts to ease humanitarian suffering inside Syria, to bolster support for the moderate transition" and advance moves for a political transition, a senior US administration official said.
More:
http://news.yahoo.com/kerry-heads-syria ... kAXwzQtDMD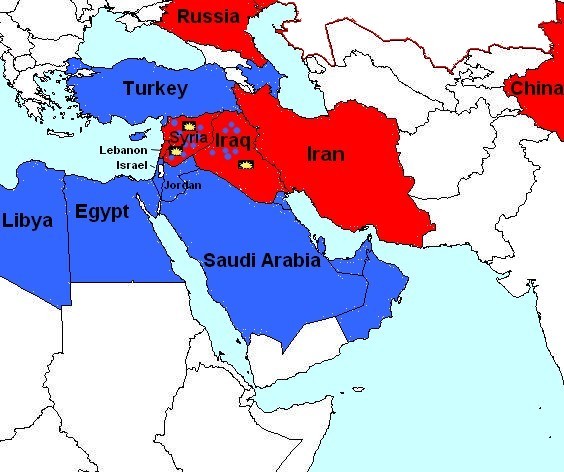 http://www.therealconspiracyforum.com/
---
Posts: 265
Joined: Sun May 04, 2014 5:08 am
Location: Somewhere Over The Rainbow
Death Toll in Syrian Civil War Tops 160,000: Human Rights Group
More than 160,000 people, including more than 8,000 children, have been killed in the three-year civil war in Syria, a human rights organization reported Monday — a total far higher than the last reliable count.
The figure includes civilians, members of the Syrian military, foreign fighters and rebels who rose up against the government of President Bashar Assad, said the Syrian Observatory for Human Rights, based in Britain.
More:
http://www.nbcnews.com/news/world/death ... ts-n108831
http://www.therealconspiracyforum.com/
---
Related topics

Replies
Views

Last post