Published on Jul 27, 2014

As many as 1,700 Syrians died last week, yet the violence was overlooked with the media's attention focused on the conflicts in Ukraine and Gaza.


---
Published on Jul 28, 2014

As part of 'Children of Syria' documentary Lyse Doucet talks to 3 Syrian children from different backgrounds about their lives during the ongoing civil war. Meet 8-year-old Baraa, whose family fled the besieged Old Quarter of Homs in Syria who says that her family ate cat meat. 9 year old Ezedine in a refugee camp in Turkey. He's got a teenage brother fighting with the Free Syrian Army. 14 year old Jalal who lives in a government controlled suburb of Damascus. His family support the regime.


---
'Children of Syria
People love to ignore the reality of war.
This is the reality of war.
When a person supports war or occupation, really all they are doing is washing their hands and face in the blood of innocent children.
"The third-rate mind is only happy when it is thinking with the majority.
The second-rate mind is only happy when it is thinking with the minority.
The first-rate mind is only happy when it is thinking."
A. A. Milne
---
Militants in Syria put victims' heads on poles; hundreds killed daily!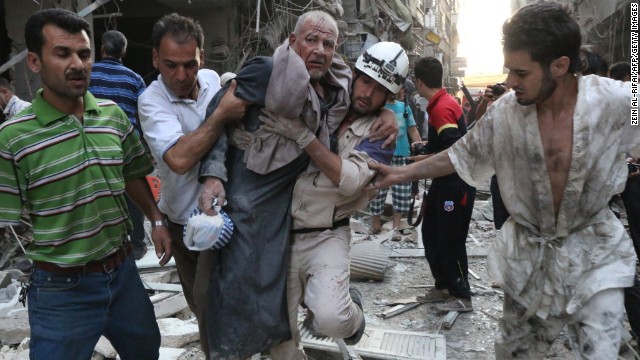 (CNN) -- In some of the most gruesome images yet to emerge from the latest mass violence in Syria, videos show militants raising their victims' severed heads on poles.
The amateur videos emerged as a Syrian human rights group reported 1,600 deaths in just 10 days this month.
The latest images come from an area taken over by the militant terrorist group the Islamic State, which recently changed its name from the Islamic State in Iraq and Syria, or ISIS. The group is known for killing dozens of people at a time and beheading some.
At least three videos posted on YouTube by different people show the grisly scene at a roundabout in the city of Reqqa, where Islamic State militants have been carrying out public executions, crucifixions and other acts decided by its Sharia, or Islamic law, court.
A narrator in one of the videos says the bodies are of Syrian soldiers who were killed by Islamic State fighters.
The videos surfaced online along with news that Islamic State took over the Syrian army's 17th Division headquarters, which was considered the Syrian regime's last remaining military base in Reqqa.
The Syrian Observatory for Human Rights, which has tabulated casualties in the country's civil war, reported on Islamic State's seizure of the military base in late May.
While fighting between Israel and Hamas militants in Gaza has gotten far more attention in recent days, the death toll in Syria has been higher.
Between July 16 and July 25, 1,600 people were killed, the observatory said.
And the bloodshed has continued at that pace. On Sunday, 180 people were killed, the group said.
The observatory counts more than 115,000 people killed since the beginning of the uprising against Syrian President Bashar al-Assad's regime in March 2011.
http://www.cnn.com/2014/07/28/world/mea ... index.html
(Sadly, the videos are still available online but I am not going to post them here)
---
Published on Aug 18, 2014

Despite the destruction of the nation's chemical weapons stockpile, Syria's casualty count during its three-year civil war shows no signs of slowing.


---
Posts: 3339
Joined: Tue Jun 08, 2010 9:47 am
http://online.wsj.com/articles/syrian-o ... 1408976721
Syrian Official Warns U.S. Against Unilateral Airstrikes
Attacks on Islamic State Inside Syria Without Damascus' Consent Would Be Seen as Aggressive.
I think it's strange that all the video's above have mixed messages that willease posted.
The media talks about how assads governments chemical weapons are destroyed like
it's a good thing but that the rebels are part of a civilian war?
I'm afraid it's not a civil war because assad won the last election easily.
Then the msm says rebels are holding heads on poles like it's gruesome even thought their
owners know very well it's a usa nato backed regime change coup that's in progress but
assad and his people are resisting mightily against the al queda and isis insurgents
who entered into syria through the safe zones created by israeli destruction of
two important syrian bases in zio airstrikes of agression.
And now the media is using islamic state and not syrian rebels as much as before in
their terminology of who the enemy is?
I am confused, How can helping terrorists in syria then bombing the same terrorists help?
Bought to you buy Opal Media.
Live by the Terror, Die by the Terror.
---
Published on Aug 28, 2014

President Obama said a decision on air strikes in Syria is days, if not weeks, away. He questioned whether they would be effective against ISIS without the help of neighboring Middle Eastern countries.


---
Posts: 4873
Joined: Thu Aug 14, 2014 9:00 am
Location: Inside My Skin!
Democracy is a well organized Anarchy in which too many People have something to say about nothing! --MS--

Youtube Channel: https://www.youtube.com/channel/UCW2djXBDU-G3ihKecfgue4w
E-Mail: mad.science.cave@gmail.com
---
Published on Aug 31, 2014
Syrian government soldiers advance on the Jobar neighborhood of Damascus, where they killed several rebels engaged in heavy fighting, according to the Syrian army.


---
Posts: 3339
Joined: Tue Jun 08, 2010 9:47 am
Interesting observation by this website:
http://www.tomatobubble.com/id661.html
"Arab" ISIS fighters hide their faces and hands because they don't want you to see that so many of them are Caucasian (CIA-Mossad). Why else wear gloves in the hot dessert?
Good post considering it is strange that isis and al queda fighters wear hot full body clothing including
gloves? Who are they hiding from? They are prepared to die for allah? why hide their faces?
Full article in above link: Warning offensive to zio's.
Live by the Terror, Die by the Terror.
---
Related topics

Replies
Views

Last post