Posts: 10120
Joined: Wed Jul 01, 2009 9:10 pm
Location: Packing my stuff and moving to Denver like you should be doing
As recent as last year people were saying that Nessie was gone. That she had died or had found a tunnel that led out to sea. In fact, several theories were tabled to explain the vast lapse in sightings.
Well, it would seem that Nessie's demise was greatly exaggerated or at least inconclusive. Apparently the favorite Cryptid among many believers may be alive and well and living in the Loch….as always.
If you hadn't guessed already, there has been a sighting. A commercial fish farmer, Jon Rowe, from Lewiston in Drumnadrochit has allegedly sighted the great fish…beast…Err, fish beast. OK, it's not a fish at all but you have to allow me a little leeway whilst cracking wise.
Mr. Rowe had procured his camera to snap a photo of a rainbow in the early morning hours when he noticed two distinct humps in the waters of the Loch. He knew instantly that he was gazing upon the legendary creature and exclaimed: "That's Nessie!"
The quick thinking fisherman snapped off some very clear photos of what he saw to prove his conquest and is now reporting it to the world.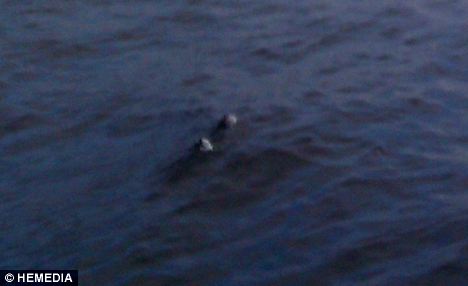 It's been said before and it's being said again .. Nessie is alive under the waves of Loch Ness.
Once more the notoriously shy Loch Ness monster has been reportedly sighted in Scotland's deepest loch. This time close to a commercial fish farm.
Jon Rowe, from nearby Lewiston in Drumnadrochit, took the eerie snaps moments before the mysterious shape slipped beneath the water.
And the stunned fish farmer is convinced that the shapes he saw in the morning light are Nessie.
He said: 'It was a very strange morning. It was misty with a bit of rain and sunny at the same time.
'There was a rainbow so I got my camera out to take a photo and noticed this really large dark shape in the loch with two humps that were barely out of the water.
'My instant reaction was "That's Nessie".'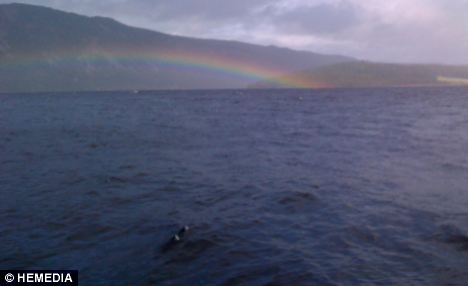 http://www.dailymail.co.uk/news/article ... ve-it.html
FAIR USE NOTICE.
Section 107 of the US Copyright Law. In accordance with Title 17 U.S.C. Section 107, . http://www.law.cornell.edu/uscode/17/107.shtml

---
Posts: 874
Joined: Tue Oct 13, 2009 12:53 pm
You can see other things in the background in the water as well. This is no way confirms it is a photo of anything significant. Sav, chill with the ridiculous posts dude.
---
I'm going to say this Sav, I know I shouldn't, but I think your bouncing tits have just broke water!!
---
Related topics

Replies
Views

Last post