Posts: 10120
Joined: Wed Jul 01, 2009 9:10 pm
Location: Packing my stuff and moving to Denver like you should be doing
Pictures Prove Mini Nukes Caused 9-11 Devastation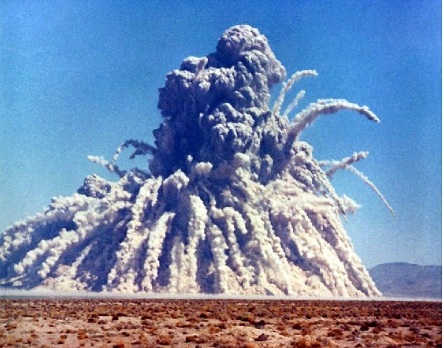 There are only two events known to cause ground-hugging pyroclastic flows (pictured above). Either a volcanic eruption or a thermo nuclear detonation
'On the morning of September 11th, 2001, we were told a fairy tale. That wide body jets flew into the twin towers and completely destroyed them. Let me repeat that: Passenger planes (large hollow aluminum tubes) flew into industrial steel, marble and concrete sky scrapers, and caused them to turn into a pile of dust. And the worst part about this fairy tale is that we, the American people believed it. Now, nine years later, it's time to wake up from your slumber and take a good hard look at what did and did not happen on that fateful day. The conventional explanation we were provided, by government and media, for a top-down highly destructive gravitational collapse, in near-free-fall times, is physically impossible, and is thus about as worthy of discussion as is the belief that the Earth is flat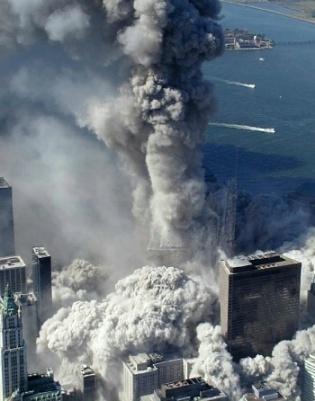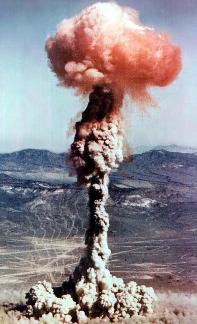 FICTION: Passenger jets flew into the Twin Towers, and the burning jet fuel caused them to collapse.
FACT: The Twin Towers did not collapse. They suffered a mid-air pulverization due to an extreme unconventional energy source that caused the initial upward trajectory of so much of the towers' mass during the 'collapses' as (supposedly only) gravity was pulling them down.
FICTION: The burning jet fuel melted all of the steel beams causing the buildings to collapse directly onto their own footprint.
FACT: 80% of each of the towers 50 million ton mass NEVER hit the ground. The steel did not melt, but turned into nano-dust. Pulverization + Molecular Dissociation = Ground Zero Evidence. When matter is elevated to temperatures hotter than the surface of the Sun, molecular dissociation results. Molecular Dissociation (MD) is easy to understand once we realize that there are four (4) states of matter: solid, liquid, gas, and plasma. Just as ice has trouble surviving in water or steam, molecules have trouble surviving in plasma, which is highly energetic (ie, extremely hot). When molecules dissociate, they leave behind loose atoms and fragments of molecules. In other words, extremely small particles. In this sense, it is correct to think of molecular dissociation as disintegration.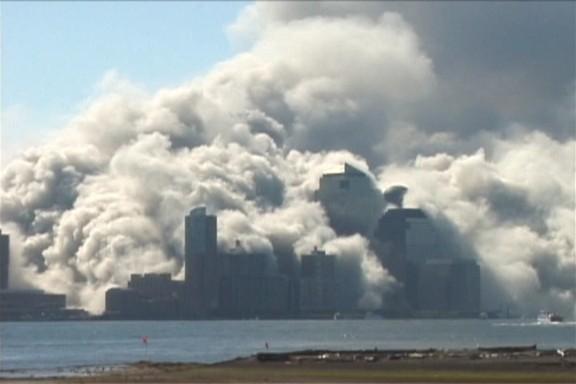 What do these two pictures have in common? They both represent a highly unconventional destructive release of energy, with temperatures much hotter than the sun.
So once we confirm evidence of widespread molecular dissociation having occurred at Ground Zero in New York City, we have a very strong indication that only exotic, unconventional weaponry could have released that much extremely -- unimaginably -- high intensity energy which suddenly appeared just as the towers disintegrated from top to bottom. This understanding means we cannot blame the highly unconventional Ground Zero devastation on thermite/thermate/super thermate and "controlled demolition" any more than we can blame it on "jet fuel" or "box cutters".
In a "pancake collapse" the rubble pile should be at least 1/8 of the original building height (12.5%). The actual rubble pile was no more than 2% of the original building height. Both towers went "poof."
So where did these 110 story tall 50 million ton sky scrapers go?
They were turned into nano-dust and 80% of the "dust" floated off into the atmosphere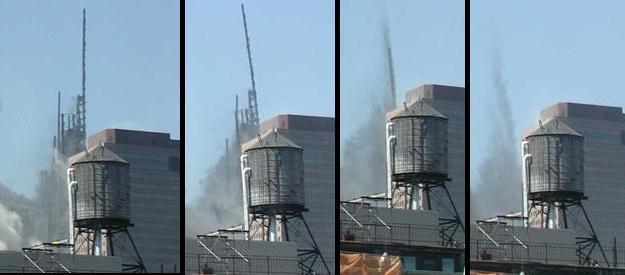 From left to right: A huge steel beam from the south tower falters, turns to "dust" and blows away.
Now that we've scientifically proven that only exotic, unconventional weaponry could have released that much extremely -- unimaginably -- high intensity energy to cause the pulverization and molecular dissociation of these buildings, let's look at some of the other unexplainable anomalies..
1400 VEHICLES melted NEAR WTC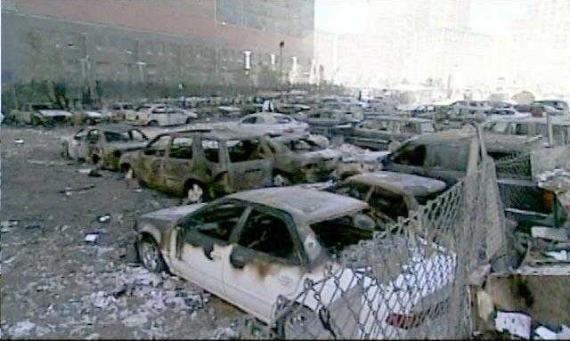 All of these cars have unexplainable similar damage: Paint gone, instant rusting, and all of their door handles and engine blocks are missing!
A squad car on FDR drive with wilted doors, burned paint, instant rust and no door handles or engine block.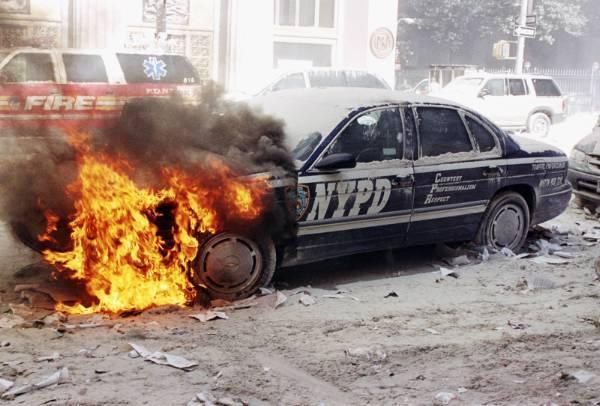 Strange fires appear to be attracted to the engine blocks, while the gas tanks and nearby paper are not affected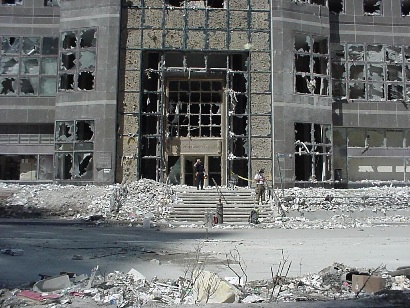 Buildings a few blocks away,had mysterious holes in the windows, and the front marble façade is completely gone, but no other damage[/b]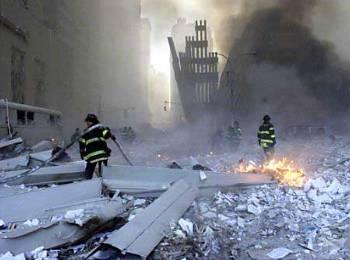 Why doesn't the paper burn?
[b]
For months we witnessed trucks coming and going from Ground Zero and the media told us they were hauling away the steel. What steel? There was very little steel left in the rubble because it had been pulverized into nano-dust. So what were these trucks really hauling back and forth? Dirt! They hauled in dirt, spread it all over Ground Zero, then scooped it up and hauled it away, and this went on for years. Didn't they do that at Chernobyl? Yes they did!
So now you know what didn't cause the buildings to "vanish." Planes, jet fuel and thermite are irrelevant. So what kind of unconventional energy could have caused the Twin Towers to turn to dust? A fissionless fusion thermo nuclear event? Direct Energy Weapons? HAARP? A scaled up weaponized version of The Hutchison Effect? The investigation continues.........
Related: Dr. Ed Ward -- Mini Nukes Prove US Government Involvement
http://www.rense.com/general92/pr911.htm
FAIR USE NOTICE.
Section 107 of the US Copyright Law. In accordance with Title 17 U.S.C. Section 107, . http://www.law.cornell.edu/uscode/17/107.shtml

---
I spent a few days on this topic not long ago, there are many compelling details to consider.

Thanks for the post, I'd be interested if anyone here has any problems with the claim they'd be willing to discuss.
This is your world. You're the creator.
-Bob Motherfucking Ross
---
Posts: 5268
Joined: Thu Nov 05, 2009 5:11 am
Location: Earth
Images not showing up on my end. Can you post them or add some links plz.

---
shaggietrip wrote:Images not showing up on my end. Can you post them or add some links plz.
http://www.henrymakow.com/mini-nukes_we ... _9-11.html
Can't speak for the source in any capacity, but the concepts are all there to get you started. This is actually on the tubes as well.
This is your world. You're the creator.
-Bob Motherfucking Ross
---
Posts: 5268
Joined: Thu Nov 05, 2009 5:11 am
Location: Earth
thanx Hackjames for the help.

---
---
Apologies ...I See you already posted the link .
---
Alls good we were 2 seconds apart with the same info.
Pablo Neruda:
…and now, nothing more,
I want to be alone with my essential sea…
I don't want to speak for a long time,
Silence! I want to learn,
I want to know if I exist.
---
Hey.
Dimitri Khalezovs claim, that mini-nukes were detonated under the three WTC buildings isn't true. period.
..for the simple fact that the lower parts of the core(s) was left standing ..so obviously it didn't disappear into this "nuclear cavity" as suggested by Dimitri Khalezov ..so his theory CAN'T be true
Here's some photos and on some of them you can see the core remains of the North Tower
http://911research.wtc7.net/wtc/evidenc ... round.html
-
-
-
Now to this article..
http://www.henrymakow.com/911_-_nukes_c ... evast.html
First..
..The North Towers core was NOT turned into nano-dust as claimed in this article..
The core remains actually fall into the rubble, and leave some concrete dust behind .. "Molecular Dissociation" of the core did not take place as suggested by the article. period.
http://www.youtube.com/watch?v=dGwF2OU-WqI
..see?
How could the core columns sway left and right if they were pulverized? ..they weren't.
..the core remains drop into the rubble and leave some dust behind, which may seem like the core is pulverized by "thermal nuclear detonation" ..but this isn't actually true
Here's another compilation of the "spire" falling into the rubble and leaveing some white concrete dust behind
..starting from 1:55 you can see the "spire" go down and come up again as the video gets played backwards
9/11 WTC North Tower Core, HAVE YOU SEEN IT?
http://www.youtube.com/watch?v=-dWBBEtA5bI
Second..
The WTC 80 % of the steel was not pulverized, like it is claimed in this article ..most of the concrete was pulverized, but the structural steel was not.
Why there wasn't a big pile left by the Twin tower collapses is because the outside walls were ejected outwards, they do not fall inwards like in a normal implosion demolition ..so naturally a big pile isn't left standing
..Here you can see many Ground Zero photos, which will tell you that most of the WTC steel was left for the clean up grew ..and was NOT pulverized as claimed in this article
http://911research.wtc7.net/wtc/evidenc ... tml#aerial
So the pulverization of WTC steel with a thermal nuclear device isn't true either.
There were some big explosions in the WTC towers, like in the basement level(s) ..but, were these micro-nukes ..i dunno. ..there is little, if any evidence left behind from these supposed nukes.
But there is evidence of nano-thermite ..concrete evidence of nano-thermite charges being used in those towers..and you can't say the same for the "nuke theory".
Study: Scientists Discover Active Thermitic Material in WTC Dust
http://stj911.org/press_releases/Active ... erial.html
A PDF of the study
Active Thermitic Material Discovered in Dust from the 9/11 World Trade Center Catastrophe
http://www.bentham-open.org/pages/conte ... 7TOCPJ.SGM
Here are some videos proving demolition charges:
Evidence for thermite and view of the "spire" collapse
http://www.youtube.com/watch?v=FWn8QNQWSsY
Cutter Charges in the North Tower of the World Trade Center
http://www.youtube.com/watch?v=zoAD8HlrLZg
EXCELLENT Analysis of the North Tower Exploding
http://www.youtube.com/watch?v=g3lq7nr6098
South Tower Coming Down
http://www.youtube.com/watch?v=atSd7mxgsGY
Peace.
---
Posts: 12228
Joined: Mon Jul 21, 2008 11:57 am
Location: The Pit
mini-nukes-on-9-11-thoughts-t21660.html
________________________________________________________________________________

= Since Dawn Of Time The Fate Of Man Is That Of Lice =
---
Related topics

Replies
Views

Last post